Today's Top Five
1. "Ministerial exception" interpretation narrowed
Lynette Petruska, a chaplain at the Roman Catholic Gannon University in Erie, Pa., says she was forced out of her job because she was a woman and because she objected to sexual harassment at the school. In 2004, a federal judge threw out her case because Title VII of the Civil Rights Act of 1964 and the First Amendment give great leeway to religious institutions in hiring practices. Repeated court rulings have stayed out of similar employment cases because of what is known as the "ministerial exception."
Wednesday, the U.S. Court of Appeals for the Third Circuit offered a "a carefully tailored version of the ministerial exception." When the employment issue is "religious belief, religious doctrine, or the internal regulations of a church," then courts have no business entering into the dispute, the judges ruled. But when the dispute is unconnected to those issues, employment discrimination "is simply the exercise of intolerance, not the free exercise of religion that the Constitution protects." The ruling explains further:
When a religious organization fires or demotes a woman on the basis of sex, it may be acting according to religious belief, religious doctrine, or church regulation (consider, for example, the Catholic Church's prohibition of female priests). In such a case, the religious organization would be immune from  a Title VII suit. But a religious institution might also fire a woman because the individuals making the decision are, simply put, sexist. Religious doctrine and internal church regulation play no role in such a decision.
The buzz so far is that since this decision is at odds with other circuit court decisions, it could go to the Supreme Court and thus could have significant effects in the broader world of religious employment.
2. Is Matthew 18 unconstitutional?
The Texas Supreme Court will soon examine whether a Ft. Worth pastor, in attempting to follow Matthew 18's church discipline guidelines, had the right to share the details of a former church member's divorce. But the facts in that case make it rather messy. Now comes another Texas case, where the matter seems a bit more straightforward. Church member "John Doe" said he'd rather quit his church and continue in his "struggles in his walk with Christ" (as the pastor puts it) than go through church discipline, which would mean having his sins made public. But the church's bylaws specifically tell members that they "may not resign from membership in an attempt to avoid such care and correction." Like the case before the Texas Supreme Court, this is definitely worth keeping an eye on.
3. 'Rhythm method' said to prevent implantation
Here's the abstract from an article in the Journal of Medical Ethics:
Some proponents of the pro-life movement argue against morning after pills, IUDs, and contraceptive pills on grounds of a concern for causing embryonic death. What has gone unnoticed, however, is that the pro-life line of argumentation can be extended to the rhythm method of contraception as well. Given certain plausible empirical assumptions, the rhythm method may well be responsible for a much higher number of embryonic deaths than some other contraceptive techniques.
The article is only available to subscribers, but New Scientist summarizes the argument of Luc Bovens, of the London School of Economics, this way: "Because couples are having sex on the fringes of the fertile period, they are more likely to conceive embryos that are incapable of surviving."
The news articles about this study focus on Roman Catholic doctrine, but Catholic teaching  on this matter is based on natural law and the connection between sex and procreation: "Each and every marital act must of necessity retain its intrinsic relationship to the procreation of human life." The church does not obligate couples to do everything in their power to create babies. It excludes acts "specifically intended to prevent procreation—whether as an end or as a means." If the Catholic church doesn't object to curative medical procedures that have the secondary effect of preventing pregnancy, then it's hardly going to object to an increased risk of non-implantation created by a sexual act at what would still be considered an infertile period. 1968's Humane Vitae explains that it's what's natural that's important:
Neither the Church nor her doctrine is inconsistent when she considers it lawful for married people to take advantage of the infertile period but condemns as always unlawful the use of means which directly prevent conception, even when the reasons given for the latter practice may appear to be upright and serious. In reality, these two cases are completely different. In the former the married couple rightly use a faculty provided them by nature. In the latter they obstruct the natural development of the generative process.
In other words, Catholics aren't going to have a problem with this. And Protestants generally don't object to artificial birth control. Those who do object either agree with Humane Vitae or they're concerned about artificial contraceptives that unnaturally prevent implantation but not barrier methods. Bovens compares the "rhythm method" (which, as Weblog has said before, is not the same as natural family planning) to barrier methods like condoms. That's nonsensical. But so is comparing a natural sexual act that may incidentally result in nonimplantation to chemicals or wires specifically designed to make the uterus hostile to embryonic life.
Bovens isn't arguing with anyone. He's just presenting a straw man designed to make pro-lifers look inconsistent.
4. Another priest guilty of satanic murders?
Just days after an Ohio jury convicted a Toledo priest of a 1980 murder with strong satanic overtones comes this story from Australia: "The Catholic Church has accepted as substantially true allegations that a Melbourne priest took part in satanic rituals in which a number of people were murdered." The priest in that case, however, is now dead, so there will be no trial to prove the allegations.
5. The Christian Science Monitor: Are short-term missions just vacations?
"By the millions, Americans are jumping at the chance to become missionaries—with one key stipulation of the 21st century: They expect to get their comfortable lives back a few days later." So begins a Christian Science Monitor piece briefly examining whether short-term missions are worth it, either for the missionaries or those they serve. Last summer, Christianity Today Online asked similar questions in a conversation between Kurt Ver Beek and Robert Priest.
Quote of the day:
"God's got another plan right now."
—Former Enron chief Ken Lay, to his family after being convicted of fraud and conspiracy charges. He later told supporters, "We'll all come through this stronger and more reliant on God. … God will answer prayers."
More articles
Religious employment exemption | Education | Natural family planning study | Life ethics | Politics | Religious displays | Gambling | Church, state, and religious freedom | Military | Sudan | Zimbabwe | Anglican bishop "abandoned" | Church life | Church building disputes | Pope in Poland | Catholicism | Abuse | Crime | La. church shooting | Haddad case | Homosexuality | Healing | Missions & ministry | People | Da Vinci Code | Other articles of interest
Religious employment exemption:
Less leeway for religious colleges | U.S. appeals court ruling narrows an exception giving them broad latitude in labor decisions governing "ministerial" employees (Inside Higher Ed)


3rd Circuit revives nun's sex-discrimination case vs. university | Appeals court finds 'ministerial exception' concept protecting church matters from government intrusion applies only when discrimination occurs on basis of religious belief (Associated Press)


Exception to 'ministerial exception' | A former chaplain at Gannon University who says she was discriminated against based on her gender may proceed with her lawsuit against the Roman Catholic institution, a federal appeals court has ruled. The decision conflicts with rulings of other courts, which have cited a "ministerial exception" in barring such complaints (The Chronicle of Higher Education, sub. req'd.)


Don't be friends with Christians or Jews, Saudi texts say | Even after years of trying to reform the curriculum, intolerance continues to pervade religious education in Saudi public schools (The New York Times)


Natural family planning study:
Rhythm method criticized as a killer of embryos | "Even a policy of practising condom usage and having an abortion in case of failure would cause less embryonic deaths than the rhythm method," writes Luc Bovens, of the London School of Economics, in the Journal of Medical Ethics (New Scientist)


How Vatican roulette kills embryos | The rhythm method - the only form of contraception approved by the Catholic Church - may actually be the source of mass-scale embryo carnage. Or so at least says Luc Bovens, a professor of philosophy at the London School of Economics (The Sydney Morning Herald)


Study abstract: The rhythm method and embryonic death (Journal of Medical Ethics)


San Diego plans to battle cross ruling | The San Diego City Council truly was at a crossroads yesterday. And it chose to continue down a path that has already brought 17 years of litigation and heated public debate (San Diego Union-Tribune)


Black churches join Soledad cross effort The National Clergy Council and the Christian Defense Coalition, both based in Washington, D.C., also entered the fray,(San Diego Union-Tribune)


Sin cities on a hill | How legalized gambling moved from the Strip to Main Street (Reason)


Bill to ban gambling online gets 4th chance | Online poker players will have to fold their hands if a Virginia congressman gets his way (The Washington Post)


Church, state, and religious freedom:
Chaplain facing court-martial for wearing uniform at D.C. protest | Lt. Gordon Klingenschmitt could face loss of pay, fines and a formal reprimand (Stars and Stripes)


U.N. threatens to pull Sudan auditors | The U.N.'s internal watchdog agency has threatened to withdraw its auditors from Sudan to protest restrictions placed on it by the U.N. envoy to the troubled African nation, according to a memo obtained by The Associated Press (Associated Press)


Aid agency evacuates after clashes in south Sudan | Militia fighting and tribal clashes have killed more than a hundred people and forced aid agency Medecins Sans Frontieres to evacuate staff from some areas of south Sudan, despite a peace deal that ended a civil war (Reuters)


Sudan 'closer' to UN Darfur plan | Sudan appears to have taken the first step towards a UN mission being deployed in Darfur, under intense international pressure (BBC)


Church leaders to pressure Mugabe on economic crisis | Zimbabwean and international church leaders will meet with President Robert Mugabe in Harare today for talks about the state's deepening political and economic crisis (Business Day, South Africa)


Zimbabwe rejects UN intervention | Zimbabwe's government has denied suggestions that the United Nations might play a key role in ending the economic and political crises (BBC)


Ministry opens to night revelers | A West Midlands church situated in a "drinkers' paradise" is offering a ministry to night-time revelers (BBC)


Kirk opens door to Bible college ministers | The Church of Scotland broke decades of tradition yesterday by agreeing to accept students from the Highland Theological College as ministers (The Scotsman)


Church floor collapses in Indiana | A portion of a floor in a storefront church collapsed Thursday night, sending some of the 30 people attending a meeting plummeting into the basement (Associated Press)


In Poland, Pope seeks to strengthen bond with faithful and honor his predecessor | Pope Benedict XVI's visit is intended to maintain strong ties with one of the few European countries where Roman Catholicism remains vibrant (The New York Times)


270,000 hear pope's Mass in rainy Warsaw | Pope Benedict XVI celebrated Mass for an estimated 270,000 people Friday in a rain-soaked Warsaw square where his predecessor, John Paul II, inspired Poland's Solidarity movement against communist rule in a historic 1979 visit (Associated Press)


Update 2: Former pastor faces more sex charges | The former pastor of Trinity Baptist Church, Dr. Robert Gray Jr., faces two additional counts of sexual battery for incidents that allegedly took place decades ago (JWXT)


Appraisal: Catholic buildings in Vermont worth $405M | A copy of the appraisal was obtained from court records collected in anticipation of the trial in the first of 19 cases pending in Chittenden Superior Court involving claims by alleged victims of priest sexual abuse (The Burlington Free Press, Vt.)


Building trust | The Church, a place of solace and protection and a source of moral and practical guidance for thousands of Vermonters, must work to re-build the kind of trust that is the underpinning of its authority, not create trusts to shield itself from the possible penalties of past misuse of that authority (Editorial, The Barre-Montpelier Times-Argus, Vt.)


Settlement reached in Center Harbor pastor suit | Former parishioner Ronnie Stone filed suit against pastor Robert Farah and his son Scott Farah, the church's treasurer, after Stone allegedly invested $234,000 of his and his father's money into Scott Farah's company Financial Resources, Inc. and never received his money back (Citizen, Laconia, N.H.)


Bible student charged in phone sex case | A student at Pillsbury Baptist Bible College was charged in the theft of his roommate's debit card, which was used to pay for more than $2,300 worth of calls to phone sex lines, prosecutors allege in court papers (Associated Press)


Milton to pay priest $50K | Town agrees to settle with black minister stopped by white cop and handcuffed (The Patriot Ledger, Mass.)


Bell family speaks out after shooting | The family of the man accused in Sunday's church shooting spoke publicly on Wednesday. Anthony Bell, 25, is accused of killing five people, including his wife, and injuring another (The Advocate, Baton Rouge, La.)


Church shooting mimics 1999 case | Gonzales man talks of loss to violence (The Advocate, Baton Rouge, La.)


Suspect's mother turns to God | The mother of Anthony Bell, the man accused of killing four people at a Baton Rouge church and later fatally shooting his wife, said Wednesday she is seeking understanding from God about the events (The Advocate, Baton Rouge, La.)


Liberals defend gay marriage as religious right | With the Senate slated to vote in three weeks on a constitutional amendment banning same-sex marriage, an interfaith coalition of liberal clergy is arguing that the measure would violate their religious liberty (Forward, Jewish newspaper)


Effort to repeal state gay-rights law gathers momentum from pulpit | A referendum campaign aimed at repealing Washington's gay-rights law has no paid signature gatherers, no advertising budget and not much money in the bank. Yet supporters say signatures are rolling in by the thousands (The Seattle Times)


Referendum 65: Pass the petition | Churches played a key role in the civil rights movement of the 1960s, delivering a message from the pulpits denouncing discrimination. This past weekend's attempt to enlist some of the state's churches to roll back civil rights legislation was woefully out of character with that tradition (Editorial, Seattle Post-Intelligencer)


Be wary of false prophets, Moi tells faithful | Former President Daniel Moi has said only God had healing powers and cautioned the faithful to be wary of "false prophets." Moi said he was shocked by reports of people claiming to heal diseases, including HIV/Aids, through "prayers." (The East African Standard)


Christians are enriching witches, says bishop | The Diocesan Bishop, Eria Paul Luzinda, has lashed out at Christians who visit shrines for wealth, health, love and other earthly things, saying they are responsible for the increasing number of traditional healers in the Diocese (The Monitor, Uganda)


Did Hinn heal? | Did American preacher Benny Hinn really heal anyone of their ailment during his recent three-day crusade at Queen's Park Savannah? (Editorial, Trinidad and Tobago Newsday)


When converting a Jew to Christ | Judaism cannot survive as a form of Christianity (Bradley Burston, Haaretz, Tel Aviv)


Making church a work of artists | Wheaton conference seeks to enliven services by infusing the arts into worship (Chicago Tribune)


Religion news in brief | Gay marriage wars, Newark Archdiocese leads the nation in priest ordinations (Associated Press)


Related Elsewhere:
Suggest links and stories by sending e-mail to weblog@christianitytoday.com
See our past Weblog updates:
May 24
May 19 | 18 | 17
May 11 | 10 | 9 | 8
May 5 | 4 | 3
April 28 | 27b | 27a | 19
April 12 | 11 | 7
March 31 | 30 | 28
March 24 | 24 | 23 | 21
Weblog
Launched in 1999, Christianity Today's Weblog was not just one of the first religion-oriented weblogs, but one of the first published by a media organization. (Hence its rather bland title.) Mostly compiled by then-online editor Ted Olsen, Weblog rounded up religion news and opinion pieces from publications around the world. As Christianity Today's website grew, it launched other blogs. Olsen took on management responsibilities, and the Weblog feature as such was mothballed. But CT's efforts to round up important news and opinion from around the web continues, especially on our Gleanings feature.
Ted Olsen is Christianity Today's executive editor. He wrote the magazine's Weblog—a collection of news and opinion articles from mainstream news sources around the world—from 1999 to 2006. In 2004, the magazine launched Weblog in Print, which looks for unexpected connections and trends in articles appearing in the mainstream press. The column was later renamed "Tidings" and ran until 2007.
Previous Weblog Columns: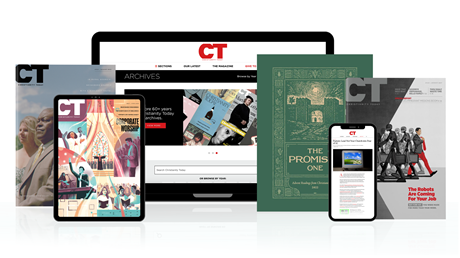 Annual & Monthly subscriptions available.
Print & Digital Issues of CT magazine
Complete access to every article on ChristianityToday.com
Unlimited access to 65+ years of CT's online archives
Member-only special issues
Subscribe
Clergy Can Sue for Discrimination, Appeals Court Says
Clergy Can Sue for Discrimination, Appeals Court Says