In a letter read from the pulpit of Colorado Springs's New Life Church, former pastor Ted Haggard admitted that allegations against him are true.
"The fact is I am guilty of sexual immorality," he said. "I am a deceiver and a liar. There is a part of my life that is so repulsive and dark that I have been warring about it for my entire life. ... The accusations that have been leveled against me are not all true but enough of them are true. ... The things that I did opened the door to additional allegations."
Haggard did not specify what allegations he denies, and did not mention drug use in his letter. On Friday, he told a television reporter that he bought methamphetamine but did not use it. In his letter, he admitted that his statements to the press have been inconsistent.
"I have further confused the situation with some of the things I've said during interviews with reporters who would catch me coming or going from my home. But I alone am responsible for the confusion caused by my inconsistent statements," he said.
Haggard also asked the church to forgive his accuser, Mike Jones, who was unnamed in the letter. "He is revealing the deception and sensuality that was in my life," Haggard wrote. "Forgive him, and, actually, thank God for him."
"Will never return to a leadership role"
On Saturday, the church's overseer board, made up of four pastors from churches around the country, announced that Haggard had been fired from the church.
"In consultation with leading evangelicals and experts familiar with the type of behavior Pastor Haggard has demonstrated, we have decided that the most positive and productive direction for our church is his dismissal and removal."
While the church bylaws state that in cases of immoral conduct the overseers may choose either to "remove the pastor from his position or to discipline him in any way they deem necessary," Overseer Board member Larry Stockstill, pastor of Bethany World Prayer Center in Baker, Louisiana, said the board decided that they would help the church to recover, but that they would not be involved in Haggard's counseling.
"We have decided that we cannot possibly help you and help Pastor Ted like we should at the same time," Stockstill told the congregation. "It was our job not to discipline and restore, but to dismiss Pastor Ted permanently from the senior pastor leadership of this church. That is not a harsh thing. That is in fact a wonderful thing for him."
Stockstill announced that Jack Hayford, pastor of Church on the Way in Van Nuys, California, Tommy Barnett, senior pastor of Phoenix First Assembly of God, and others would oversee Haggard's pastoral care.
Our earlier coverage includes:
While Haggard's letter stated that he and his wife will "will never return to a leadership role at New Life Church," he was referred to as "Pastor Ted" throughout the televised service, and Stockstill told the congregation that Haggard, after getting "full, long-term, therapeutic restoration, one day can minister in the larger body of Christ with joy, with dignity, and with hope in his heart. That is our goal."
A statement from the National Association of Evangelicals' executive committee on Friday similarly said, "We pray that the overseers' ministry to him will lead to his eventual moral healing, restoration in Christ, and service in the Church."
"Watch me"
Haggard's letter also defended his wife, Gayle. "What I did should never reflect in a negative way on her relationship with me. She has been and continues to be incredible. The problem was not with her, my children, or any of you. It was created 100 percent by me."
A letter from Gayle Haggard, addressed to the women of New Life Church, was also read to the congregation. "I love my husband, Ted Haggard, with all my heart," she wrote. "I am committed to death do us part. ... My test has begun. Watch me. I will try to prove myself faithful."
Neither the letters nor those speakers at the pulpit directly addressed the homosexual nature of the allegations, and instead focused broadly on sexual immorality. But the letters from both Haggards emphasized that Ted Haggard's beliefs had not changed.
"As you try to make sense of these past few days, know that Ted believes with all of his heart and soul all the things he has ever taught you, those things you are putting into practice," Gayle Haggard's letter said.
Ted Haggard's letter likewise noted that his thoughts and desires "were contrary to everything I believe and teach. ... The public person I was wasn't a lie. It was just incomplete."
New life at New Life
The 10 a.m. service at New Life Church, filled beyond its capacity, focused largely on God's sovereignty, and included the songs "Blessed Be Your Name," and "It Is Well with my Soul."
"Worshippers are always challenged by crisis," said Ross Parsley, interim senior pastor of New Life Church. "And when tragedy and crisis strikes it is at that moment that you truly decide whether you are a worshipper of the Most High God. The question of Is he Lord or isn't he is a big one."
Our earlier coverage includes:
As for his former boss, Parsley said, "God is not angry at Ted. He loves him. He's wrapping his arms around him. God is determined to erase the sin that ruins our lives and he has provided everything that Pastor Ted needs for life in godliness. This is his nature. It is his character. It is his nature. It is his plan."
Within hours of Parsley being named interim senior pastor, his wife, Aimee, gave birth to their fifth child Friday morning.
"A new life in the midst of this occurrence—I consider that to be prophetic," said Haggard's letter.
Stockstill likewise emphasized God's sovereignty, and dismissed questions of how the scandal could influence Tuesday's election.
"God chose to reveal Pastor Ted's sin," he said. "In this case, God chose at this particular moment to allow this sin to be exposed. Now we can be mad at God. We can say that's not fair. The timing is terrible. Or we can say Blessed be the name of the Lord. One of the things I've learned about God is that he is wiser than me. ... What's going to happen in the nation? You know what? I don't think that's your concern or mine. God is a holy God and he chose this incredibly important timing for this sin to be revealed, and I actually think it's a good thing. I believe America needs a shaking, spiritually."
Leith Anderson named interim president of National Association of Evangelicals
Minnesota pastor Leith Anderson, credited with saving the National Association of Evangelicals from financial ruin during his 2001-2003 presidency, will lead the organization in the aftermath of the resignation of president Ted Haggard.
Anderson is senior pastor of the Wooddale Church in Eden Prairie, Minnesota, which has 5,000 regular attendees. He is also the author of several books on leadership, including Leadership That Works and Dying for Change. His most recent book is How to Act Like a Christian.
"Dr. Anderson knows the evangelical world and is uniquely positioned to serve the National Association of Evangelicals at this time," NAE board chairman L. Roy Taylor said in a press release. "He's a man of great personal integrity and spiritual leadership who can step into the president's role without missing a beat."
Anderson has been named as interim president as the NAE board searches for a new leader. No timeframe has been set. Anderson held the title of interim president for the entirety of his earlier leadership of the organization.
Related Elsewhere:
Our earlier coverage includes: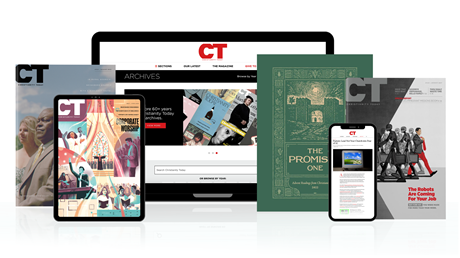 Annual & Monthly subscriptions available.
Print & Digital Issues of CT magazine
Complete access to every article on ChristianityToday.com
Unlimited access to 65+ years of CT's online archives
Member-only special issues
Subscribe
'I Am Guilty of Sexual Immorality ... a Deceiver and a Liar,' Haggard Confesses
'I Am Guilty of Sexual Immorality ... a Deceiver ...