The senior pastor at one of the Middle East's most influential churches died in a tragic accident on Tuesday, September 5. David Petrescue, 53, the senior pastor of Maadi Community Church (MCC) in Cairo, Egypt, was alone after 3:30 p.m. when he fell from a great height from his apartment building and died instantly. Government officials and family members have determined the fall to have been accidental.
His unexpected death has dealt a tremendous blow to Maadi Community Church, which he helped grow from around 150 people in 1992 to a congregation of 1,500 today. Current church members represent more than 70 denominations and 50 nations, including many hundreds of Americans, some of whom are connected to the U.S. Embassy or occupying leadership positions in American companies in Egypt.
Pastor Petrescue discovered a visionary strategy in Judges 15:4–5, enabling his congregation to become Egypt's largest expatriate church. In that passage, Samson set the tails of foxes on fire, making them run like mad, destroying the fields of the Philistines. Expatriate Christians come to Egypt and go. But from this church, they receive a burning to spread the Word of God to the many nations they may go next.
Maadi Community Church is involved in church planting, leadership training, and ministries to Sudanese refugees. In 2000, the Evangelical International Church was founded and became the legal structure for the church.
In the same year, the Sudanese Community Church was founded, along with a vibrant cell group ministry that today involves more than 60 percent of church members and many from outside the church.
Rapid church growth created difficulties, though. MCC is located on the premises of the Anglican Church of St. John the Baptist, and this location became too small for its congregations. They had been meeting for years under a tent on the church grounds, but as the number of church services and worshipers expanded, the church needed to search for another location. This was not easy for a church without any formal registration in Egypt. In 2003, the church was formally recognized by the Egyptian government, the first step toward purchasing its own grounds.
The second step involved fundraising for the purchase of land and a building. The campaign was called "Out of Egypt" and aimed to raise $10 million in five years. Petrescue and church leaders approached both local and North American donors for funding, but these efforts were not as successful as had been hoped. Fundraising thus far has raised $210,000 for the new building, with pledges for another $500,000.
Obtaining a church building permit from Egyptian authorities also proved difficult. The church has now found a suitable piece of land and last week made a presentation to Egyptian authorities for the permit.
Petrescue, a charismatic, gifted preacher who believed in the literal truth of the words of the Bible, was much loved by his congregation. He invited influential American preachers such as Josh McDowell to come to Egypt.
McDowell was not uncontroversial in Egypt, known for his books on the infallibility of the Bible. McDowell debated the famous Muslim preacher Sheikh Ahmed Dedaat, whose books are widespread on the streets of Cairo.
On Friday, September 1, Petrescue preached his last sermon on Romans 11, explaining that God has not cast away the people of Israel. Petrescue knew well that with the sensitivities between Israel and Arabs, and with the recent war in Lebanon, he was touching on a sensitive subject. He therefore stated explicitly that he was not speaking about the modern state of Israel and did not want politics to underlie his sermon.
The unexpected death of this beloved pastor, the main driver behind Maadi Community Church, created a huge shock within the congregation. Within hours after his death, people met to pray for his family and the church. But rumors also started to spread. The problems surrounding the church building and fundraising prompted some to state it was suicide. Others vehemently rejected this and claimed that Egyptian security must have planned his death, believing authorities did not want to see the church grow. MCC called his death the result of "a tragic accident."
Pastor Petrescue was married for 30 years and leaves behind his wife, Brenda, and three adult children.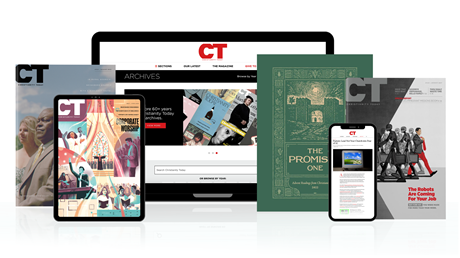 Subscribe to Christianity Today and get access to this article plus 65+ years of archives.
Home delivery of CT magazine
Complete access to articles on ChristianityToday.com
Over 120 years of magazine archives plus full access to all of CT's online archives
Subscribe Now
Leading Expatriate Pastor David Petrescue Killed
Leading Expatriate Pastor David Petrescue Killed