1. Is this the Prosperity Gospel's hour? Or the hour of its critics?
Time's cover story, "Does God Want You to Be Rich?" makes no reference to the National Baptist Convention, but it's worth noting that the black denomination spent much of its annual convention last week attacking the prosperity gospel. "Black communities are suffering, while this prosperity-pimping gospel is emotionally charging people who are watching their communities just literally dissolve," Friendship West Baptist Church pastor Frederick Haynes told Dallas's WFAA.
That the prosperity gospel has a hold on a segment of American culture is not disputable. Time quotes its own poll numbers:
17 percent of Christians surveyed said they considered themselves part of such a movement, while a full 61 percent believed that God wants people to be prosperous. And 31 percent—a far higher percentage than there are Pentecostals in America—agreed that if you give your money to God, God will bless you with more money. … Of the four biggest megachurches in the country, three—Joel Osteen's Lakewood in Houston; T.D. Jakes' Potter's House in south Dallas; and Creflo Dollar's World Changers near Atlanta—are Prosperity or Prosperity Lite pulpits.
For Osteen, Prosperity Gospel isn't a pejorative term:
"Does God want us to be rich?" he asks. "When I hear that word rich, I think people say, 'Well, he's preaching that everybody's going to be a millionaire.' I don't think that's it." Rather, he explains, "I preach that anybody can improve their lives. I think God wants us to be prosperous. I think he wants us to be happy. To me, you need to have money to pay your bills. I think God wants us to send our kids to college. I think he wants us to be a blessing to other people. But I don't think I'd say God wants us to be rich. It's all relative, isn't it?"
On the other side is the guy whose church rounds out the "largest four" list:
"This idea that God wants everybody to be wealthy?", [Rick] Warren snorts. "There is a word for that: baloney. It's creating a false idol. You don't measure your self-worth by your net worth. I can show you millions of faithful followers of Christ who live in poverty. Why isn't everyone in the church a millionaire?"
It's smart for Time to make Warren the piece's chief critic of the Prosperity Gospel. (One of his favorite lines, "I don't think it is a sin to be rich. I think it is a sin to die rich," doesn't appear.) And it allows Time to make its most astute observation: one of the reasons that the prosperity gospel has been able to grow is because (particularly white, middle-class) evangelical churches have avoided talking about personal finances or social inequality.
Now, however, white, middle-class evangelical churches are starting to talk about personal finances and social inequality. So the question becomes whether Prosperity Gospel is as ascendant as Time suggests, or whether it's just an aberrant theology that's about to have an unprosperous future.
2. Hindus attack Catholic school after séance rumors
Hindu activists attacked Loreto Convent School in Lucknow Sunday, prompting Catholic officials to close 16 schools and other institutions—both as a sign of protest and for safety concerns. The attacks came after Indian newspapers reported that a "séance" had occurred at the school. "A visiting spiritual healer claimed Jesus Christ had entered his body to bless those present," the BBC summarized. "Many of the students later said they were scared, and some of the girls even fainted during the session." School officials say students just passed out from heat during a prayer session and that there was nothing resembling a séance.
3. Jesus prayers are okay, federal court rules
For those who want to pray in Jesus' name at government meetings, there's good news: U.S. District Court Judge Richard Story ruled that invocations at Cobb County commission meetings do not violate the Constitution, even though several prayers specifically invoked the name of Jesus. In his decision, Story quoted his denial of a preliminary injunction:
To be sure, many of these speakers, in offering their invocations, identify the deity to whom they direct their prayer. In that respect, they surely convey their alignment with one religious creed to the exclusion of others. But viewed cumulatively, given the diversity in the denominations and faiths represented, it is difficult to extrapolate from any one speaker's affiliation a preference on the part of the Cobb County government.
Meanwhile, the Indianapolis Star reports that a federal appeals court in Indiana is likely to overturn a lower court's ban on sectarian prayer in the state legislature. That decision is expected in the next couple of months.
But there is news on coercive prayer. Our last Weblog talked about forced conversion to Islam and other religions. There are few Christian examples, or at least there were when we posted the item. But someone writing a story on the subject could, in theory, bring in the example of Randy Doss, who was held at gunpoint by his sister and two roommates as they prayed for his repentance. Police "were skeptical at first because his story was so bizarre," the Associated Press reports. Yes, it's bizarre that someone would have a gun pointed at them and be put under religious pressure. In America.
4. More good news, bad news in Iraq
Good news: Hanna Saad Sirop, the Chaldean Catholic priest kidnapped in Baghdad August 15, has been released. "He is really tired and exhausted," a colleague told AsiaNews.it. "He was threatened and tortured. He'll be able to talk about his painful and fearful experiences later."
Bad news: One of Baghdad's most prominent Christians has left the country. Donny George, president of the of the State Board of Antiquities and Heritage, has fled to Syria. The violence is bad, he says, but so is the radical Muslim influence in the state board. "They are only interested in Islamic sites and not Iraq's earlier heritage," he told The Art Newspaper. "I can no longer work with these people who have come in with the new ministry. They have no knowledge of archaeology, no knowledge of antiquities, nothing."
5. Are evangelicals more susceptible to fraud?
Last month, the Associated Press ran a story about how religion-based fraud, particularly those targeting conservative Christians, was getting worse. Last week, the U.S. Second Circuit Court of Appeals rejected the argument that conservative Christians are more vulnerable to fraud than others. "
"While we recognize that a fraud grounded in religious themes may pose an especially effective threat … membership in religious groups cannot, standing alone, make victims 'vulnerable' for purposes of the enhancement, even where a fraud involves reliance on religious themes or imagery," the court ruled. " We have no reason to believe that evangelical Christians as a class are 'unusually susceptible' to fraud." A lower trial court had ruled that evangelicals were more susceptible, and so in accordance with federal sentencing guidelines enhanced the offence of a two men convicted of wire fraud.
Do you think that conservative Christians are more susceptible to fraud? How might that differ from the often-complained-about assertion that evangelicals are "easily led"?
Quote of the day
"There was a stark change between the culture of the '50s and the '60s—boom—and I think there's change happening here. … It seems to me that there's a Third Awakening."
—George W. Bush, as quoted on National Review Online.
More articles
Prosperity gospel | Theft and fraud | Abuse | Crime | Money and business | Left Behind video game | Media | Entertainment | Madonna | Film and theater | ABC 9/11 film | 9/11 | Christians and Muslims | Christians and Jews | India | Uganda's Lord's Resistance Army | Iraq | Sudan | Life ethics | AIDS | Embryonic stem cells | Abortion | Politics | Jim Wallis | Environment | Evangelicalism | Baylor religion survey | Other polls | Other studies | Church and state | Bankruptcy and giving | Government prayer | Education | Evolution | Higher education | Navy chaplain court martial | Missions and ministry | Church life | Anglicanism | Homosexuality | Family | Hindu Anglican priest | People | Pope | Travel | History | Bible | Books | Other stories of interest
Does God want you to be rich? | A growing number of Protestant evangelists raise a joyful Yes! But the idea is poison to other, more mainstream pastors (Time)


Black Baptists eschew 'prosperity preaching' | Thirty-five thousand Baptists are visiting Dallas this week. They represent the nation's largest African-American organization, the National Baptist Convention (WFAA, Dallas)


Pay the Lord! | The Universal Church of the Kingdom of God has no visible doctrine or moral message and is almost silent on the Bible, but it believes passionately in generous "sacrifices" to the sect by its followers (Mail & Guardian, South Africa)


Mass. House okays stricter abuse laws | Measure to ease prosecutions (The Boston Globe)


Judge dismisses suit citing Christian leader | The sex-abuse case against an ex-head of the Christian Coalition in Oregon is filed too late (The Oregonian)


New charges filed against Ozarks pastor | New charges were filed against a pastor on Monday amid the expansion of an investigation into allegations that leaders of two reclusive church communes sexually abused girls (Associated Press)


Jesuits cite abuse by late Gonzaga chief | Former Gonzaga University President John Leary was involved in the sexual abuse of boys and young men in the 1960s, but the priest's actions were covered up by Jesuit officials, the Oregon Province of the Society of Jesus said Friday (Associated Press)


Priest accused of abuse asks court to keep his file secret | He cites the potential violation of his rights. Archdiocese's personnel records are sought by a lawyer for four who say they are victims (Los Angeles Times)


Priest denies fondling teen | A Northeast Kingdom priest pleaded innocent Monday to allegations he fondled a naked 18-year-old man after taking him to Canada and buying him beer (Rutland Herald, Vt.)


Church ministers under sex probe | Two Methodist church of Fiji ministers are under investigation for allegedly sexually harassing female students at island schools they were serving at (Fiji Times)


Choir director is held in assaults | A Deptford man who served at 3 Gloucester County churches has been charged with sexual offenses against two girls (The Philadelphia Inquirer)


Sad or sinister? Trouble not new for monastery | Self-styled monks face new charges after child-sex cases in '99 (The Dallas Morning News)


From sacristy to lockup | No one knows the varieties of limbo being wandered these days by rogue priests the Catholic Church had to drop from service once its pedophilia scandal fully surfaced (Editorial, The New York Times)


Tennessee developer creates Christian-themed subdivisions | Joe Swanson's office looks like a minister's office -- dark wood furniture on red carpet -- and in a gentle voice he talks about God and Christianity, usually smiling as he does so. But he isn't a minister. He's a developer (The Tennessean)


CEO-turned-priest sues for Hydro One pension | She may be an Anglican priest, but Rev. Eleanor Clitheroe isn't turning the other cheek when it comes to her former employer (The Globe and Mail, Toronto)


EEOC files claim against Aldi's for woman | A civil complaint filed by the Equal Employment Opportunity Commission has alleged a chain Fayette County grocery store violated an employee's rights to observe the Sabbath by having it off (Herald-Standard, Uniontown, Pa.)


Inglewood's ailing Forum blames owner of Staples | The church-owned venue accuses Anschutz Entertainment of monopolistic conduct (Los Angeles Times)


Idle thoughts | Christianity is divided over the benefits of hard work. Thank goodness for the Catholics who believe the Protestant work ethic is a dangerous thing (Tom Hodgkinson, The Guardian, London)


Popular Christian books spawn video game | "Left Behind: Eternal Forces" is based on the best-selling "Left Behind" book series about the apocalypse. But it's the apocalypse without dismemberment or graphic bloodshed, though the game has an element of violence that some Christians argue is counter to teachings of the Bible (Associated Press)


Religious game company may not have even a prayer | Left Behind Games is a Stupid Investment of the Week (Boston Herald)


Sliced and diced 'Veggie Tales' | NBC has taken the very essence of "Veggie Tales" -- and ripped it out. It's like "Gunsmoke" without the guns, or "Monday Night Football" without the football (L. Brent Bozell III, The Washington Times)


In music--and God--they trust | Sin-free Gospel Night dance concerts are big draw in city known for its earthy Carnival (Chicago Tribune)


A testament for Trekkies | A preacher has decided to boldly go where no cleric has gone before by writing the gospel according to Star Trek (The Times, London)


Jesus, Moses, Esther dolls offer Bible verses, hugs | Huggable Jesus is just one of the "the dolls that love you back," offered by a couple of biblical doll-makers in Boston, who hawk plush dolls "that pack fun and faith into one lovable, kid-sized package" (AFP)


ABC 9/11 docudrama's right-wing roots | The director is the son of Youth With a Mission founder Loren Cunningham, who wanted to use "stealth political methods to put the United States under the control of Biblical law and jettison the Constitution" (Max Blumenthal, The Nation)


BBC did not know of 9/11 film's link to religious right | The film's director, David Cunningham, is active in Youth With a Mission (Ywam), a fundamentalist evangelical organisation founded by his father, Loren Cunningham. According to its publications, the group believes in demonic possession, spiritual healing and conservative sexual morality (The Guardian, London)


Did Clinton cause 9/11? Ask Sandy Berger | Are you now or have you ever been a conservative or a Christian? That's the new loyalty oath propagated by The Nation, which just published a long column "exposing" the fact that the director of ABC's docudrama "The Path to 9/11," David Cunningham, is the son of a fundamentalist Christian, and may in fact himself be a Christian (Maggie Gallagher)


An atheist antidote to religious fanaticism | Brought up as a Methodist, Pat Berger, 78, had never been particularly religious. But for the resident of Manhattan's Hell's kitchen, the attacks of Sept. 11 served as a wake-up call about the dangers of violence in the name of God (Weekend Edition Sunday, NPR)


Christian-Jewish group pledges $45m for Israel | The head of the Chicago-based International Fellowship of Christians and Jews pledged to contribute up to $45 million this year to the State of Israel from money donated by Christian Evangelical supporters, in what would be the largest-ever annual financial contribution the group has made in its 23-year history (The Jerusalem Post)


Leap of faith | An important initiative by the Archbishop of Canterbury (Editorial, The Times, London)


Christians up in arms after Hindu attack | Religious tensions between the minority Christians and the overwhelming Hindu majority in the northern Indian city of Lucknow intensified yesterday when 16 Catholic schools in the district remained closed after an attack by extremists on the local Loretto Convent (The Australian)


Catholic schools remain closed | Arrested Bharatiya Janata Yuva Morcha activists released on bail (The Hindu, India)


Row over Lucknow Catholic schools | Roman Catholic schools in the northern Indian city of Lucknow have remained shut in protest against an attack on one of the city's premier schools (BBC)


BJYM activists ransack convent school | They were protesting against a reported occult session (The Hindu, India)


Catholic schools remain shut | All Catholic schools in the city remained shut on Monday to protest the alleged attack by some Bharatiya Janata Yuva Morcha (BJYM) activists on Loreto Convent school where a seance was held on September 6, even as some protestors arrested during the ruckus were granted bail (The Times of India)


Uganda's Lord's Resistance Army:
Ugandan rebels arriving at neutral camps | The first group of Ugandan rebels have turned up at a neutral camp in southern Sudan as part of a truce to end 19 years of conflict with the government, the chief mediator said Monday (Associated Press)


Ugandan rebel leader abides by truce | A top Ugandan rebel leader has arrived at a neutral camp in southern Sudan as part of a truce to end 19 years of conflict with the government, the chief mediator said Monday (Associated Press)


Uganda says rebels should apologize | Leaders of a rebel movement that has terrorized Uganda for two decades must come out of hiding and apologize before the government will consider pressing the International Criminal Court to grant them amnesty, an official said Thursday (Associated Press)


Leading Iraq archaeologist flees | Donny George, a Christian, is well known internationally for his efforts to recover Iraq's looted antiquities (BBC)


Saviour of Iraq's antiquities flees to Syria | Violence and Sadrists drive away archaeologist (The Guardian, London)


Priest kidnapped in Baghdad released | Fr Saad Hanna Sirop, who was kidnapped on 15 August, returned to his family last night. The pope was one of those who had prayed for him (AsiaNews.it, Catholic news site)


Darfur risks catastrophe—Annan | The UN Secretary General Kofi Annan has warned of possible death and suffering on a catastrophic scale in Sudan's Darfur region (BBC)


U.S. judge rejects lawsuit alleging genocide by Talisman Energy | A judge has dismissed Calgary-based Talisman Energy Inc. from a lawsuit that alleged it aided genocide in its pursuit of oil in Sudan, saying Tuesday the plaintiffs had failed to find evidence against it that could be used in a U.S. court (Canadian Press)


Abducted Sudanese journalist found dead | Last year, Taha published an article that referred to a centuries-old text by a Muslim historian that raised questions about the prophet's lineage. Religious leaders in Khartoum denounced Taha's work, and scores of protesters called for his death (The Washington Post)


AIDS-inspired altarpiece tours America | As the twin scourges of AIDS and unemployment ravaged their rural district, the women of the South African fishing village of Hamburg decided to fight back with the weapons they were given: embroidery needles (Associated Press)


Sex does not cause Aids | The African Network of Religious Leaders Living with or Personally Affected by HIV and AIDS (ANERELA+) General Secretary Reverend Fr. Japé Heath stunned journalists in Lilongwe last week when he said it was not possible to get AIDS from sex (The Chronicle, Malawi)


Stem-cell decision is a question of morality, not science | Science is good at telling us how to do things. It can tell us how to achieve certain ends and provide the means to do so. However, the decision as to whether those ends are good ends or whether the means to achieve them are ethical is not a scientific question (Neil Ormerod, The Sydney Morning Herald)


Stunning lies | The recent much ballyhooed "embryo-safe" experiment turns out to be just another stem cell fraud (Michael Fumento, The American Spectator)


The hard cell | Reports of a major breakthrough in the science of stem cells were premature, and wrong (Wesley J. Smith, The Weekly Standard)


Bush tells group he sees a 'Third Awakening' | President Bush said yesterday that he senses a "Third Awakening" of religious devotion in the United States that has coincided with the nation's struggle with international terrorists, a war that he depicted as "a confrontation between good and evil." (The Washington Post)


Evangelical leader says voting for a Mormon not a problem | Politics over religion: Haggard says Romney's faith not a barrier to his presidential bid (The Salt Lake Tribune)


Also: Evangelicals key to Romney run | Massachusetts Gov. Mitt Romney's possible run for president in 2008 is generating some excitement in the heavily Mormon state of Utah, but the big roadblock, some say, is the Republican Party's powerful evangelical wing (The Washington Times)


Activist preacher Jim Wallis calls for 'good religion' | At a conference in Pasadena, liberal Christians are urged to create a kinder, gentler way to practice their faith and politics (Los Angeles Times)


Turning politics of religion upside-down | The Rev. Jim Wallis challenges stereotypes about evangelical Christians and politics (The Oregonian)


Beyond caricature and conventional wisdom | American evangelicals are far more diverse than we think. And their politics are equally unpredictable (Mark Pinsky, The Guardian, London)


Fundaresentalism | Daily evangelical practice turns millions of people into idiots (Spengler, Asia Times)


Post-9/11, more are putting faith in power of prayer | Surveys show that church attendance may be down, but praying is up (Los Angeles Times)


People turned to religion after 9/11, but not for long | More than 35 million people attended a religious service in the days following 9/11, according to a Gallup poll. Almost 75 percent of Americans said they were praying or intended to pray (San Bernardino Sun, Ca.)


Judge not? What the heck, it's just a poll | Even if we don't know a lot about what hell is like, we apparently think we know a whole lot about who will be adding to its population, according to a recent poll of 10,567 readers of the Beliefnet Web site (Mark Hohmeister, The Tallahassee Democrat, Fla.)


Too much nourishment for the soul? | Churches can be a "feeding ground" for gluttony and obesity, but fatty covered casseroles and Sunday School doughnuts aren't the only minefields, new research shows (Chicago Tribune)


People 'do believe they can wash away sins' | Chen-Bo Zhong, of the University of Toronto in Ontario, and Katie Liljenquist, of Northwestern University in Chicago, conducted experiments to investigate the "Macbeth effect"—that is, a threat to one's moral purity induces the need to cleanse oneself (The Telegraph, London)


Bankruptcy reform ruling limits some charitable giving | Many Americans seeking Chapter 13 bankruptcy protection will have to pay off all creditors before they can tithe or make other charitable donations under the new federal bankruptcy-reform law, a judge has ruled (The Washington Times)


Will bankruptcy ruling limit tithe-payers? | A New York federal judge has ruled that some people going through bankruptcy may not make charitable or religious contributions (Deseret Morning News, Ut.)


Also: 2005 bankruptcy law makes charitable giving difficult for debtors (Religion Clause)


Cobb wins prayer legal battle | Federal judge okays invocations before county meetings (The Atlanta Journal-Constitution)


Also: Prayers to Jesus okayed for Cobb Commission | Judge rejects ACLU suit to halt practice (The Atlanta Journal-Constitution)


Judges shy away from prayer ban | Panel hears Bosma's challenge to ruling that halted overtly Christian invocations (The Indianapolis Star)


Prayer in the House | There is a fine line between public and private speech in Bosma vs. Falk battle (The News-Sentinel, Ft. Wayne, Ind.)


Intelligent design may resurface in Ohio talks | Group criticizes teaching plan under board's review (The Toledo Blade, Oh.)


Kenya bishop leads anti-evolution fight | Evangelists want fossil exhibits kept out of sight (The Observer, London)


Dinosaurs, Bible meet in Pensacola | A creationist theme park promotes the idea that the Earth is 6,000 years old. The scientific community puts the age of Earth at 4.5 billion years (The Miami Herald)


Trial begins for Navy chaplain accused of disobedience | When a uniformed Navy chaplain utters prayers at a news conference, does that constitute a "bona fide religious service or observance"? (The Virginian-Pilot, Hampton Roads, Va.)


Chaplain enters plea at court-martial | A Navy chaplain charged with disobeying orders by wearing his uniform at a White House protest pleaded not guilty at his court-martial Tuesday (Associated Press)


Navy officials tried to fire chaplain prior to charges | Internal e-mails indicate that the Navy was moving to fire an outspoken chaplain even before he was charged with disobeying an order (The Washington Times)


Three die when plane crashes on way to Baja California clinic | A pilot and two medical missionaries flying out of Brown Field died yesterday when their small plane crashed about 90 miles south of the U.S-Mexico border outside Ensenada, law enforcement authorities said (San Diego Union-Tribune, Ca.)


Running on empty? Visit church, fill up | Cypress Point Community Church hopes it can touch the lives of first-time visitors as it helps top off their gas tanks (St. Petersburg Times, Fla.)


Living the Questions a liberal alternative to Alpha | Two United Methodist ministers in Arizona, Jeff Procter-Murphy and David Felten, launched Living the Questions last year. They wanted a way to invite people to their churches and to discuss Christian theology but without presenting an absolute set of answers (The Post and Courier, Charleston, S.C.)


Skateboard ministry | Price of admission to church's skate park: listening to the sermon during water break (The Washington Post)


Preacher calls for one wife marriages | A visiting international preacher has urged Uganda to change its laws to sanction only monogamous marriages. Dr. Leo Godzich, associate pastor of Phoenix First Assembly Church in Arizona, USA, and founder of the National Association of Marriage Enhancement, was addressing a press conference at Hotel Africana on Thursday (New Vision, Uganda)


Move to outlaw smacks | A push is under way for Tasmania to become the first state to ban parents from smacking their children (The Mercury, Tasmania, Australia)


I'm lonely because I can't find a Christian to marry | At 24, I'm torn about not having sex until marriage, especially as only non-Christian men ask me out (The Guardian, London)


Hinduism no barrier to job as priest in Church of England | A priest with the Church of England who converted to Hinduism has been allowed to continue to officiate as a cleric (The Times, London)


Also: British priest in Kerala in conversion debate | Rev. David Hart finds no contradiction in being identified as a "religious pluralist" (The Hindu, India)


Response: Ely's Hindu priest | May I reassure your readers that Mr Hart does not hold any post and is not a licensed priest within the Diocese of Ely (Canon Owen Spencer-Thomas, The Times, London)


In search of common ground? Get thee to a nunnery | Monasteries, convents and religious camps have been opening their doors to business mediation and strategy retreats (The New York Times)


Ranch turned abbey is fertile field for serenity | Monks and anyone else seeking contemplative solitude have been drawn to St. Andrew's Abbey for 50-plus years (Los Angeles Times)


Papyrus, parchment & posterity | At the Sackler, 'Bibles Before the Year 1000' to trace books' evolution (The Washington Post)


Ernesto's power claims historic tree | Church to preserve red oak's legacy (The Washington Post)


Can we trust the gospels? | None of the Gnostic texts--or any other recently unearthed find--can trump the four canonical gospels. An excerpt from Simply Christian (N.T. Wright, Beliefnet)


Blogging the Bible: I'm starting to hate Deuteronomy | Moses turns into Jackie Mason (David Plotz, Slate)


The illustrated word | The interior confusions of The St. John's Bible's sponsor find subtle embodiment in a made-for-exhibition Bible that is less a companion to liturgical prayer than an ambitious tour de force (The New York Sun)


Cleaning the closet: Heche's mom publishes memoir | What are the chances that three out of four women in a single family would each write memoirs? (Chicago Sun-Times)


Evangelical author puts progressive spin on traditional faith | Brian McLaren has emerged as one of the most prominent voices in an increasingly active group of progressive evangelicals who are challenging the theological orthodoxy and political dominance of the religious right (The Washington Post)


God is green | Edward O. Wilson makes a plea on behalf of the planet to an imaginary Baptist minister. Matthew Scully reviews The Creation (The New York Times Book Review)


Albright at prayer | The former secretary of state takes on religion, and wrestles it to the ground. Elizabeth Edwards Spalding reviews The Mighty and the Almighty (The Weekly Standard)


What sort of end will Harry Potter meet? | Some say Rowling should let Potter die, he said, because that is what tragic heroes do (Terry Mattingly, Scripps Howard News Service)


Rev. Albert Wagner, Pentecostal minister and Bible-figures folk artist, dies at 82 | Wagner never studied art, but got interested in being an artist in 1974 when he was painting the interior of his house for his 50th birthday. He noticed paint-can rings on the board where he left open buckets (Los Angeles Times)


Zoroastrians keep the faith, and keep dwindling | The Zoroastrians fear that they are fighting the extinction of their faith, a religion that scholars say is at least 3,000 years old (The New York Times)


Religion news in brief | USCCB's tightens seminarian training policies, Seminary rejects pastor's sermon on speaking in tongues, and other stories (Associated Press)


Related Elsewhere:
Suggest links and stories by sending e-mail to weblog@christianitytoday.com
See our past Weblog updates:
May 3
April 28 | 27b | 27a | 19
April 12 | 11 | 7
March 31 | 30 | 28
March 24 | 24 | 23 | 21
March 17 | 16 | 15
March 10b | 10a | 8
March 3 | 2 | 1
Weblog
Launched in 1999, Christianity Today's Weblog was not just one of the first religion-oriented weblogs, but one of the first published by a media organization. (Hence its rather bland title.) Mostly compiled by then-online editor Ted Olsen, Weblog rounded up religion news and opinion pieces from publications around the world. As Christianity Today's website grew, it launched other blogs. Olsen took on management responsibilities, and the Weblog feature as such was mothballed. But CT's efforts to round up important news and opinion from around the web continues, especially on our Gleanings feature.
Ted Olsen is Christianity Today's executive editor. He wrote the magazine's Weblog—a collection of news and opinion articles from mainstream news sources around the world—from 1999 to 2006. In 2004, the magazine launched Weblog in Print, which looks for unexpected connections and trends in articles appearing in the mainstream press. The column was later renamed "Tidings" and ran until 2007.
Previous Weblog Columns: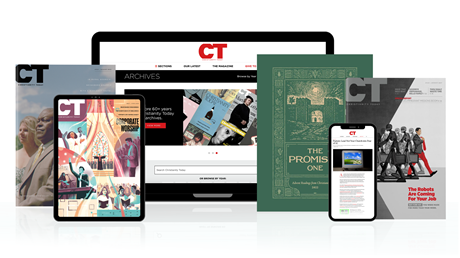 Annual & Monthly subscriptions available.
Print & Digital Issues of CT magazine
Complete access to every article on ChristianityToday.com
Unlimited access to 65+ years of CT's online archives
Member-only special issues
Subscribe
Joel Osteen vs. Rick Warren on Prosperity Gospel
Joel Osteen vs. Rick Warren on Prosperity Gospel