Reviews

|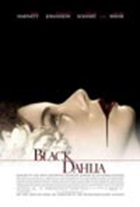 It should come as little surprise that a culture obsessed with CSI and Hannibal Lecter would also be fascinated by a true-life mystery like The Black Dahlia murder. A simple Internet search yields a slew of sites dedicated to the subject, including the basic facts, FBI case files, a list of possible suspects (including Orson Wells and Woody Guthrie), and some of the grisliest morgue photos around. Does it remain popular because it remains unsolved, because it happened in Hollywood, or because such a heinous and gory killing could took place in a seemingly more innocent era like 1947?
Whatever the allure, it is a little surprising that the murder is almost tangential to the movie The Black Dahlia. Based on the novel by James Ellroy, who is best known for the similar Hollywood crime noir book L.A. Confidential, this is a fictionalized account of what could have happened in the aftermath of one of the most infamous unsolved cases in history—not too unlike certain dramatizations that attempt to apprehend Jack the Ripper. But rather than focus on apprehending a murderer, The Black Dahlia seems more a story about the relationship between two friends on the police force.
Those two cops are Leeland "Lee" Blanchard (Aaron Eckhart) and Dwight "Bucky" Bleichert (Josh Hartnett), also nicknamed Fire and Ice not just for their respectively explosive and reserved personalities, but also for their experience in L.A.'s boxing circuit. They meet in the middle of a downtown riot, form a bond out of mutual respect, and end up becoming minor celebrities after a charity bout to benefit the police force—Bleichert graphically loses his two front teeth, hence his nickname. Nevertheless, they develop a strong camaraderie and are soon partnered ...
1