Throughout the world, Christians commemorate the Transfiguration on August 6. Peter remembered—and told the church to remember—the event, "the prophetic word made more sure," as "a lamp shining in a dark place" (2 Peter 1:19, NASB).
The time leading up to the vision of Christ's majesty had been a dark one for Peter: According to Matthew and Luke, he had been troubled by Jesus' words about his upcoming death and had recently been called Satan. But for him and the other eyewitnesses, the event confirmed Jesus' divinity and mission. It prepared the way for Christ's death. As at Jesus' baptism, God announced that Jesus was his beloved Son, the chosen one. He added the command, "Listen to him!" After the vision, Jesus, Peter, James, and John went down the mountain talking about resurrection.
We don't celebrate by building tents for Jesus, Moses, and Elijah, as Peter suggested when he couldn't think of anything else to say, but artists throughout church history have depicted the event.
The Transfiguration does not seem like a scene that could naturally become quiet and two-dimensional—Jesus' conversation about his crucifixion with long-dead Elijah and Moses (who, Ruth Bell Graham pointed out in Prodigals and Those Who Love Them, had not been permitted to see the Holy Land before his death) was off-record, Peter couldn't stop babbling, and the whole situation was so overwhelming that the disciples were "overcome by sleep" (Luke 9:32).
While some paintings of the Transfiguration portray donors who commissioned the artwork worshipping decorously in the wings, almost all show the three disciples dazzled and afraid, falling or crawling on the rocks beneath Jesus. Moses—bearded and sometimes horned—is usually on Jesus' right, and Elijah is typically on his left.
The artists whose work is featured in this slideshow explore Jesus' majesty, his relationship with Moses and Elijah, and the disciples' response.
Click here to view the slideshow.
Related elsewhere:
Matthew 17: 1-13, Mark 9: 2 - 13, Luke 9:28-36 record the Transfiguration. 2 Peter 1:16—21 also refers to it.
Artist websites and more works by Cornelius Monsma, Pat Turlington, Christina Saj, and Macha Chmakoff, are available online.
Michael Smither's Transfiguration and Ramsey House Chapel, where it was painted and displayed, are currently undergoing restoration,
The two characters in Raphael's study for the Transfiguration appear near the middle bottom of the completed work.
ArmSite.com tells more about Armenian miniatures and the artists who painted them.
Previous slideshows include:
Early Light | On pilgrimage to Ireland's first Christian sites. (July 18, 2007)
Psalms, Hymns, and Spiritual Songs | Worship music engages the eyes, not just the ears and tongues. (May 30, 2007)
Images of Calvary | Contemporary Christian artists reflect on Good Friday. (April 3, 2007)
Photo Essay: Russia | With "The God Who Lives and Works and Plays in Russia." Christians in Utica, New York, are resettling the world one displaced soul at a time. (November 22, 2006)
Utica | With "The Town that Loves Refugees." Christians in Utica, New York are resettling the world one displaced soul at a time. (Denise McGill, February 15, 2007)
Flight to Freedom | With "Saving Strangers." The journey of one Somali Bantu family in the largest group resettlement of African refugees in U.S. history. (Denise McGill, July 1, 2004)
Photo Essay: Brazil | With "River Deep Mercy Wide." A medical journey on the Rio Negro in Brazil's Amazon Basin. (February 1, 2004)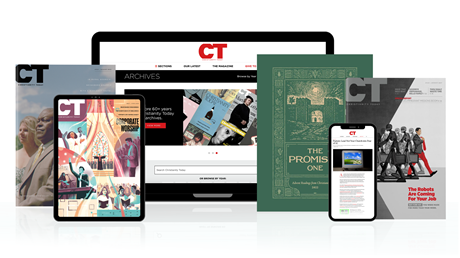 Annual & Monthly subscriptions available.
Print & Digital Issues of CT magazine
Complete access to every article on ChristianityToday.com
Unlimited access to 65+ years of CT's online archives
Member-only special issues
Subscribe
The Transfiguration
The Transfiguration