On Friday morning at the annual fall conference of the Christian Community Development Association (CCDA), a young Korean American woman, Susie Kook, introduces a Perkins Fellow who has spent the summer working with John Perkins in Jackson, Mississippi. Kook assures the large, multiracial audience that conference authorities have okayed the following act, which intends no disrespect.
Christian Vance, a young African American, proceeds to give a dead-on parody of the address Perkins has just finished, using his stuttering, rat-a-tat delivery. "I d-d-d-don't j-j-just HAPpen to be b-b-black. You see what I mean? My m-m-mother is BLACK. M-m-m-my FATHER is b-b-black. You see what I mean? My c-c-c-COFfee is black. So I am B-B-B-BLACK!"
A relaxed ripple of laughter runs through the audience. It is no big deal to make fun of the CCDA founder. In fact, it shows how this gathering views the man some call "Grandpa." More than respected, he is loved. Perkins and his wife, Vera Mae, have eight children of their own, but this gathering is his extended family and his legacy.
CCDA is an association, not an organization. It is composed of evangelicals involved in inner-city ministry to the poor. Like a trade association, a common interest—not institutional connections—links these people.
Nearly 2,000 have come to Philadelphia for networking and encouragement. Most are young and white, with a sizeable component of African Americans and smaller leavenings of Asians and Hispanics. The atmosphere is consistently friendly and stress-free—stylistically moderate, even though the work they do is radical.
"This is an organization with a single purpose," Perkins said earlier Friday morning for his daily Bible study. "Single purpose! Single purpose! We're committed to build the community and the family among the poor."
That single purpose lured Michael Young from Fresno, California, where he works with an inner-city ministry known as Pink House. Not long out of college himself, he has brought nine interns to the conference. "We like to get them around practitioners, people who have been doing it for 20 years," he explains. "It's good to be around people who have poured themselves into this work—who have struggled.
"One of our priorities is to hear John Perkins do his Bible study. It's kind of like hearing from Grandpa. He has kept true."
Anger to Activism
John Perkins's small, wizened face shows his 76 years, but he grows animated while speaking to this audience, strutting and striding like a charged-up Chuck Berry. "Good ministry that changes the community comes out of passion," he preaches in a seminar. He tells of his first days of ministry in Mississippi, when two white pastors who had opened themselves to black friendships ended up committing suicide because of the harassment they received. "That's when I began to get passion—passion to preach the gospel that can liberate my white brethren."
Perkins's remarkable life story began in rural, segregated Mississippi, where his father disappeared and his mother died shortly after his birth. Raised by tough, bootlegging relatives, he never finished elementary school. As a teenager, he held his dying brother Clyde in his arms after a trigger-happy police officer shot him, a decorated serviceman just back from World War II service.
Relatives urged an angry Perkins to leave town before he got shot himself. In 1947, they helped him go west to Southern California, where he landed a job in a foundry. A self-confessed workaholic, he prospered as he advanced from one job to another. Soon he owned his own home, where he and Vera Mae began to raise their children.
Perkins had never thought much of religion. "It was hard for me to see how all that shouting and bench turning I saw in black churches was giving people any kind of incentive to develop," he recounts in his autobiography, Let Justice Roll Down. But his oldest son, Spencer, began to attend a neighborhood church and talked his parents into going. After considerable investigation—Bible reading, particularly—Perkins accepted Christ. Soon he was using every minute of his free time to study the Bible, teach Bible classes, or witness to his faith.
In 1960, he took his family back to Mississippi, intending to start a Bible ministry. While offering Bible classes in still-segregated public schools and other venues, though, he found that Bible ministry had to be bigger than he had planned. Living out the gospel meant changing lives, and that involved changing the community.
Though leery of some aspects of the civil-rights movement, Perkins began to register voters, trying to influence local elections. That brought threats and opposition from the white community. Perkins helped organize co-ops throughout the South. He launched a health clinic. When local black churches kept a distance from his ministry, he started a church of his own. At one point, after he led a boycott of local white businesses, police arrested and badly beat him.
Perkins depended on support from conservative Christians back in Southern California, who found it hard to understand how a ministry of Bible teaching and evangelism had become a source of political agitation and violence. Through trial and error, he developed a philosophy of ministry to the poor, and in the process of explaining it to supporters and volunteers, he boiled the philosophy down to three points.
Three R's of Development
The philosophy of the "Three R's"—reconciliation, relocation, and redistribution—is CCDA's backbone. Reconciliation shows itself as multiracial ministry. Perkins has never flirted with black power rhetoric or Afrocentric philosophies. He firmly believes that the kingdom of God is seen when all ethnicities work and worship together. "I want to preach a gospel that is stronger than my race and stronger than my economic interest," he says. At the CCDA conference, his close friendship with Wayne Gordon, a white inner-city pastor from Chicago's tough Lawndale neighborhood, sets the example.
The second R, relocation, emphasizes that to work with the poor you have to live with them. "I believe that the people with the problems can solve their own problems," Perkins says. Only those who share daily life in the ghetto can move past charity to genuine community development.
This challenges up-and-out inner-city residents just as much as suburbanites. CCDA members don't consider it a success when local young people go off to college and graduate to suburban life. "What they have got is a better education in consumption," Perkins says. CCDA champions educated young people who come back to serve in their communities.
Living in the community, Wayne Gordon stresses, is the only cure for the prejudice that middle-class whites typically bring to their relations with the poor. He tells of moving into the high-crime area of Lawndale as a young teacher and coming home to find his van broken into. Residents of his building saw the theft and organized an around-the-clock vigil to make sure no one looted the van further. They took care of him even though he was the only white man in the neighborhood. "I found that, unexpectedly, I was living out the words of Martin Luther King Jr., being judged not by the color of my skin but by my character," Gordon says.
The third R, redistribution, sounds like socialism, but what Perkins describes is far closer to capitalism. He seeks economic vitality, not handouts. He recognizes that external forces—unjust laws, lack of access to bank loans, poor schools—often prevent economic progress among poor people. But so does a lack of self-confidence and initiative. He wants poor African Americans to learn from immigrants who look at their blighted communities and see business opportunities. One way or another, economic resources must change hands so that the poor can gain economic power and dignity.
Climate Change
To see CCDA in action, consider Mary Nelson, a founding member on behalf of Lutheran-based Bethel New Life on Chicago's west side. "She seems to be left-wing," Perkins says of the white-haired, feisty, recently retired former school principal. Indeed, Nelson emphasizes how important it is to pressure politicians, government agencies, and banks. "If so many people are drowning, you need to go upstream and see who is pushing them in."
But Nelson also talks about getting church ladies to pray. Over 27 years, Bethel New Life has grown from a small beginning—an aging Lutheran church deciding to rehab a three-flat apartment building—to 348 employees involved in everything from banking to transportation. Bethel New Life claims to have built more than 1,000 housing units in its neighborhood. Nelson recently resigned her leadership position so that an African American woman could assume it. And then Nelson moved into one of the low-income housing units she helped to build.
Bob Lupton looks and talks like someone you would meet at the Atlanta Rotary. He has worked in Atlanta for more than 30 years, first with Youth for Christ and since then with FCS Urban Ministries. The organization began as Family Consultation Service, a counseling center for low-income clients, but soon branched out into community development. FCS has built four mixed-income housing developments and specializes in convincing middle-class Atlantans to relocate to poor neighborhoods and become part of their revitalization. Lupton is keenly aware of gentrification, in which young professionals move to urban areas and upgrade deteriorating neighborhoods. He thinks the trend can bring enormously helpful economic vitality, but he warns that it can also displace poor people as housing prices go up. Lupton talks of "gentrification with justice" and urges CCDA members to try shaping the real-estate market so poor people don't get shoved out.
At the conference, which is held in Philadelphia, we hear much talk about how cities are changing. For the last 50 years, American cities have been depopulated and depleted as wealth and industry have moved to the suburbs. That trend seems to be reversing. Cities have grown more attractive to young people, and crime has decreased. For poor residents, there may be little improvement—schools, family structures, and the social fabric remain in tatters—but for middle-class suburbanites, the inner city no longer seems comparable to the Black Hole of Calcutta. Ministry groups such as InterVarsity and Campus Crusade lead student teams into inner-city locations, and a new generation of Christians takes seriously activism among the poor.
"It's amazing, the overpowering number of young people [who are trying to follow CCDA principles]," Perkins says. "It's very inspiring to me. It humbles me. I don't read much of their stuff. I don't go to their movies. It just amazes me that [I can influence them] with my old-fashioned reading of the Bible. I see it as my responsibility to keep that message before the people."
Grandfather to a Generation
"The wonderful thing about John Perkins is that he grows and grows," Mary Nelson says. None of Perkins's community development efforts in Mississippi or California has been a knockdown success. They have made differences in many lives, but it would be hard to attribute large-scale transformation to them. The same could be said of most members of CCDA: Theirs are small-scale attempts to overcome large-scale problems of depleted economies, disintegrating families, and substandard education.
The key to Perkins's legacy, and the legacy of CCDA, will surely be replication. There are community development programs in almost every large city now. Can idealistic young people, drawn to the vision of justice and love, stick it out for the long haul, as Perkins and other veterans have? Will their churches, schools, housing projects, and medical clinics endure? Will the CCDA philosophy spread?
"I decided a few years ago that I didn't want to seek my legacy in buildings or institutions," Perkins says. "I wanted to raise up people." He has managed to relate to whites without alienating them, yet he has remained authentically, unquestionably rooted in African American culture. He also says, "I have kept a pretty good relationship with the gospel-preaching Left and the gospel-preaching Right." Both sides chronically worry that Perkins has gone over to the other side.
Like a grandparent, Perkins is old enough to roll with the tide. He doesn't seem worried when people go off in one direction or another, so long as they stick to the Bible and to the poor.
Shane Claiborne, who leads the Simple Way in Philadelphia, writes in the introduction to a re-release of Perkins's Let Justice Roll Down that "Papa John has fathered a ragtag and dysfunctional spiritual family as diverse as the kingdom of God." Of course, he didn't really father them. Many began working with poor communities before they ever heard of John Perkins. But Perkins's spirit drew them together, and a new generation has joined in. His passion for the poor has spread.
"What we wanted CCDA to be," Perkins says, "is first of all Christian, believing the Bible is the Word of God, but also practical for living. The Christian church is meant to be the continuation of the life of Jesus on earth. Unfortunately, I see it more [often] as a continuation of American individualism, need, and greed.
"Serving the poor is not some do-good thing. CCDA is living with a purpose, to live out the love of God. We get our orders from the Word of God. The message that we are bringing to the poor is that they have been loved by a holy God."
Tim Stafford is a CT senior writer.
Related Elsewhere:
John Perkins, according to The John Perkins Center at Seattle Pacific University, is president of John M. Perkins Foundation for Reconciliation and Development, the founder of Christian Community Development Association, Mendenhall Ministries, Voice of Calvary Ministries, Harambee Christian Family Center, Harambee Preparatory School, co-founder and chairman of the Christian Community Development Association, and publisher of Urban Family magazine.
Dr. John Perkins is the author of numerous books, including, Let Justice Roll Down, an autobiography.
Perkins also wrote the article "Who Speaks for the Black Community?'
Charles Marsh told CT that Perkins was " the most influential African American church leader since Dr. King."
Edward Gilbreath's review of The Beloved Community mentions Perkins' work.
Have something to add about this? See something we missed? Share your feedback here.
Our digital archives are a work in progress. Let us know if corrections need to be made.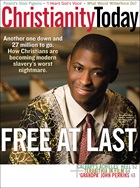 This article is from the March 2007 issue.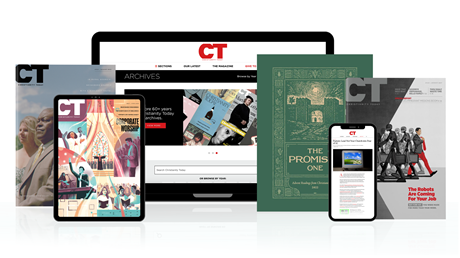 Annual & Monthly subscriptions available.
Print & Digital Issues of CT magazine
Complete access to every article on ChristianityToday.com
Unlimited access to 65+ years of CT's online archives
Member-only special issues
Subscribe
Grandpa John
Grandpa John