Today's Top Five
1. Faith-based initiative case goes to the Supreme Court
Just because you pay federal taxes doesn't mean you have the right to sue the government over how it spends your tax dollars, the Supreme Court ruled in 1923. If your "only injury is an anticipated increase in taxes," too bad.
In 1968, the court made an exception: taxpayers can sue over funding legislation that may unconstitutionally support religion.
"Our history vividly illustrates that one of the specific evils feared by those who drafted the establishment clause and fought for its adoption was that the taxing and spending power would be used to favor one religion over another or to support religion in general," Chief Justice Earl Warren wrote in Flast v. Cohen. "The taxpayer's allegation in such cases would be that his tax money is being extracted and spent in violation of specific constitutional protections against such abuses of legislative power."
Citing Flast, the Freedom from Religion Foundation (FFRF) sued over the White House's faith-based initiative. The White House, through Solicitor General Paul Clement, responds that the Flast exception is for congressional statutes, not executive branch expenditures on executive branch programs (like the faith-based initiative conferences FFRF wants to challenge).
At oral arguments Wednesday, that explanation didn't even sit well with Justice Antonin Scalia, who is generally dismissive of establishment clause claims. But Andrew J. Pincus, representing FFRF, seemed to fare worse with the justices. He had barely begun when Chief Justice John Roberts said, "I don't understand under your theory why any taxpayer couldn't sue our Marshal for standing up and saying 'God save the United States and this honorable Court.'"
Pincus replied that the taxpayer would have to "identify a discrete and identifiable non-incidental expenditure." So when the government pays for security when the president addresses a religious group, or when it pays for bagels at a prayer breakfast, it's not grounds for a suit, Pincus said, because "it is not paying for the center of what the violation is."
The question here is taxpayer standing, and Clement emphasized that there are still ways to challenge establishment clause violations. "Any time the establishment clause injury takes the form of alleged coercive conduct, the individuals who are coerced are going to have standing to bring the suit," he said.
There are also circumstances under which a taxpayer could bring a suit, Clement said — but it was clear that the justices had a hard time following his argument on this point. After a series of hypotheticals and dead-end questioning, Justice Samuel Alito stepped in to help.
"General Clement, are you arguing that these lines that you're drawing make a lot of sense in an abstract sense?" Scalia asked. "Or are you just arguing that this is the best that can be done within the body of precedent that the Court has handed down in this area?"
"The latter, Justice Alito," Clement replied. "And I appreciate the question."
"Why didn't you say so?" asked an exasperated Scalia. "I've been trying to make sense out of what you're saying."
"Well, and I've been trying to make sense out of this Court's precedents," said Clement.
Still, he wants to keep those precedents. A number of groups filing amicus briefs asked the Court to draw the lines even tighter, even so far as closing Flast's taxpayer-standing hole altogether.
2. How much should we pile on the "Jesus tomb" silliness?
The blogs of archaeology professors and Bible scholars are full of commentaries on the Talpiot tomb claims made by Simcha Jacobovici and his colleagues. Much of them are really interesting to fellow scholars, and can be summed up as: countless reasons why Jacobovici is wrong. There are disagreements, but these are focused on the degree and manner in which Jacobovici is wrong—not whether he is. Weblog is a little surprised that the journalism blogs aren't talking more about this. This story is, after all, more about journalistic credulity and celebrity worship than it is about some guy making an unsubstantiated claim about Jesus. We get odd claims all the time, and I'm sure that other news outlets do, too. So why did Jacobovici and Cameron get such massive media attention—and, at least initially, such uncritical coverage? Why was the story, "Has Jesus Been Found?" and not, "Has James Cameron Lost It?" And as The Daily Show pointed out last night, why respond to Cameron with people like Bill Donohue?
But while we're on the topic: Could all you CT readers outraged that the media would give this so much attention please remember this incident the next time you ask why we're not covering the discovery of Noah's ark?
3. Speaking of media hype
"To a tired genre," says Newsweek, this week's media phenomenon, "brings breathless pizzazz and a market-proven gimmick, an evocation of ancient wisdom and hidden conspiracies that calls to mind The Da Vinci Code." Wait. Newsweek isn't talking about the Talpiot tomb? No. It's The Secret, the Oprah-blessed name-it-and-claim-it book and DVD set. Actually, Newsweek was much harder on The Secret than it was on the tomb.
4. Six die in Bluffton University bus crash
Bluffton University, a member of the Council for Christian Colleges and Universities affiliated with the Mennonite Church, suffered tragedy this morning as a charter bus carrying its baseball team drove off a highway ramp. Four students, the bus driver, and the bus driver's wife were killed. Nineteen students were injured, and three are in critical condition.
5. Los Angeles Times fills in some details on Calvary Satellite Network
Rob Moll's Christianity Today article on Calvary Chapel, which appears in the current issue, alluded to accusations of sexual harassment against Calvary Satellite Network president Mike Kestler and to conflict between Kestler and Calvary Chapel founder Chuck Smith. This week, the Los Angeles Times described the battle and accusations in more detail.
Quote of the day
"The period of secularization was important, but I see us living in a changed world where it is incumbent on politicians and political documents to spell out more clearly their spiritual roots. If we are honest, we often lack the strength to clearly state what our beliefs are and that makes us less credible to others with different beliefs and values."
German Chancellor Angela Merkel, speaking to members of her Christian Democratic Union, would like to see the European Union constitution include references to its Christian roots.
More articles
Hein v. Freedom From Religion Foundation | Church and state | India | Cuba | China | Israel | House of prophecy | Klingenschmitt discharged | 2008 candidates | Politics | Abortion | Stem cells | Life ethics | HPV vaccine | Homosexuality | Anglicanism | Church of England synod | British spirituality | Anglicans vs. Muslims? | AMiA priest dismissed | CRC battle | Closed churches | Church life (U.S.) | Church life (non-U.S.) | Catholicism | San Diego diocese files bankruptcy | Abuse | Crime | Missions and ministry | Education | Higher education | Evolution | "Lost Tomb of Jesus" | William Wilberforce | Books | "The Secret" | Money and business | Television | Media, art, and entertainment | Other stories of interest
Hein v. Freedom From Religion Foundation:
San Diego diocese files bankruptcy:
Media, art, and entertainment:
Related Elsewhere:
Suggest links and stories by sending e-mail to weblog@christianitytoday.com
See our past Weblog updates:
February 26 | 14 | 2
January 24 | 19 | 17 | 12 | 9
January 5 | 4 | 2
December 29 | 22
December 18 | 15 | 12
December 8 | 6 | 1
November 21 | 17 | 16 | 15 | 13
November 6 | 3 | 2
Weblog
Launched in 1999, Christianity Today's Weblog was not just one of the first religion-oriented weblogs, but one of the first published by a media organization. (Hence its rather bland title.) Mostly compiled by then-online editor Ted Olsen, Weblog rounded up religion news and opinion pieces from publications around the world. As Christianity Today's website grew, it launched other blogs. Olsen took on management responsibilities, and the Weblog feature as such was mothballed. But CT's efforts to round up important news and opinion from around the web continues, especially on our Gleanings feature.
Ted Olsen is Christianity Today's executive editor. He wrote the magazine's Weblog—a collection of news and opinion articles from mainstream news sources around the world—from 1999 to 2006. In 2004, the magazine launched Weblog in Print, which looks for unexpected connections and trends in articles appearing in the mainstream press. The column was later renamed "Tidings" and ran until 2007.
Previous Weblog Columns: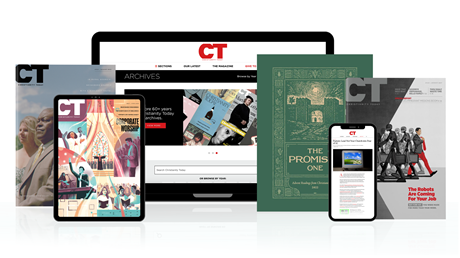 Annual & Monthly subscriptions available.
Print & Digital Issues of CT magazine
Complete access to every article on ChristianityToday.com
Unlimited access to 65+ years of CT's online archives
Member-only special issues
Subscribe
The Bagel Between Church and State
The Bagel Between Church and State