1. Focus on the Family veep: "We applaud the NAE's decision"
Time magazine is overloaded with good religion stories this week, from its cover story on the Bible in public schools, to Joe Klein's item on "Second Commandment Republicans," to ministry in New Orleans, to the marketing of monk-made liqueur, to the drop in religion web traffic. Hooray for Time.
Newsweek counters with America's top 50 rabbis. But its real scoop might be in its letters pages. Tom Minnery, Focus on the Family's senior vice president for government and public policy, responds to Lisa Miller's recent piece, "Tree Hugger," on the Focus-circulated letter against Richard Cizik of the National Association of Evangelicals.
"[A]lthough most in the media failed to note it, the board reiterated its support for a broader social agenda than just the single issue of global warming Cizik has been emphasizing," Minnery wrote. "We applaud that decision. In fact, we assisted the NAE in writing its well-rounded 'Call to Civic Responsibility' two years ago."
Minnery's statement is worth noting precisely because the letter criticizes a broad social agenda. "Cizik and others are using the global warming controversy to shift the emphasis away from the great moral issues of our time, notably the sanctity of human life, the integrity of marriage, and the teaching of sexual abstinence and morality to our children," the letter states.
Minnery is not the only one saying that it's Cizik, not James Dobson and the other signatories, who are pushing for a narrow or even single-issue agenda. His statement echoes the assertion of The Institute on Religion and Democracy that "the issue that gets more attention than any other is the environment—especially global warming." It offers a chart of media mentions of the NAE unrelated to the Ted Haggard scandal. "By far the leading issue linked to the NAE was the environment and global warming, with 37 percent of the non-Haggard-scandal mentions," says the IRD's Alan Wisdom. "If this Nexis search is any indication, the NAE certainly has not been caught up in the 'hot button' culture wars issues. Only three percent of the NAE media mentions related to its opposition to same-sex marriage, and less than one percent involved opposition to abortion. … Is it possible that the association has come to resemble its old nemesis, the National Council of Churches?"
Uh, or is it possible that there's a phenomenon known as pack journalism, wherein reporters tend to quote each others' sources, follow up on each others' stories, and feed the same narrative? And it's also possible, as George Gerbner postulated, that mass media coverage cultivates attitudes about people that do not correspond to reality. That media outlets keep covering Cizik's environmental views means that reporters find those views interesting. It doesn't mean that Cizik talks about the environment 37 percent of the time. And that reporters seldom quote Cizik on same-sex marriage and abortion may simply mean that they have others in their Rolodexes that they prefer to call on those subjects.
Focus on the Family executives often complain that reporters distort how much effort they devote to politics and give short shrift to all of the organization's efforts in parental advice, counseling, and other areas where it "focuses on the family." It's a bit ironic, then, that Minnery thinks Cizik is Johnny One-Note.
2. Speaking of Dobson …
The Focus on the Family founder placed an unsolicited phone call to U.S. News senior editor Dan Gilgoff Tuesday. Gilgoff writes, "It marked Gilgoff's first discussion with Dobson in over two years, since the magazine's political writer began work on The Jesus Machine: How James Dobson, Focus on the Family, and Evangelical America are Winning the Culture War, published this month by St. Martin's Press. Dobson had agreed to answer only written questions for the book." Weblog finds it odd that Gilgoff would write about himself in the third person like that, but let's move on.
Unfortunately, if Dobson talked about Gilgoff's book at all, Gilgoff isn't saying. His article focuses almost entirely on what Dobson had to say about actual and possible Republican presidential candidates.
On Fred Thompson: "Everyone knows he's conservative and has come out strongly for the things that the pro-family movement stands for. [But] I don't think he's a Christian; at least that's my impression." (Thompson is a member of the Stone-Campbell Church of Christ. A Focus spokesman later said Dobson meant "evangelical" and that Dobson "has never known Thompson to be a committed Christian—someone who talks openly about his faith.")
On Newt Gingrich: He's the "brightest guy out there" and "the most articulate politician on the scene today."
On Mitt Romney: "There are conservative Christians who will not vote for him because of his Mormon faith. I'm not saying that's the correct view or my view. But [presidential nominees] lose elections by 5 or 6 percent of the vote, so you don't have to lose much of the conservative Christian vote."
On Rudolph Giuliani: "I do not believe that the current excitement over Giuliani will continue."
On McCain: Nothing quoted, other than a note that the McCain campaign, like the Giuliani campaign, hasn't called.
On whether he'll step down from Focus on the Family entirely as he turns 71 next month: "I have 10-to-12-hour-a-day energy. I feel that God has asked me to do what I'm doing. I have no intention to stay away."
In a related story, The Boston Globe reports that members of the executive committee of the Arlington Group (a network of politically conservative Christian organizations) "have questioned several declared and potential White House hopefuls with the intention of settling on a single candidate." Members insist that the Arlington Group as such won't endorse a candidate. The Globe also reports that "the Arlington Group website was abruptly disabled earlier this month after the Globe began making inquiries."
3. Evangelicals prominent on both sides of the U.S. attorney firings
"Who is Monica Goodling?" asks a widely published article by McClatchy's Ron Hutcheson. Simply put, Goodling is senior counsel to Attorney General Alberto Gonzales, Department of Justice White House liaison. But she was apparently deeply involved in planning last fall's dismissal of eight U.S. attorneys, and on Monday chose to take the Fifth rather than testify to Congress. She is now on an indefinite leave of absence.
As for her background, Hutcheson notes:
Goodling, 33, is a 1995 graduate of Messiah College in Grantham, Pa., an institution that describes itself as "committed to embracing an evangelical spirit."
She received her law degree at Regent University in Virginia Beach, Va. Regent, founded by Christian broadcaster Pat Robertson, says its mission is "to produce Christian leaders who will make a difference, who will change the world."
Hutcheson has been covering the firings extensively. He does not note, however, that the most prominent of the fired lawyers also graduated from an institution committed to embracing an evangelical spirit. David C. Iglesias—who says he was fired because he wouldn't time corruption charges against New Mexico Democrats to coincide with the November elections—is a 1980 graduate of Wheaton College, spoke (RM | WMA) at the school's homecoming weekend in 2005, and still sits on its nongoverning board of visitors.
"The core of who I am is a practitioner of Christianity," he told Wheaton's alumni magazine in 2001. "No one ever gets it perfect, but we practice and live by grace."
In Iglesias's home state of New Mexico, Albuquerque Tribune columnist Gene Grant praises him as "a man of strong faith, beholden to no man."
Weblog doesn't know the religious affiliations of other people in the firings controversy (well, yes, Gonzales is a Roman Catholic).
4. Colorado's largest Episcopal congregation leaves
Add to northern Virginia (more), Connecticut (more), South Carolina (more), and probably Florida and San Joaquin, California, another big battleground in the fight between the liberal Episcopalians departing from the Anglican Communion and orthodox Anglicans departing from the Episcopal Church: Colorado Springs. After the 2,000-member Grace Episcopal Church received news that the Episcopal Diocese of Colorado was again delaying any information about the suspension of its rector, Don Armstrong, the church's vestry voted Monday to leave the diocese and affiliate with the Convocation of Anglicans in North America. "The showdown looms on Palm Sunday as Episcopal Bishop Rob O'Neill or a representative and Armstrong, his longtime nemesis, both plan to take control of the parish pulpit at the 8 a.m., 9 a.m., and 11 a.m. services," the Rocky Mountain News reports.
Armstong doesn't seem too worried about O'Neill. "He doesn't have an army," he told the Associated Press.
Update: The diocese either blinked or is taking time to amass its army. Or the Rocky Mountain News was wrong about Palm Sunday's showdown in the first place.
For Anglican news geeks only: In a comment on TitusOneNine, Armstrong writes that he deliberately did not tell the Anglican Communion Institute (ACI), where he has been executive director for the past three years, about the church's departure. "I was inhibited from talking about these issues and knew as well that their own work did not need to be tainted by the necessity of our own decisions as a parish," he wrote. He continued:
It is clear to me that the [Episcopal House of Bishops] has rejected the plan developed by ACI and approved by the Primates. That does not mean the plan is not a good one or that it can't be implemented by conservative dioceses. But as a number of Windsor Bishops have said to me over the last couple of months, there is nothing they can do for a parish in a revisionist diocese — and for us the only real solution was CANA or AMiA. My point is that our decisions as a parish and my own as a priest were made only because the ACI solution was no longer an option for us and does not suggest that ACI's plan is faulty.
5. Time's cover story: Why the Bible should be taught in public schools
This weblog started off by talking about all the great stories in Time this week. Be sure not to miss David van Biema's "The Case for Teaching the Bible." But be sure also to read Mark Galli's October 2005 piece on The Bible and Its Influence.
Weblog remains skeptical and is probably in the minority here at CT: I'm not terribly eager to see more "religious literacy" classes in schools. But then again, I attended a Hawaiian public school where one teacher taught students Buddhism, another made each student name their religion so he could mock it, and another ran tests on students to measure psychic abilities. Later I went to a Hawaiian private school where mandatory chapels and ethics classes proselytized for the worst kinds of liberal Protestantism and Unitarianism. Does anyone really think that widespread classes on "The Bible and Its Influence" are more likely to improve religious literacy than they are to spread bad history about "the Crusades," "the Inquisition," and the "Salem Witch Trials"?
Quote of the day
"Bring it on. And you know, frankly, they like to threaten that, but they don't actually like to do it. Because if they did it, they would raise the awareness of the whole problem to a higher level."
—Rusty Leonard, founder of Ministrywatch, on organizations that threaten to sue him for reporting on their finances. Leonard was profiled by ABC's 20/20.
More articles
2008 race | Politics | Abortion | Life ethics | Alcohol laws | Church and state | European Union at 50 | Religious liberty | Zimbabwe | Africa | Immigrants and refugees | Missions and ministry | Slavery | Reconciling history | History | Education | Evolution | Books | Hell | Catholicism | Church life | Colorado's Grace Church | Anglicans and Episcopalians | Sexual ethics | Abuse | Stephen Foley | Crime | Money and business | Music | Media | Mormons | Pat Robertson | Graham library | People | Obituaries | Research | Other stories of interest
Hell:
Abuse:
Related Elsewhere:
Suggest links and stories by sending e-mail to weblog@christianitytoday.com
See our past Weblog updates:
March 23 | 15 | 14 | 9 | 2
February 26 | 14 | 2
January 24 | 19 | 17 | 12 | 9
January 5 | 4 | 2
December 29 | 22
Weblog
Launched in 1999, Christianity Today's Weblog was not just one of the first religion-oriented weblogs, but one of the first published by a media organization. (Hence its rather bland title.) Mostly compiled by then-online editor Ted Olsen, Weblog rounded up religion news and opinion pieces from publications around the world. As Christianity Today's website grew, it launched other blogs. Olsen took on management responsibilities, and the Weblog feature as such was mothballed. But CT's efforts to round up important news and opinion from around the web continues, especially on our Gleanings feature.
Ted Olsen is Christianity Today's executive editor. He wrote the magazine's Weblog—a collection of news and opinion articles from mainstream news sources around the world—from 1999 to 2006. In 2004, the magazine launched Weblog in Print, which looks for unexpected connections and trends in articles appearing in the mainstream press. The column was later renamed "Tidings" and ran until 2007.
Previous Weblog Columns: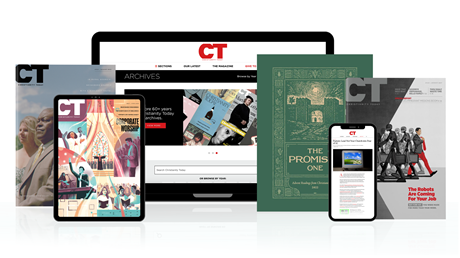 Annual & Monthly subscriptions available.
Print & Digital Issues of CT magazine
Complete access to every article on ChristianityToday.com
Unlimited access to 65+ years of CT's online archives
Member-only special issues
Subscribe
Focus Praises NAE's 'Broader Social Agenda'
Focus Praises NAE's 'Broader Social Agenda'