true
FoxFaith's newest offering, The Ultimate Gift (based on motivational speaker Jim Stovall's novel of the same title), aims to be just the sort of movie Christians pine for. Lovingly crafted to engage the viewer in an exploration of what truly matters in life, to gently invite a contemplation of faith as a source of meaning, and to inspire hope in even the most tragic circumstances, this film has its heart absolutely in the right place. If only it were a bit more entertaining. Like sensible woolen socks in a ribbon-wrapped package, The Ultimate Gift may be good for you, but it's a little hard to get excited about.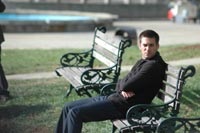 Former model Drew Fuller (TV's Charmed) plays Jason Stevens, a photogenic, spoiled and selfish jet setter who has never worked a day in his life. When his muscle car roars up to his grandfather's gravesite midway through the burial service, we get our first clue that Jason is a jerk—and that the movie isn't going to be particularly understated in its portrayal of that fact. For reasons the film will eventually take great pains to explain, Jason and his grandfather have been long estranged. So while the rest of Jason's impossibly self-seeking family bicker greedily over Red Stevens' extensive assets, Jason assumes he will receive nothing beyond the generous trust fund he has always enjoyed. However, at the reading of will, Jason discovers he is included in his grandfather's estate, in ways he could never have imagined.
It turns out that Red, a visionary oil and cattle tycoon (played with appropriate wise-old-timer-ness by James Garner), filmed a series of messages for Jason before his death. Each message will send Jason on a month-long challenge his grandfather hopes will impart some gift of insight or character. If Jason can accomplish each task, he will receive an inheritance Red promises will be the "ultimate gift." Curiosity (not to mention greed) makes Jason anxious to discover just what it is a multi-billionaire considers the "ultimate gift," so the young man sullenly embarks on his grandfather's adventure.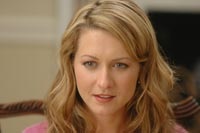 Many quests follow. Some are straightforward and obvious. A month-long stint putting in fence posts on a Texas ranch is designed to teach the benefits and satisfaction of work, while a command to give some money away aims to teach the pleasure of charity. Some of the other challenges seem a bit excessive. The value of a dollar is revealed by temporarily stripping Jason of all his assets, moving him from penthouse to park bench in a single day. Another adventure designed to cultivate a love of learning goes sideways when Jason is kidnapped and almost murdered by Ecuadorian drug lords. (Seriously. That is part of the plot.)
The most touching "gifts" Red seeks to give Jason involve relationships. Challenged to find one true friend, Jason ends up learning a lot about friendship from a precocious ten-year-old named Emily (played by Little Miss Sunshine's justly celebrated Abigail Breslin). Emily and her attractive, empathetic single mother Alexia (Ali Hillis of Must Love Dogs) come in handy when Red assigns the gift of family. Jason gives it a go with his own kin at thanksgiving dinner, but the barely human young man seems beyond saving. (The antics of these greedy Texans may remind some viewers of Dallas, but the Stevens make the Ewings look downright philanthropic.) Abandoned by his own family, Jason slowly realizes that Alexia and Emily may be his future.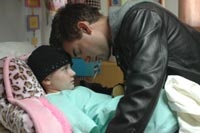 Jason's evolution from dimwitted creep to slightly less dense humanitarian takes 1 hour and 54 rather long minutes. Director Michael O. Sajbel (who most recently helmed another FoxFaith project, One Night With the King) keeps things rolling along competently enough, but never manages to build up much mystery, suspense, tension, or narrative steam. The acting is decent, and the film is buoyed by the strength of vets Garner, Brian Dennehy, Lee Meriwether (of old school Batman fame) and especially the venerable Bill Cobbs as Red's friend and the executer of his estate. Screenplay writer Cheryl McKay does a nice job avoiding corny dialogue and keeping conversations natural and believable without resorting to the usual Hollywood shortcut of using profanity to convey intensity. Still, the whole of the movie adds up to less than the sum its parts. There is a certain edge missing, and unfortunately it keeps The Ultimate Gift's melodramatic scenes dangerously close to TV Movie of the Week territory, and its action adventure scenes borderline laughable.
Part of the problem is the editing. Some sequences are downright confusing. Others are maddeningly lazy—just when a scene should be reaching its climax, the camera cuts away and we get a frustrating tell-don't-show dialogue summary from some other location. But a deeper issue with the film is the inevitably clichéd aspects of the story. In a world where there are over 105 titles in print of the Chicken Soup for the Soul series of books, and hundreds more This-Story-Really-Made-Me-Think-About-The-Meaning-of-Life e-mails racing through cyberspace, the makers of The Ultimate Gift face a nearly impossible task trying to bring something new to the table. Unfortunately, for what they lack in innovation, they seem to make up for with exaggeration. Jason's family members aren't just greedy, they're reprehensible. Emily isn't just a refreshingly honest, wise and innocent child, she's an honest, wise and innocent child dying of leukemia. Even Jason's ultimate reward smacks of over-earnest hyperbole.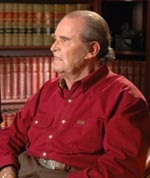 Music is a strength in The Ultimate Gift. Although Mark McKenzie's score is a touch pedestrian, some well-chosen songs are bright spots in the film, including Bob Dylan's Gotta Serve Somebody, the repeated use of Patsy Cline's Crazy, and the lovely surprise of Sara Groves' warm vocals beneath the film's final scenes. Sadly, though, it was a paraphrase of an old Lyle Lovett song that kept running through my head: It wasn't good, but it had good intentions. But that's not an entirely fair assessment. There are good moments in The Ultimate Gift, and the filmmakers are to be commended for tackling themes that are as essential to explore as they are tricky to do.
I don't know why it is so difficult to convey overtly faith-based, inspiring themes in film (or any other art form), but it sure is. I hope Sajbel, McKay and FoxFaith keep trying.  Maybe they could add the Gift of Perseverance to Red Stevens' list.
Talk About It
Discussion starters
One of the gifts Red wanted to give Jason was the gift of problems. Do you believe in the "gift of problems"? (See James 1:2-4) Is perceiving problems as good—even essential—sentimentality or truth?
Another gift Jason received with the gift of "a day." Have you ever had a perfect day? What was it like? If not, what would it be like?
You've probably heard that there are over 2350 Bible verses about money—twice as many as verses as there are about faith and prayer combined. Why do you think the Bible emphasizes this subject so strongly? Is it possible to be very wealthy and also be focused on eternal things? What are the pros and cons of wealth? What are the pros and cons of the absence of wealth? Of poverty?
Red wanted Jason to have a dream. Do you have a dream? Should every human have one? Should every dream be followed? How do you discern?
The Family Corner
For parents to consider
The Ultimate Gift is rated PG for thematic elements, some violence and language. There is one scene of peril involving gunfire, likely to disturb only young children. Although the content is suitable for family viewing, the pace and themes of the movie may lend themselves to an older audience.
Copyright © 2007 Christianity Today. Click for reprint information.
What other Christian critics are saying: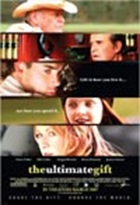 Browse All Movie Reviews By: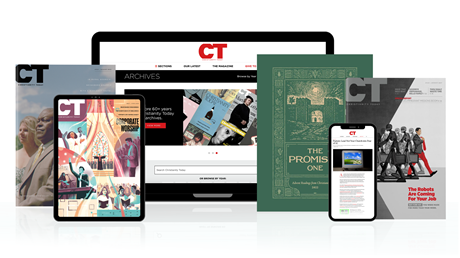 Annual & Monthly subscriptions available.
Print & Digital Issues of CT magazine
Complete access to every article on ChristianityToday.com
Unlimited access to 65+ years of CT's online archives
Member-only special issues
Subscribe
The Ultimate Gift
The Ultimate Gift