As soon as it became clear that The Secret was being read by millions, Christianity Today was inundated with email queries. Writers were pacing nervously, hoping for the chance to pen the first scathing review.
As with many books in the spirituality/self-help genre, it's not hard to spot theological flaws. They jump up and down, crying to be spanked. But the book's flaws interest me less than our reactions to it. What I see—in myself, at least— is disdain and fear.
Disdain starts with Oprah: If Oprah-of-the-Fuzzy-Spirituality likes it, it can't be good. Add to that the picture of millions reading this book, imbibing its positive-thinking, self-absorbed principles—well, we can't help but think of them as naïve, poor slobs who have fallen for the pitch and potions of a traveling medicine man.
We struggle to conceive of the book being liked by anyone of intelligence, certainly not a card-carrying evangelical like one of my friends, a devout Christian and faithful church member, well-read in evangelical literature—the very one who told me how much she liked the message of The Secret.
This brings us to fear. With its sweeping promises of wealth and happiness ("As you learn The Secret, you will come to know how you can have, be, or do anything you want"), The Secret will surely seduce people, perhaps even faithful disciples of Jesus, away from the faith once delivered to the saints.
The Secret says suffering, as the product of bad thinking, is not redemptive but a huge waste of psychic energy. If this book's author has her way, what would happen to the theology of the Cross? Suffering is essential to salvation and spiritual growth, isn't it? I mean Christ died for our sins; we are to crucify the flesh. And what about all the sacrifices I've made for Jesus? And how I've endured in the midst of trials!
We can start to sound like the elder brother in parable of the Prodigal Son: "I have served you all these years, and you never told me about positive thinking!"
Of course, the fear could be deeper. Maybe I'm avoiding God's call on my life in some area because I'm afraid, and this book is telling me that all my rationalizations are just that. Maybe this book's message rattles me with a Jesus-imperative: "Do not fear; only believe!"
So what's with this friend of mine, whose judgment I trust? Why in the world does she like the message of The Secret?
"I like the emphasis on positive thinking," she says simply.
For example, she's been wanting to take a swimming class for some time, but she's been afraid. The Secret helped her shift her thoughts from fearful to positive images. She's now in a swimming class and really enjoying it.
The fact that millions are buying this book suggests that many people may be dealing with fears that prevent them from enjoying such simple, divine gifts as swimming.
A quick read suggests other attractions, like, "Know that this is a friendly Universe." Some of us will surely see God in, with, and under this "friendly Universe" and recall the old and good news: God is love! But think how this euphemism sounds to one who struggles with belief in God, someone educated in a society that assumes an impersonal universe that brutally rewards only the fittest, and then only if they don't arbitrarily get wiped out by a natural catastrophe or some madman with a gun. Such a person might very well find metaphysical relief in The Secret!
In other words, I am trying to recognize the deeper human longings that such a book addresses. Instead of disdain, I might praise what is good—on the way to offering a better message that addresses human longings in a way that will not disappoint.
I also have to consider this uncomfortable truth. Jesus did say,
Truly, I say to you, whosoever says to this mountain, 'Be taken up and thrown into the sea,' and does not doubt in his heart, but believes that what he says will come to pass, it will be done for him. Therefore I tell you, whatever you ask in prayer, believe that you have received it, and it will be yours (Mark 11:23-24).
I learned long ago (especially in seminary) how to water down Jesus' bold statements with scholarly nuances and rationalistic qualifications. Yet I know that how I think goes a long way in shaping how I live. One example from sports: I'm going to be a better hitter if I step up to the plate believing I can hit the pitch.
That's not just true in the little joys of life. I've worked with Christians even whose low self-confidence, manifold fears, and general negativity made it impossible for them to welcome the love of God fully into their lives.
Still, from a Christian perspective, The Secret is a heretical book. It takes a simple truth—that mind affects matter—and pushes and pulls it until it takes an ugly shape (one example: the poor are poor because of their negative thinking). And it is a dangerous book. If taken literally—and some people will take it so—it will deeply disappoint; it will prompt some to browbeat themselves for, well, being too negative. A few rounds like that, and one begins to spiral into despair. In short, life is more complex and interesting than The Secret lets on.
Then again, most pragmatic Americans will read the book with a good measure of common sense (though maybe after some initial over-the-top enthusiasm). My friend, for instance, is not abandoning her evangelical church, nor will she cease thanking God for sending Jesus to die for her sins on the Cross, despite the seeming negativity of the message. As she says, "I don't buy everything in The Secret."
While acknowledging the reality of human folly, we should also recognize that most of the time, we're not dealing with buffoons who should know better, but with sheep without a shepherd. These readers, like me, need a Savior who, yes, died on a cross, a shepherd who seeks out lost sheep long before they know about any secrets, a humble Lord who will stoop to use any means to awaken us to deeper spiritual realities that infuse this friendly Universe.
Mark Galli is managing editor of Christianity Today and author of Jesus Mean and Wild: The Unexpected Love of an Untameable God (Baker). You can comment on this article below or on his blog.
Related Elsewhere:
The Secret says it is an "astonishing program"—a DVD (trailer available) and book—that "reveals The Great Secret of the universe. It has been passed throughout the ages, traveling through centuries … to reach you and humankind." A blank check from the Bank of the Universe is also available on their website.
Oprah's website promotes the book in a slideshow, with photos, information on author Rhonda Byrne, and testimonials.
The Secret is at the top of the New York Times bestseller list (hardcover). This is its fourteenth week on the list. The NYT Book review's "Inside the List" comments on the book's popularity.
Other responses to the book include:
Self-help gone nutty | A craze called 'The Secret' blends Tony Robbins with 'The Da Vinci Code,' telling people to have it all without trying. (The Los Angeles Times)
"The Secret" is out | New Age phenomenon claims you can have anything you want. (CBS News)
The power of negative thinking | We Americans believe instinctively in the power of positive thinking. But the key, it seems to me, is actually negative thinking. (The New York Times)
A giant doom magnet | So I was sitting around watching ''Oprah'' yesterday afternoon when I realized how I could stop W. and Crazy Dick from blowing up any more stuff. (Maureen Dowd, The New York Times)
Article continues below
Self-help's slimy 'Secret' | It's the publishing phenomenon of the year so far, a small book with a parchment-brown cover engraved with the image of a red wax seal. (The Washington Post)
Oprah's ugly secret | By continuing to hawk "The Secret," a mishmash of offensive self-help clichés, Oprah Winfrey is squandering her goodwill and influence, and preaching to the world that mammon is queen. (Salon)
Soulwork columns include:
Peace in a World of Massacre | What Jesus calls us to when we're most frightened. (April 17, 2007)
The Good Friday Life | We need something more than another moral imperative. (April 4, 2007)
SoulWork
In "SoulWork," Mark Galli brings news, Christian theology, and spiritual direction together to explore what it means to be formed spiritually in the image of Jesus Christ.
Mark Galli is former editor in chief of Christianity Today and author, most recently, of Karl Barth: An Introductory Biography for Evangelicals.
Previous SoulWork Columns: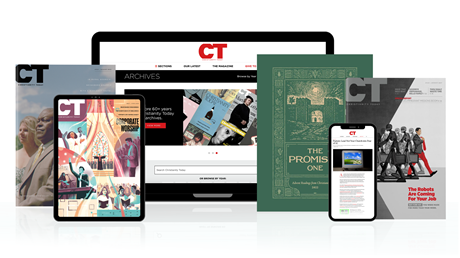 Annual & Monthly subscriptions available.
Print & Digital Issues of CT magazine
Complete access to every article on ChristianityToday.com
Unlimited access to 65+ years of CT's online archives
Member-only special issues
Subscribe
The Real Secret of the Universe
The Real Secret of the Universe