Westerners are prone to silly generalizations about Africa. We forget that it is geographically huge, culturally complex, and linguistically diverse. The sheer immensity of the continent is belied by its apparent size on maps like the Gall-Peters projection. There, it assumes modest proportions, seemingly smaller than North America, its surface intersected with neatly drawn borders demarking 53 discrete nation-states. Their geographical boundaries can be traced to an 1884 Berlin Conference where—with nary an African present—European powers neatly carved up the entire continent among themselves. The simplicity of the European scheme has obscured and exacerbated more complex on-the-ground realities.
The most polyglot of all continents—home to some 2,100 "mother tongues"—is notorious for its "vampire" states, savage civil wars, overwhelming poverty and pandemics, and rickety civil, transportation, and communication infrastructures. Africa—in the words of Robert Guest, former Africa editor of The Economist—is "the Shackled Continent."
Despite decades of prodigious "development" efforts fueled by close to $600 billion in aid since the 1960s, living conditions continue to decline:
Of the 40 countries at the bottom of the World Bank's human-development index, 33 are African.


Africa's estimated income per person is less than 5 percent that of the United States's.


The legacies of slavery, colonialism, and globalization tell part of the story. But many of Africa's wounds—some say most of them—are self-inflicted. Exploited by Arab and European outsiders who extracted as much as they could before moving on, the continent continues to be led by home-grown political predators whose kleptocratic rule, self-indulgence, dysfunctional economic policies, pathological violence, and sheer incompetence have ensured that Africa is more impoverished today than it was 50 years ago.
Harbingers of Hope
Seldom noted in the depressingly predictable reports and images, however, is Africa's burgeoning and dynamic Christian counterculture—churches and denominations that serve as oases of integrity and harbingers of hope. At its best, this counterculture is the antithesis of all that is wrong with Africa.
While churches elsewhere tend to stress the nature of Christ and individual salvation, African churches focus on the Holy Spirit and community.
Philip Jenkins's The New Faces of Christianity: Believing the Bible in the Global South suggests that the growing rift between the Episcopal Church and the Anglican Communion in Africa is both inevitable and unbridgeable. While American and African churches appear to be using the same book, they are in fact reading quite different Bibles. African Anglicans—with their strong evangelistic impulse, surging memberships, and overwhelming social challenges such as AIDS, poverty, and corruption—tend to read the Bible evangelically. They understand its teachings to be authoritative in all matters of faith and life, and its words to be the verbal plenary revelation of God. Theirs, then, cannot be a comfortable post-Enlightenment "Yea hath God said?" reading of the Bible, letting believers be swept along by the shifting winds of current cultural predisposition. To most African believers, gender roles and sexual orientation are elemental pillars of the created order. To tinker with such verities is to invite not only the derision of Muslim neighbors but the judgment of God. That American and Nigerian bishops should have achieved only impasse is little wonder.
Dynamic theology emerges amid the missionary encounter of sacred Scripture with unique human societies. Last year's one-volume Africa Bible Commentary provides a glimpse into the unique theological concerns confronting the fastest-growing church in the world. "Angels, Demons, and Powers," "Blood," "Dreams," "Female Genital Mutilation," "HIV and AIDS," "Initiation Rites," "Refugees," "Slavery," "Taboos," and "Widow Inheritance" are among the many uniquely African issues for ordinary African believers.
The religious scene in Africa is bewildering for most Westerners. Although today most Africans regard themselves as "Christian," standard definitions are hard-pressed to accommodate living realities. Often, well-established theologies and practices have been displaced by much that is unfamiliar, even shocking. Scholars such as Harold Turner, David Barrett, Bengt Sundkler, Kwame Bediako, and Marthinus Daneel have chronicled the phenomenon, variously referred to as "African Independent Churches," "African Initiated Churches," or "African Instituted Churches." AICs often have premodern worldviews (with a keen sense of the supernatural, for example) and theologies seemingly indifferent to the doctrinal priorities of the Christian West. While churches elsewhere tend to stress the nature of Christ and individual salvation, AICs focus on the Holy Spirit and community. And the Holy Spirit is not thought of as some kind of ethereal sanctifier, but as the power of God who heals, delivers, and persuades.
AIC names only hint at this radically unique religious paradigm: Prophesying and Evangelizing Daughters of God, Celestial Church of Christ, Church of the Lord Aladura, Sweet Heart Church of the Clouds, Musama Disco Christo Church, Spiritual Healing Church, Church of Christ on Earth by the Prophet Simon Kimbangu, and Church of the Cherubim and Seraphim. In 1968 David Barrett first noted the emergence and explosion of AICs in his groundbreaking book, Schism and Renewal in Africa: An Analysis of Six Thousand Contemporary Religious Movements. Matthew Ajuoga—an Anglican clergyman excommunicated in 1957 because of his affiliation with what the established church dismissed as "a bunch of disgruntled nut cases"—is today chairman of the Organization of African Instituted Churches. This is an Africa-wide confession linking 92 national councils of independent churches, by some estimates 85 million members strong.
Sheer Numbers
In terms of sheer numbers, the growth of Christianity in Africa over the past 50 years is unparalleled. The most recent study (published in the January 2007 issue of the International Bulletin of Missionary Research) estimates more than 417 million Christians in Africa. According to a research center at Georgetown University, last century the Catholic population in Africa increased a phenomenal 6,708 percent, from 1.9 million to 130 million people. Over the past 50 years, Catholic membership has grown by 708 percent. Overall, Christian population growth in Africa is estimated to be 2.4 percent per year, the fastest of any continent.
Our fate as Western Christians is tied to the church in Africa because there is no such thing as an independent church.
A century ago, there were four times as many African Muslims as there were Christians. Today, Christians constitute 46 percent of the total population, and now outnumber the continent's estimated 412 million Muslims. Further, while African countries currently host nearly 96,000 foreign missionaries, more than 18,400 African missionaries serve abroad. Just how many African evangelists and missionaries are at work within their own countries is difficult to estimate. Let's just say that evangelistic and church-related organizations might possibly be the continent's No. 1 growth industry.
By Barrett's estimates, 247,000 Christian congregations had formed across the entire continent in 1970. Twenty-five years later, that number had grown to almost 552,000 congregations in 11,500 denominations. The vast majority of these denominations are completely unknown in the West. Their structures and theologies have arisen outside the influence of European and North American Christianity, and are thus unaware of the West's various reformations. Of course many of them are "charismatic" or "Pentecostal"—but not necessarily in any of the conventional Western understandings of such terms. On the whole, churches throughout Africa—even at times the Roman Catholic Church—may be said to be evangelical. That is, they meet most of the criteria posited by historian David Bebbington in his groundbreaking study of evangelicalism: These churches emphasize conversion, they ground themselves on biblical teaching, and they are activist. But while Western Christianities have tended to be Christ-centered, much of African Christianity is Spirit-centered.
Faith's African Home
Whatever one makes of such numbers or doctrines, clearly the Christian faith has found a home in Africa. This church includes the raised-from-the-dead taxi driver in Lagos; the low-flying witch in Côte d'Ivoire who crash-lands on the roof of a church; the devout Hadiya teenager in Ethiopia who is kidnapped to become the third wife of a polygamist desperate for sons, becoming the catalyst for the conversion of an entire people; the Anglican bishop whose rapidly growing diocese in western Tanzania is struggling with the fact that education is available only for those willing to convert to Islam and give their children Muslim names; and the Orthodox priest whose 1,600-year-old church has more than survived all external attempts to destroy or subvert it.
Christianity in Africa, it is sometimes patronizingly noted, is "a mile wide but only an inch deep." Of course this is partly true. It has never been possible for Christians to extricate themselves from the shortcomings of their forming cultures and contexts. In the wise words of missiologist Andrew F. Walls, the gospel is not only the liberator but the prisoner of culture. Christianity in Africa is at times so shallow that the corruption, cheating, violence, and other dysfunctions endemic to the continent are not submerged. Or if they are submerged, they lie dangerously close to the surface.
But the "inch deep" metaphor can also be applied to North America, where anti-Christian impulses surround and even permeate complacent churches. We find ourselves sadly yet inextricably complicit in our nation's celebration of greed, habitual recourse to violence, and relaxation of sexual standards. 
Such things should not surprise us, perhaps. But they should at least infuse our criticism of African Christianity with a humility that acknowledges that the African church also has its depths, manifest in unabashed celebration of the transcendent in every sphere of life. These include miraculous interventions, supernatural phenomena, and palpable encounters with principalities and powers—experiences long since leached out of most of Western Christianity by rationalism.
Africa's Role in World Christianity
What role will Africa play in the future of world Christianity? Demographic trends alone suggest that the future of Christianity does not lie in the West. There, for the most part, Christianity has become a wrinkled, impotent vestige of its former self. Insofar as God's declared preference has been to work through the weak, the poor, and the dispossessed, transforming societies from their margins, a complacent and privileged Christianity cannot survive.
Africans, on the other hand, with all of their daunting challenges—perhaps in some ways because of them—will continue to give central place to God. Where else can they turn? Like Simon Peter, their instinctively rhetorical question is, "Lord, to whom shall we go? You have the words of eternal life."
Our fate as Western Christians is tied to the church in Africa because there is really no such thing as an independent church. Our Scriptures speak only of our utter dependence upon God and of our mutual interdependence upon each other. Independence, it should be remembered, is the great and original expression of pride. Perhaps the church in Africa will be a reminder to us all. It is a reminder that—harking back to the deepest sureties—in God's moral universe the kingdom belongs to the poor, the humble will be exalted, rulers will be brought down from their thrones, the proud will be scattered, and the rich will be sent away empty.
So it is natural that beleaguered Western Christianity, troubled by signs that the curtain is about to drop, clearing the stage for the next act in God's redemptive drama, should wonder about the unlikely continent waiting in the wings: "Are you the one who was to come, or should we expect someone else?" And to this query the enigmatic response of Jesus must suffice: "Go back and report to John what you have seen and heard: The blind receive sight, the lame walk, those who have leprosy are cured, the deaf hear, the dead are raised, and the Good News is preached to the poor. Blessed is the man who does not fall away on account of me."
Jonathan J. Bonk is executive director of the Overseas Ministries Study Center, editor of the International Bulletin of Missionary Research, and project director for the Dictionary of African Christian Biography.
Related Elsewhere:
More on Africa is available in our full coverage area.
Jonathan Bonk earlier reviewed Whose Religion is Christianity? and interviewed its author, Lamin Sanneh, for Christianity Today.
Have something to add about this? See something we missed? Share your feedback here.
Our digital archives are a work in progress. Let us know if corrections need to be made.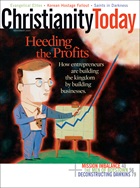 This article is from the November 2007 issue.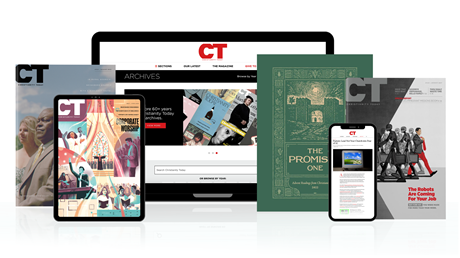 Subscribe to Christianity Today and get access to this article plus 65+ years of archives.
Home delivery of CT magazine
Complete access to articles on ChristianityToday.com
Over 120 years of magazine archives plus full access to all of CT's online archives
Subscribe Now
Africa Unbound
Africa Unbound