true
Sounds like … the standard for alternative pop and anthemic stadium rock from the '80s, derived from David Bowie and The Who, resembling Midnight Oil and Simple Minds, and influential to the majority of today's Christian rock bands, including Delirious, Tree63, and MercyMe.
At a glance … one of the most vital and influential albums in the history of rock—both mainstream and Christian—finally receives overdue remastered treatment in honor of its 20th anniversary.
Though not particularly sturdy, the Joshua tree is a medium-sized spiny tree regarded for its perseverance in the dry and barren wilderness of Southwestern America. It's believed that the Mormons gave the tree its name because it reminded them of Joshua raising his hands to the heavens in the middle of the desert, leading the children of Israel to the Promised Land.
The tree is also the driving metaphor behind U2's landmark 1987 album of the same name, which has had profound and widespread impact over the last 20 years. Rolling Stone named The Joshua Tree No. 26 on their list of 500 Greatest Albums of All Time, while CCM magazine placed it at No. 6 on its Greatest Albums in Christian Music list. Christian artists ranging from Caedmon's Call and MercyMe to P.O.D. and Chris Tomlin have covered songs specifically from this album, and some believers have even used the music as the basis for a Catholic worship service. Selling in excess of 20 million copies, the album has clearly left its mark on mainstream and Christian culture alike.
It's been said that The Joshua Tree  was a "tribute" to America, but ultimately it's an album about longing, perhaps most clearly illustrated in the quintessential anthem of unrequited love, "With or Without You." But most of the other songs resonate through deeper themes worded broadly enough for open interpretation, yet painted with biblical imagery throughout. U2's soaring classic "Where the Streets Have No Name" is understood by most as an image of heaven, a place of refuge for the weary to find love and take "shelter from the poison rain." The equally driving sound of "In God's Country" offers a similar illustration of faith and perseverance in the midst of dark times: "Set me alight/We'll punch a hole right through the night/Every day the dreamers die/To see what's on the other side." And the Irish rocker "Trip Through Your Wires" borrows heavily from the "love the least of these" text of Matthew 25.
Easily one of the most misunderstood songs in U2's catalog is "I Still Haven't Found What I'm Looking For," which some Christians have used as an example of rejection of faith: "I believe in the Kingdom Come/Then all the colors will bleed into one/But yes, I'm still running/You broke the bonds/You loosed the chains/You carried the cross and my shame/You know I believe it/But I still haven't found what I'm looking for." Far from being a song about lost or rejected faith, lead singer Bono and guitarist The Edge describe it as a "gospel hymn,"—a point driven home on the live album Rattle and Hum when the band performed it with a gospel choir. Think of it more as the longing for spiritual fulfillment in light of Philippians 3:12-4:1 or the lyrics to Steven Curtis Chapman's "Not Home Yet," still on the journey to our ultimate goal.
These spiritual themes take on even greater meaning when considered alongside songs about drug addiction ("Running to Stand Still"), suicide ("Exit"), social injustice ("Mothers of the Disappeared"), unemployment ("Red Hill Mining Town"), and greed-fueled war ("Bullet the Blue Sky"). Suddenly Psalm 63's image of a lonely tree standing firm in a "dry and barren land" drives home the message of longing and perseverance in a fallen world. Sad and dark as some of the lyrics are, the album is not without hope.
The Joshua Tree has also served as musical inspiration for countless bands and listeners, even today in unexpected ways—there's probably no greater influence on the sound of modern worship music than U2. This 20th anniversary remaster calls attention to the elements that have become a hallmark for this band, though it doesn't accentuate Bono's powerful vocals and Edge's pioneering "eternity" guitar delay technique as much as one would expect. But the overall mix is considerably less muddy, bringing much needed clarity to Larry Mullen's remarkable drumming and added low end to Adam Clayton's bass. The album was overdue for restoration, as are others in the U2 catalog.
Longtime fans my want to consider the deluxe edition of this release, which includes a bonus disc of b-sides and rarities. Some songs are familiar and raw ("Silver and Gold," "Spanish Eyes," the original demo if "Sweetest Thing"), some of them are less familiar and really raw (the Sun City version of "Silver and Gold," "Rise Up," "Desert of Our Love")—be aware that there's an edited profanity in the short, angry rant "Drunk Chicken/America." A box set version is also available, adding a DVD featuring U2's 1987 concert in Paris and a 40-minute documentary.
The Joshua Tree still sounds timely after all these years, which could explain why its sound has been mimicked over the years, or else proof that U2 was truly ahead of their time. And perhaps it also goes to show our continued need for soul-searing anthems to carry us through the desert times and lead us back to still waters.
Browse All Music Reviews By: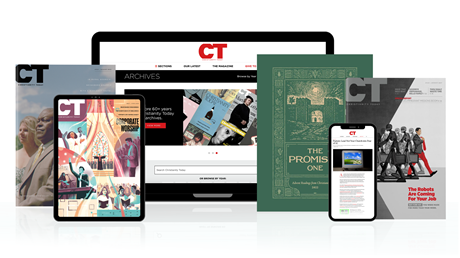 Subscribe to Christianity Today and get access to this article plus 65+ years of archives.
Home delivery of CT magazine
Complete access to articles on ChristianityToday.com
Over 120 years of magazine archives plus full access to all of CT's online archives
Subscribe Now
The Joshua Tree (20th Anniversary)
The Joshua Tree (20th Anniversary)