As weblogs proliferated earlier this decade, Andy Warhol's famous aphorism was modified to read, "In the future, everyone will be famous to 15 people." Now it looks like Warhol was right after all: Thanks to widespread blog burnout, everyone will be famous to 15 people for 15 minutes.
Tech researcher Gartner Inc. reported earlier this year that 200 million people have given up blogging, more than twice as many as are active.
"A lot of people have been in and out of this thing," Gartner analyst Daryl Plummer told reporters. "Everyone thinks they have something to say, until they're put on stage and asked to say it." Given the average lifespan of a blogger and the current growth rate of blogs, Gartner says blogging has probably peaked.
Which isn't to say that blogging is dead. Quite the opposite. Blog aggregator Technorati estimates that 3 million new blogs are launched every month. The site's tongue-in-cheek slogan: "Zillions of photos, videos, blogs, and more. Some of them have to be good."
Actually, some Christian blogs are very good. What tired bloggers are increasingly discovering, however, is that it's not necessarily the quality of their blog posts that matter. It's matching their quality with frequency.
As conservative political blogger Glenn Reynolds told Wired News in 2004, "I know that if I go more than about five or six hours without posting or telling people that I'm not going to be blogging for the rest of the day, [I'll get worried messages asking,] 'You haven't posted anything in five or six hours. Are you okay?'"
"Good bloggers work like dogs," says Michael Parsons, editor of the tech site CNet.co.uk. "You can't expect readers to show up unless you show up. And the Internet never closes. … Every successful blogger I've come across is the same. Eat, sleep, and drink the work. No time out; no holidays."
That's not a recipe for healthy living, especially if you're working a day job that's not paying you to blog. When Catholic blogger Amy Welborn shut down Open Book in August to focus on writing books, she wrote: "I want to do good, and I want to do lasting good — the kind of good that people carry around, share, put on their bookshelves and reflect on — rather than the kind of good that sparks a momentary flash until we surf to the next website and the next and the next."
Mark D. Roberts, one of the most prominent "pastor bloggers," went the other direction, announcing that he was leaving his pulpit at Irvine (Ca.) Presbyterian Church to become senior director at the Laity Lodge retreat in Texas. "My blog now becomes a part of my primary work," he told his congregation.
The secret of some of the top God blogs is that they're team efforts. But many bloggers still feel like they have to have their own site to be "contributing to the conversation." The blogosphere, which was supposed to be a great democratizer, has made us all perennial candidates, demanding that we weigh in on every news item, no matter how mundane or overexposed. (The blog world risks becoming one giant midrash on The New York Times front page.)
But some of us can't help ourselves. Nearly as common as the abandoned blog is the "final comments before I reclaim my life" post. Followed by "an update to something I said in my final comments." And, "Well, I couldn't let this story go by." And on it goes.
One of the best resignation letters came from Alan Jacobs in Books & Culture. "Right now, and for the foreseeable future, the blogosphere is the friend of information but the enemy of thought," he wrote in "Goodbye, Blog" (May/June 2006). A year later, in addition to writing a regular column for Books & Culture, the Wheaton College literature professor blogs thoughtfully at two different sites.
Related Elsewhere:
Previous Tidings columns include:
Bush's 'Theological Perspective' | U. S. presence in Iraq is 'allowing for the inevitable to happen.' (August 28, 2007)
The Freemasonry Threat | Faint echoes remind evangelicals of a nearly forgotten foe. (July 31,2007)
The Quest for the Historical Jerry | You can tell a lot about someone by what he says about Falwell. (June 13, 2007)
Partial Reversal | The Supreme Court's abortion decision shows that the arguments have changed. (May 14, 2007)
Jingo Jangle | Christian tribalism is a renunciation of God's kingdom. (April 18, 2007)
Church Divorce Done Right | Denominational splits just aren't what they used to be. (Mar. 7, 2007)
Have something to add about this? See something we missed? Share your feedback here.
Tidings
Ted Olsen is Christianity Today's executive editor. He wrote the magazine's Weblog—a collection of news and opinion articles from mainstream news sources around the world—from 1999 to 2006. In 2004, the magazine launched Weblog in Print, which looks for unexpected connections and trends in articles appearing in the mainstream press. The column was later renamed "Tidings" and ran until 2007.
Previous Tidings Columns:
Our digital archives are a work in progress. Let us know if corrections need to be made.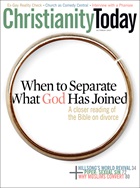 This article is from the October 2007 issue.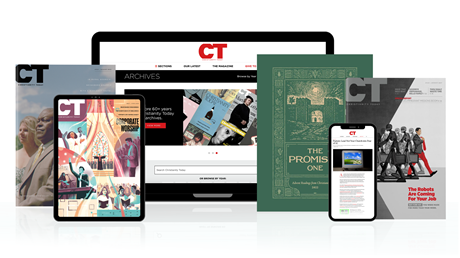 Annual & Monthly subscriptions available.
Print & Digital Issues of CT magazine
Complete access to every article on ChristianityToday.com
Unlimited access to 65+ years of CT's online archives
Member-only special issues
Subscribe
The Death of Blogs
The Death of Blogs