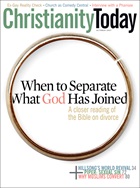 This article is from the October 2007 issue. Subscribers can read all of CT's digital archives.
"BLESSED are the merciful, for they will be shown mercy."
Matthew 5:7
AT FIRST GLANCE, such statements seem to suggest that the process of showing mercy begins with us. That, however, is not the case. It is God who is merciful and gracious, first of all … , and the people of God are who they are because they have received God's mercy. …
Richard B. Gardner, Matthew
THE TWO TERMS [grace and mercy] are frequently synonymous, but where there is a distinction between the two, it appears that grace is a loving response when love is undeserved, and mercy is a loving response prompted by the misery and helplessness of the one on whom the love is to be showered. Grace answers to the undeserving; mercy answers to the miserable.
D. A. Carson, The Sermon on the Mount
ALL WHO STRIVE to root their lives in forgiveness seek to listen rather than to convince, to understand rather than to impose themselves.
Brother Roger of Taizé, Glimmers of Happiness
A CHRIST-LESS world is a callous world, and mercy was never a characteristic of pagan life.
William Barclay, The Beatitudes and the Lord's Prayer for Everyman
IF THEY HAVE any money, [the merciful] don't give till it hurts—they give till it's gone.
Clarence Jordan, Sermon on the Mount
INVITING the marginalized to the table not only made them equals; it made Jesus their "friend." … The Pharisees viewed this behavior as subversive to their conviction of what Israel needed for true social ordering; Jesus saw it as a manifestation of a new way of holiness based on mercy.
Michael H. Crosby, Spirituality of the Beatitudes
GOD WANTS us to be merciful with ourselves. And besides, our sorrows are not our own. He takes them on himself, into his heart.Georges Bernanos, The Diary of a Country ...
1
Blessed Are the Merciful