true
In many ways, The Sisterhood of the Traveling Pants 2 is like a PG-13 version of Sex and the City—only more innocent and, in my opinion, significantly more enjoyable and inspiring. Like the women of SATC, the four young women of SOTP2 are a diverse group of characters and a somewhat unlikely group of friends. For the most part, their stories are driven by romantic or familial relationships, and here they're on a journey of self-discovery and revelation. And like its first incarnation, this film's central message is about the value of friendship.
SOTP2 picks up three years after The Sisterhood of the Traveling Pants left off. Carmen (America Ferrera of TV's Ugly Betty), Lena (Alexis Bledel of TV's The Gilmore Girls), Bridget (Blake Lively of TV's Gossip Girl), and Tibby (Amber Tamblyn of TV's Joan of Arcadia) have just finished their first year of college and are about to embark on their various summer adventures. Lena will be taking art classes at The Rhode Island School of Design. Bridget is heading off to Turkey on an archeological dig. Tibby will remain at NYU to compete a film project. And in a last-minute decision, Carmen accepts an invitation to work backstage at an elite summer theater program in Vermont (while her mother and stepfather await the arrival of her new baby step brother).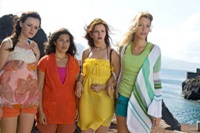 But as was also the case in the first film, each young woman's summer plans serve up more than just a day-to-day itinerary. After Lena discovers that her ex-boyfriend Kostas (Michael Rady) has gotten married only months after they broke up, she finds herself stuck between the love she so desperately wants to believe in and the passion that is right before her. When Tibby allows herself to get closer to her boyfriend Brian (Leonardo Nam) than she ever has before, she struggles with what it actually means to both allow and trust someone to be that close. When Carmen unexpectedly finds herself on stage instead of in its wings, her journey becomes one of learning to believe in herself. And as Bridget digs up the past in Turkey, it is her own past that ends up coming to the surface and taking her for an unexpected detour of personal significance.
During their summers, the women deal with issues of trust, love, guilt, and value. Partially due to their separate adventures, and partially due to their increased independence and individuality, the girls primarily go through their journeys of discovery on their own. At times, the increased separation between them is painfully apparent. At others, it becomes an opening for a strong cast of supporting characters/mentors to shine. But in the end, the girls prove that while there are certain things they must discover on their own, they will always be there to help each other take the steps they cannot take alone.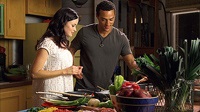 I was most impressed that these women seemed to come away from their challenges stronger, wiser, and, for the most part, in places better than where they were before. At the end, you get the sense that they actually are in healthy relationships, that they have learned from their mistakes, and that love and friendship have in fact triumphed over selfishness and isolation.
Apart from its overarching relationship stories, the movie's next strongest theme is found in its promotion of individual value, no matter what size, shape, race, or personality. As before, the four leads again bring their characters to life in ways that show their individuality and the distinct value within each of them. Particularly impressive was the fact that even though the star power of the cast has shifted since the last movie (with Ferrara and Lively now bona fide TV stars), all four characters and their stories receive fairly equal development and attention.
Also of note is the costuming of each young woman (by Dona Granata). Through her wardrobe, we see each character's distinctive personality. Although Sex and the City's haute couture fashion may have appealed to many, the way that The Sisterhood's costumes draw attention not so much to themselves as they bring to life their unique characters almost make SOTP2's costuming even stronger than SATC's.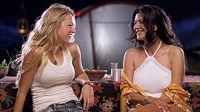 Another major strength of this film is the supporting cast. Kyle MacLachan (TV's Desperate Housewives) is quirky and entertaining as the director who gives Carmen the chance to find the leading lady inside herself. Shohreh Aghdashloo (The House of Sand and Fog) once again takes a turn as a wise and authoritative mentor who pushes Bridget to see that we all must come to terms with our past. And Blythe Danner, although not quite as believable as Bridget's thickly accented southern grandmother, enters into what is probably the movie's most painful storyline to help Bridget finally deal with the sorrow and guilt she still feels surrounding her mother's suicide.
Like many romantic comedies, the ending is happy and fairly well tied up. But with enough realistic struggles and life complications in the story, the film rises above the cheese factor and comes across as honest and hopeful. These days, it's hard to find a balance between realism and hope—in the movies, and in the real world around us. Sometimes honest portrayals of life's difficulties can leave us without much hope; other times, the jump from difficulty to resolution is so huge, and the resolution so neat, that it simply isn't believable. But much like the young women in it, SOTP2 almost becomes that friend we know we can go to in times of trouble, who still loves us despite our mistakes, but who will always push us to believe in hope and seek to be the women we are, not at our worst, but at our best. It's also a movie that recognizes our flaws, but tells us we can rise above them—and when we do, what we find will be worth it.
>Talk About It
Discussion starters
Towards the end of the movie, Carmen says that no one can diminish you but yourself. Do you feel that is true? Do you think that is something that you do to yourself? Discuss.
Both Lena and Tibby have trouble trusting in love and/or the people they love. Why do you think they do? Is theirs a common struggle? Do you struggle with it? What do you think it takes to believe in love and/or trust in those who love you?
Bridget's story deals with the power of the past, specifically the effects of emotional weight. What effects does the past have on this film's characters? How do they deal with them? Is there anything in your past affecting you negatively? How is it affecting you, and how might you need to deal with it?
When discussing Bridget's mother's illness and suicide, Bridget's Grandmother Greta tells Bridget that her mother wouldn't let people in her life unless they pretended she wasn't sick. Bridget's father went along, but Greta did not. Thinking of the situation not only in terms of physical sickness but also in broader spiritual terms, who do you think did the right thing and why? Is one right and one wrong? Or can there be a balance somewhere between the two?
The Family Corner
For parents to consider
The Sisterhood of the Traveling Pants 2 is rated PG-13 for mature material and sensuality. There is one implied sex scene, with making out right before and a small amount of bare skin shown afterwards. Afterward, the couple discusses a broken condom, and the subsequent storyline involves a "pregnancy scare." While premarital sex is not shown to be wrong, the story does deal with the reality of physical and emotional consequences and effects that can follow. Another character's storyline involves a nude male model in a figure drawing class. A lot of skin is shown, but only in parts and never fully. In another character's storyline there is discussion of suicide and mental illness.
Copyright © 2008 Christianity Today. Click for reprint information.
What other Christian critics are saying: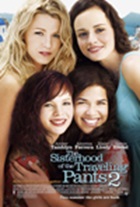 Browse All Movie Reviews By: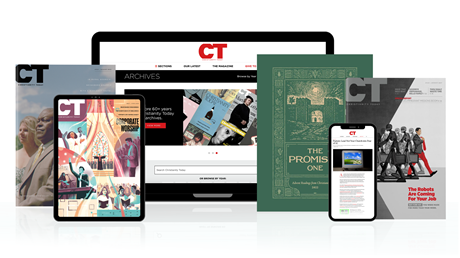 Subscribe to Christianity Today and get access to this article plus 65+ years of archives.
Home delivery of CT magazine
Complete access to articles on ChristianityToday.com
Over 120 years of magazine archives plus full access to all of CT's online archives
Subscribe Now
The Sisterhood of the Traveling Pants 2
The Sisterhood of the Traveling Pants 2