Joel Kilpatrick, a 1995 graduate of the Columbia University Graduate School of Journalism, is not as readily recognized as other alumni such as Patrick J. Buchanan, Howard Fineman, or Steve Kroft. But his satirical LarkNews.com has a devoted fan base that includes evangelical and mainline pastors, an editor for the satirical newspaper The Onion, and musical satirist and filmmaker Steve Taylor.
What keeps fans coming back for each month's fresh material is a wit so sharp that, as with The Onion, people sometimes mistake its satirical stories for real news. In February 2003, for example, Kilpatrick made up an item that Zondervan would publish a gay-friendly version of its New International Version of the Bible. Like many gay advocates within churches, the theoretical gNIV assumed that Jonathan and David were lovers. Enough people sent in horrified e-mails that Zondervan issued a statement calling the report "a sick joke."
Meanwhile, homeschooling bloggers fell for "Harvard forcing homeschoolers to 'Fit In,'" which played off of stereotypes that such students need more social skills. And Christian radio stations were duped by "Wal-Mart rejects 'racy' worship cd": "The latest Vineyard Music worship cd, 'Intimacy, vol. 2,' has raced to the top of the Christian sales charts, but Wal-Mart is refusing to stock the album without slapping on a parental warning sticker. The groundbreaking—some say risqué—album includes edgy worship songs such as 'My Lover, My God.'"
Ron Poarch, pastor of Grace Reformation Church in Woodland, California, admits that he too was tricked when he discovered LarkNews, and he quickly became a fan. Poarch says he and about eight church members visit the site together at the end of Bible studies because of the truths behind the punch lines.
"It has fueled some conversations about what's behind this, and it correlates with our evangelical culture," Poarch told Christianity Today. "Joel has a real insight into the faddishness of the church."
Poarch discovered LarkNews in 2005, and a couple of months later he was diagnosed with cancer in his abdomen. Poarch says a member of his church kept his spirits up by passing along the latest LarkNews jokes.
Kilpatrick mentions Steve Taylor, famous for his satire-laced songs such as "I Blew Up the Clinic Real Good" and "Since I Gave Up Hope I Feel a Lot Better," as a longtime influence. Taylor, in turn, admires the shtick at LarkNews.
"Most other efforts I've come across feel pretty dated—jokes about flannelgraphs and potlucks—and just make me wince," Taylor told Christianity Today. "At the other extreme are movies like Saved that made me wince for different reasons, but ultimately seemed equally out of touch and strangely paranoid. Lark keeps surprising me."
"I'm a pretty tough critic," Taylor added. "When I got a link to the first few editions, I thought some of the headlines were amusing, but the stories weren't quite cutting it. And there were the obvious similarities to The Onion, which is the current gold standard. But the Lark site kept getting better—the photos improved, the stories got funnier, and the satire got sharper. It's now the best thing going since the glory days of The Wittenburg Door."
The Door, founded in 1971 by Mike Yaconelli and now published by the Trinity Foundation, calls itself "the world's pretty much only magazine of religious satire." Bob Darden, who edits The Door, sees LarkNews less as competition than as a similar voice in a different medium. "They shoot a little differently than we do," he says. "One of the great things about the Lark is that they're just funny. I think our calling is different, to be the boy who stands at the side of the road and calls out, 'Yo, the emperor's buck nekkid, people.'"
John Krewson of The Onion praised LarkNews on the back cover of Kilpatrick's compilation of Lark humor, A Field Guide to Evangelicals & Their Habitat (HarperOne, 2006). "I have often known that Christians have a sense of humor, even about themselves," Krewson wrote. "Remember what C. S. Lewis said: '… [T]he devil cannot abide to be mocked.'"
Pitching 'Lark 3-D'
Kilpatrick hopes to expand LarkNews's reach this year by launching The Ministry, a TV series modeled on NBC's 30 Rock and set in "an almost megachurch." Ideally, Kilpatrick says, he and a friend with good industry connections can land the idea with a network. Kilpatrick's Plan B is to stream portions over the Web and sell the series on DVD. Kilpatrick says, "I kind of think of it as Lark 3-D."
"The Lark," as Kilpatrick calls it, doesn't indulge in sneering at other religion-humor sites, but there's enough of an edge to leave nonbelievers laughing at Christians and Christians laughing at themselves. "The number one question I get," Kilpatrick says, "is, 'Are you for us or against us?'"
"I don't think you can write good satire without loving the thing you're satirizing," Kilpatrick says. "It doesn't work when it's mean-spirited or venting of personal opinions." But overly cautious satire fails as well. "If your humor gets safe and flabby and sentimental, then your faith gets safe and flabby and sentimental," he says. "Humor becomes a pinch of satire and a heaping helping of warm affirmation."
Kilpatrick says the Lark is named in honor of birds, especially of crows. He admires their smartness and innovation. The Lark's icon looks like a cross between a flamingo and the Drinking Bird knickknack sold for years at novelty shops. When Kilpatrick launched the site in 2003, he thought it might cost him some writing clients among evangelical leaders. Instead, he continues a freelance writing and editing career. Advertising on the Lark not only covers the website's annual expenses, but also pays for some part-time assistants.
Kilpatrick says the site attracts 1,000 unique visitors a day, from as far away as Australia, the United Kingdom, and Iran. ("All I can think is that [there] must be a missionary perched over there," he says.)
Before heading to Columbia, which offers one of the top graduate journalism programs in the country, Kilpatrick had already studied journalism and politics as an undergraduate at the University of California, Davis. When deciding on his graduate studies, Kilpatrick also had applied to the University of Chicago and Harvard Divinity School. He says that applying to divinity school was a statement of wanting to do something selfless with his life. But he visited Harvard for three days and "found there was not much divinity there."
The Hip Dad
The Lark's humor is rooted in a philosophy Kilpatrick learned from his parents, Bob and Cindy: You live for God and everything else is up for grabs. Bob Kilpatrick, an ordained Assemblies of God minister, describes himself as a B player in the contemporary Christian music scene of the late 1970s, though he composed the popular song "Lord, Be Glorified."
To Joel, his eldest son, Bob Kilpatrick is a hero of comedic and musical hipness. "He's virtually like a singer-comedian, though he wouldn't bill himself that way," Joel says. "My dad's comic timing is inspiring to me. It's impeccable."
Joel and his father did not suffer through the generation-gap hazard of clashing tastes in music. He remembers his father bringing home U2's October and The Police's Zenyatta Mondatta. "He introduced me to [the folk-punk band] The Violent Femmes and later wished he hadn't done that," Kilpatrick says. "My dad was always the coolest guy. He was way ahead of my friends."
Bob remembers Joel as being a precocious child and showing signs of humor early on. Joel broke up his mother during a summer camp when he was just over age three, his father recalls, by mispronouncing the word hoax for humorous effect, delivering it as "What am I, a ho-ax?"
"We had to start guarding him immediately," his father says, recalling that Joel showed an early taste for voracious reading and a talent for writing. Both Joel and Bob agree that the Lark's humor grows from years of Joel spending time on gigs with his father. "The best jokes were told backstage or at dinner with the pastor," Joel says.
"One thing I like about the Lark and the book is that there's not that wink and a nod. With some Christians, their humor is so lame that they would be booed off the stage in the clubs. It's like a guy who tells you a joke and keeps nudging you in the ribs, saying, Get it? Get it?" Bob says. "Joel just writes the joke and knows that it made him laugh."
Bob Kilpatrick is among those who pitch ideas for the Lark. He's especially pleased by one concept that Joel turned into a Lark article: "Animatronic band takes guesswork out of worship."
Douglas LeBlanc, a CT contributing editor, lives near Richmond, Virginia.
Related Elsewhere:
Christianity Today profiled LarkNews in 2003, shortly after its launch.
Frederica Mathewes-Green wrote about the value of humor.
Have something to add about this? See something we missed? Share your feedback here.
Our digital archives are a work in progress. Let us know if corrections need to be made.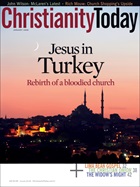 This article is from the January 2008 issue.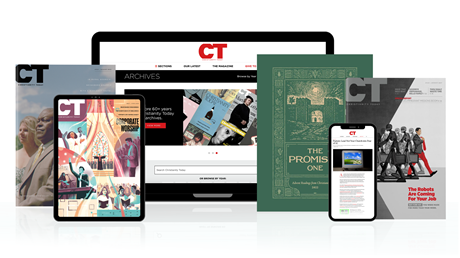 Annual & Monthly subscriptions available.
Print & Digital Issues of CT magazine
Complete access to every article on ChristianityToday.com
Unlimited access to 65+ years of CT's online archives
Member-only special issues
Subscribe
Laughing with Evangelicals
Laughing with Evangelicals