You're right, David Aikman, the story of the church in the Middle East is not well known, although we're in the place where it all began: the Garden of Eden, Abraham's travels, Jesus' home for work and teaching — and his crucifixion and resurrection. It's where the first churches formed and grew. From here, the gospel spread to the whole world.
Since then, the fortunes of the churches have indeed been mixed. The conquests of the sixth and seventh centuries made Islam the majority religion in the region today. Relationships between the religions in the Middle East were better in the tenth and eleventh centuries, when cooperation and space were the order of the day. But as you rightly point out, recent history has been much tougher.
You ask us how to best respond. From Middle East Christian Outreach's century and a half of experience as a medium-sized missions agency here, we can think of four avenues.
First, look beyond the statistics. True, there has been numerical decline, and emigration is a constant temptation for Christians here. Life is tough and uncertain, and it would be safer somewhere else. At the same time, some of the churches we work with are growing, engaging their cultures, and sending significant numbers of Arabic-speaking Christians out into the region and the wider world. The largest Protestant church here claims a membership of 8,000, and there are Coptic churches in the 10,000-member bracket. Still, most churches are small — look beyond the numbers to the movements.
Second, let our Middle Eastern friends speak for themselves. We are hugely impressed by the quality and thoughtful godliness of the church leaders we meet. Partnerships with local churches, schools, and ministries are indeed possible, and in a number of cases, are flourishing.
Christian schools in Lebanon are able to present the gospel to generations of young people, touching their families, neighbourhoods, and communities; they are hungry for workers, especially those whose first language is English and who are relaxed about working cross-culturally. Church-based networks in Egypt and Jordan are eager to tell us their stories of faithful witness and testimony under pressure, and long for Western churches to stand with them. Iraq is tough, but their arms are wide open to therapists and others who can work with damaged people.
Middle Eastern Christians should also be able to express themselves in their own words as they seek funding. Our friends on the ground say they are really struggling — not just with filling the forms in, but also with responding to measures and categories they don't use, such as, "How many people were converted through this ministry this year?" Instead of looking to this kind of measure, they are playing a much longer game, where evangelism and discipleship walk together and where people from majority backgrounds take many years to find a meaningful place in the Christian community.
Third, get involved in mercy and justice advocacy. As Middle Eastern Christians read Scripture, they find that a call to justice is an integral part of the gospel. Their country law codes speak about freedom of faith, but the reality so far is one-way conversions into Islam. To convert any other way is to court rejection, even death. The engagement of friends outside the region is a huge help to our friends, and there are now a number of networks patiently working with individual Christians, churches, and agencies that find themselves under pressure. Links with the West are vital because they show the authorities and the majority community that these Christians are not alone: they are genuinely, unashamedly Middle Eastern, yet connected with others in the fast-growing church in South America, India, China, and Africa.
Fourth, be aware of the bigger picture. Our friends in the Middle East tell us they think things will go both ways in the future. Harassment will be replaced by real persecution, and we need to find strength to resist it. At the same time, many Muslims look hard at Islam and find it deeply dissatisfying. They are longing for an encounter and a relationship with the living God. A constant stream of vision and dream stories shows us that Jesus is drawing people to himself. Bible Societies, publishers, satellite channels, and Internet conversations are all responding to these seekers and welcome thoughtful investment of both finance and people.
Thank you, David, for the challenge you laid out. We and others whose work focuses on supporting churches in the Middle East would love to help you respond.
Mike Parker is Middle East Director of MECO (Middle East Christian Outreach).
Related Elsewhere:
Botrus Mansour, in Nazareth, also responded to Aikman's column.
MECO has people in Egypt, Jordan, Lebanon, Iraq, Cyprus, Turkey, United Arab Emirates, Sudan, and the Arabian Peninsula. Their site has more about ministry opportunities.
Christianity Today's coverage of the Middle East's traditional Christian communities includes:
Article continues below
Suffocating the Faithful | Will the last Mideast church leader be sure to turn off the lights? (December 17, 2007)
What Iraq's Christians Need | Two strategies to build up the church in the war-weary nation. A Christianity Today editorial. (January 22, 2007)
Fleeing Nineveh | Threatened by persistent violence, Assyrian Christians in Iraq want to govern themselves. (December, 18, 2006)
Daring to Dream Again | Chaldean Christians connect with other believers. (August 1, 2003)
Reflections from a Messianic Jew in Israel | When questions are too hard to answer, we must still be about our Father's business. (August 31, 2006)
The Christian Message in Lebanon | Journalist Rami Khouri on how the church can foster peace in a troubled region. (August 24, 2007)
A Precarious Calm | A year after the July 2006 war, Lebanon's Christians face a murky future. (June 25, 2007)
The Colors of Lebanon | What would real peace mean? (February 7, 2007)
The 'Jesus Manifesto' for Lebanon | Rebuilding the soul of a shattered nation on the brink of civil war. (February 7, 2007)
Orthodox Unity … | Autonomous Orthodoxy isn't an oxymoron. It's the fulfillment of a different kind of American dream. (July 1, 2004)
Q&A: Karekin II | The leader of the Armenian Apostolic Church, Karekin II visited the U.S. in October to support a resolution condemning Turkey's 1915-1917 Armenian genocide. (November 26, 2007)
Death Watch | One of the world's earliest Christian cultures totters on the edge of extinction. (January 1, 2003)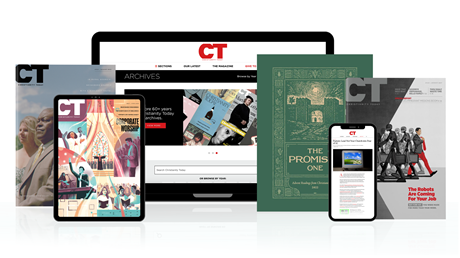 Subscribe to Christianity Today and get access to this article plus 65+ years of archives.
Home delivery of CT magazine
Complete access to articles on ChristianityToday.com
Over 120 years of magazine archives plus full access to all of CT's online archives
Subscribe Now
The Middle East's Faithful Are Breathing Fine
The Middle East's Faithful Are Breathing Fine