true
Imagine you're a fan of a certain band, say, Canadian quartet Downhere, and one day, a guy from the band shows up at your front door, inviting you to listen to an advance copy of their newest CD. He then asks for feedback, ranking your favorite songs from favorite to least. The following month, that label comes back to your house and offers to pay you to develop a music video for the first single. About a year later, they call back and point you to an exclusive digital release of acoustic versions of the songs you enjoyed so much. By this point, you feel pretty close to the company, right?

In the liner notes of their 2006 release Wide-Eyed and Mystified, Downhere described their new record label Centricity Music as "an anomaly" in the music industry for employing grassroots techniques like these. Discussing the label switch in an interview with Christian Music Today, band member Jason Germain explained the difference using colorful imagery, calling the label a "four-foot ninja" in an industry of "Scottish Highlanders wielding two-inch thick swords."
Quick and agile, Centricity is among the younger labels that are rewriting the status quo in Christian music with innovative record deals, marketing, and artist development. Seven hundred fans did listen to and rank the songs for the forthcoming 2008 Downhere release, Ending Is Beginning. Those rankings have indeed altered the track order, as the fan favorite now leads off the CD. A fan-video contest is also planned, as are digital releases targeted directly at the fans.
Centricity began in the first half of this decade at a time when labels shouldn't have been starting up, since so many were going under. The Seattle family that founded the label didn't know the industry was in upheaval, because they had no experience in the music business. They just knew they were blessed by a worship leader at their church named Jaime Jamgochian. Veteran A&R man and producer John Mays was recruited to answer the questions the founding family didn't know to ask, and by 2006 the label consisted of three full time employees and three artists: Jamgochian, Circleslide, and Downhere. Since then, the roster has grown to eight artists, and the staff outnumbers them by only one.
Today, Centricity is an indie label at a time when the line between indie and major is becoming increasingly blurred. "I wouldn't say record labels are dead, but they're definitely on life support," says Steve Ford, Centricity's vice president of marketing. "They've got to figure out a way to survive. We've lost 40% of our CD sales over the last three years. That's huge. There are not a lot of companies that could absorb that kind of loss of revenue and still survive. Imagine the auto industry losing 40% of its sales. There'd be a lot of unemployed people in this world."
A major impact of that fight for survival, according to Ford, is the way artists are treated. "As the industry has declined, you see more and more labels signing lots and lots of artists, basically throwing stuff against the wall to see what works."
The alternative pursued by Centricity is what many thought to be a by-gone concept in today's music industry: artist development. To Ford, that commitment was what pulled him away from a past with major labels. "The reason I came over to Centricity was artist development. It's not the 'pop or drop' mentality. We're in this for the long term. This label has a deep commitment, very ingrained in the DNA, to development: finding the uniqueness of the artists, finding the audience for that uniqueness, and marketing it like crazy."
Downhere can relate to the "pop or drop" mentality. As bassist Glenn Lavender explains, "We were with Word for our first two albums. We won a Dove award and the next month we got dropped."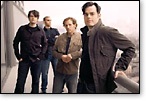 Appropriately, it was a church small group that led the band to the smaller label. "We spent a year looking around at different label options," says Lavender. John Mays and Steve Ford were in a small group with Jason [Germain]. Within a month or two we had talked to John about Centricity being a possibility. I guess what they had to offer that Word didn't was a smaller staff, which could come across as bad [to some], but I think in today's market a smaller staff works out great for making quicker decisions. You don't have to go through as many people for things to happen, and all these guys are willing to try different things. I think the bigger labels are starting to do these things too, but being a smaller, independent label, they're more willing to take a risk with new ideas. Centricity's philosophy is more about 'building the artist up.' It takes time to develop an artist. That's not usually how things are done [with labels these days], but it makes way more sense."
The band is a recent subject of risk-taking, having offered its Wide-Eyed and Mystified album as a free earlier in 2008. Lavender recalls, "It was funny watching John Mays through this whole process, because he's been in this industry forever, and I just remember him saying, 'Guys, you've gotta understand, I've spent my whole life trying to figure out how to sell these things, and now you want us as a company to give it away. I know this is probably the right thing to do, but it's going to take me a while!'"
Another digital experiment involves releases-between-releases. Digital-only tracks or EPs are consistently produced for artists between major CD releases, marketed not to radio or retail but directly to fans. "Artists help drive that," says Mays. "We're trying to keep interest alive for artists between releases, even releases that didn't do well. The ability to try to find new ways to connect with the audience is one of the joys of what we get to do."
In the same summer, Jamgochian found herself interacting with two distinct audiences: girls associated with a Brio event, and a middle-aged crowd at a summer camp of sorts. Digital remixes of her songs connected with the younger crowd, while an acoustic set with hymns peppered in served the older crowd.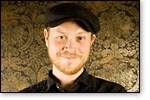 Barring some dramatic unexpected change, the next Centricity artist will be Andrew Peterson, an acclaimed singer/songwriter who has also been around bigger labels. "The label I was on before was Watershed, which was an imprint of Essential. They were great people, but back when I was on the label they had big bands like Third Day, Caedmon's Call, and Jars of Clay. So I was understandably the very lowest on the totem pole as far as record sales and all that. I was honored to be [with Watershed/Essential], and it was cool that a label like that wanted to have a folky singer-songwriter guy on their roster.
[But as I've been talking to Centricity], man, it has felt good to go into a record label and not feel like the cousin that nobody really wanted to hang out with. I don't mean to sound like the Essential experience was bad, because it wasn't. But to walk in and realize that the folks at Centricity had attended my Christmas concert in Nashville a couple of times, that they were familiar with my independent records released between Essential and now—it's a great feeling to know that the people are on your team because they like your music and want to know how they can help you in your ministry."
Centricity's attention to artist development has even been applied to an established artist like Peterson, who had a new CD ready to release just before his first meeting with the label. "Right before the disc was sent off to press, we had that meeting. Steve Ford said, 'Even if we don't end up working with you on this, if I were you I wouldn't release this in a hurry. This album is too good for that. You should wait and promote it properly and really have your ducks in a row before you set this loose in the world.' It surprised me, and made perfect sense. From that very first meeting, it wasn't just that it felt like a good idea, but it felt like something the Lord had a hand in—that I had this record, and there was this label that knew my music and wanted to help me with it. It felt like the perfect fit."
The artists are unabashed in their praise for a label that seems to genuinely care for them. They tour together, hang out at an annual artist retreat in a little town in Washington, and sometimes record together. New artist Lanae' Hale calls Mays "one of the coolest people I've ever met," and says of Ford, "When I first met them he was a huge advocate. I needed that first push of encouragement."
Centricity's philosophies are perhaps best exemplified in the career of Lanae' Hale, who has had attention from larger labels but ultimately decided to sign with Centricity. "This experience was entirely different," she recalls. "I was invited to their annual indie artist retreat, and then signed a development deal. I just fell in love with Centricity." Ford adds, "When we first started talking to Lanae' she was in such an embryotic stage as an artist. She was an amazing singer who had never been outside her little world in Florida."
How does a label like Centricity, one so committed to artist development, bring along an artist like Hale? In a word, slowly. A six-song EP has been released, with another due fall 2008, which means that her first full-length release might not arrive until 2009 or 2010. Ford explains: "In today's music environment, you have got to have a fan base. So we committed to walking beside her and helping her build her fan base, and build some awareness outside of the world that she had been in. That takes time." Step one was the EP. Step two was the road, touring with labelmates Downhere and Jason Gray, with plans for a tour of colleges later in the year.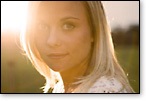 "It's sorta winning fans one by one," says Ford. "John is working [with Lanae'] on another EP that will hopefully have something radio-ready soon, because it's time. We're at a time where she's performed in front of a lot of people. You see her sing live, and it's awe-inspiring. I've seen her do 'Quiet Place' live so many times, and every time, it gives me goosebumps. So we've had her play in front of major decision makers, in front of a lot of radio people, retail people. There's an awareness and buzz out there. The next layer on top of that will be to produce a radio single."
That awareness got a major boost in January 2008 when the people at iTunes chose one of Hale's songs as the free download of the week, putting her music in the ears of 100,000 people. Part of a master-plan by Centricity? Not really, recalls Ford. "I'd love to take credit for it, but I'll just say it's a God thing, because they got a copy of the record, and flipped over it, and we got a call from them."
For her part, Hale approves of the slow rollout. "I like the idea. People are wanting more, so it's been fun to build up to it. I've felt confined before, but [Centricity] encourages the opposite. It's a complete blessing."
To Ford, Hale is an artist for whom a major label might not be appropriate. "At a major label, it's a machine, and the question is whether or not the artist fits into that machine. They do their thing and they do it really, really well. There are some artists who need to be in that machine, who fit the pattern. But if you're outside of that conveyor belt, they don't know what to do with you. You can think of multiple artists that have struggled on major labels because of that. As an independent label, instead of fitting the artist to the machine, we try to fit the machine around the artist. Let's lock arms, and help you do what you do better."
The illustration aptly describes Centricity's roster: a collection of artists who don't necessarily fit the traditional mold, connected with a label that didn't even know the rules when it started and now often breaks them. Fan interaction, dedicated artist development—with today's confused music industry, these modern philosophies, borrowed from an era long passed, are creating a promising future.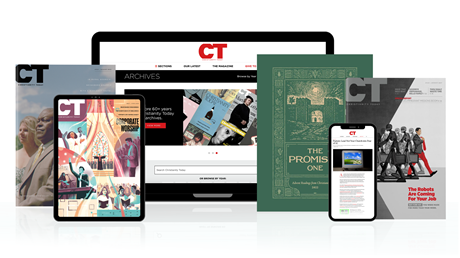 Subscribe to Christianity Today and get access to this article plus 65+ years of archives.
Home delivery of CT magazine
Complete access to articles on ChristianityToday.com
Over 120 years of magazine archives plus full access to all of CT's online archives
Subscribe Now
What's in a Label?: Centricity Music
What's in a Label?: Centricity Music