Counterpoint: We complementarians need to recover a fully biblical view of women — and of handling theological disagreement.
I am a proponent of women in ministry leadership. In agreement with egalitarians, I believe that God calls both men and women to serve as pastors, preachers, and leaders of the full congregation. I also believe that Christ, not the husband, should be the leader of every marriage, since Jesus Christ alone is Lord and Savior.
At the same time, I believe that many egalitarians have tended to appeal more to political liberal thought than to the Scriptures. In so doing, they've employed the language of rights in a way that is Kantian, not Christian.
In Kantian ethics, everyone is bound by a sense of duty. It's Kantian, for example, to say that it's your duty not to drink and drive. This aspect of Kantian ethics overlaps with Christian ethics.
However, Kantian ethics differs by extending the ideal of duty to mean that when you fail to perform your duty, you violate my right. Kantian logic says that because it is your duty not to drink and drive, I have the right to drive on a road without drunk drivers.
According to Jesus, a Christian ethic says, "You shall love your neighbor as yourself" (Matt. 22:38). A Christian ethic ends at the point of duty; it does not convert others' duties into personal rights. As a Christian I can say that God commands others to love me, but I cannot say that I have the right to be loved. I don't.
Egalitarians often argue that since God commands his people to submit to one another, women leaders have the right to be submitted to by men. When this doesn't happen, they feel angry. Yet a truly Christian ethic would remember that women have the duty, not the right, to lead as God calls them to lead. When God calls a woman to step forward, she is to step forward, regardless of how others respond.
The egalitarian mantra of mutual submission in marriage is also biblically untenable. While it's undeniable that Ephesians 5:21 says to "be subject to one another in the fear of Christ," it is also undeniable that Scripture nowhere tells husbands to submit to their wives.
The Bible does say, explicitly, that wives are to submit to their husbands (Eph. 5:22). It also says that the head of the wife is the husband.
Egalitarians say that head in Ephesians 5:23, "the husband is the head of the wife," means the husband is the "source" of the wife. This interpretation is understandable insofar as Genesis 2:21-22 reveals that Adam's side was the source from which God fashioned Eve.
But exchanging the word head for the word source causes problems when we look at 1 Corinthians 11:3: "Now I want you to understand that Christ is the head of every man, and man is the head of woman, and God is the head of Christ."
It simply isn't true that Christ is the "source" of every man—for the actual source of Adam was the dust (Gen. 2:7). Nor was God alone the "source" of Christ, since Christ was born of God and of woman (Gal. 4:4).
Practically speaking, exchanging the word head for source makes the headship of the husband irrelevant. Perhaps the biggest trap in an egalitarian marriage is for the husband and wife to live two parallel lives. Instead of functioning as one, they can dwell independently as two. Egalitarian marriages are especially susceptible to the perils of Western individualism.
The egalitarian movement also tends to rely overmuch on Galatians 3:28: "There is neither Jew nor Greek, there is neither slave nor free man, there is neither male nor female; for you are all one in Christ Jesus."
It seems hypocritical for egalitarians to complain that complementarians use 1 Timothy 2:12 as a proof-text when they do much the same with Galatians 3:28. It's also ironic that egalitarians use a Galatians verse about salvation to talk about church government, while at the same time criticizing complementarians for using a 1 Timothy verse about a specific church to talk about church government in general.
When Galatians 3:28 is used out of context, the egalitarian argument can easily be perceived as promoting a genderless church. Though most egalitarians emphatically believe that men and women are not the same or interchangeable, it is hard for the unconvinced to hear the wisdom of their message— and easy for others, like the gender-confused, to twist the meaning of their message into something it is not.
Egalitarians would do well to rededicate themselves to careful exegesis instead of leaning on political ideologies that ultimately don't help them to win their case.
Sarah Sumner is professor of theology and ministry at the Graduate School of Theology at Azusa Pacific University and author of Men and Women in the Church.
Related Elsewhere:
John Koessler wrote from an complementarian perspective on how his movement needs to recover a fully biblical view of women — and of handling theological disagreement.
Timothy George addressed egalitarians and complementarians in "A Peace Plan for the Gender War" and "A Modest Proposal."
Other articles on gender roles include:
Christian History Corner: Is Christianity Oppressive to Women? | Sometimes our Christian heritage must be overcome, not celebrated. (March 1, 2004)
Adam and Eve in the 21st Century | "When it comes to gender roles, CT readers oscillate between complementarian and egalitarian ideas." (March 11, 2002)
A Different Kind of Women's Lib | A dispatch from the Council for Biblical Manhood and Womanhood conference. (October 10, 2001)
Have something to add about this? See something we missed? Share your feedback here.
Our digital archives are a work in progress. Let us know if corrections need to be made.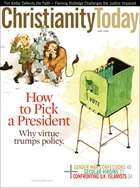 This article is from the June 2008 issue.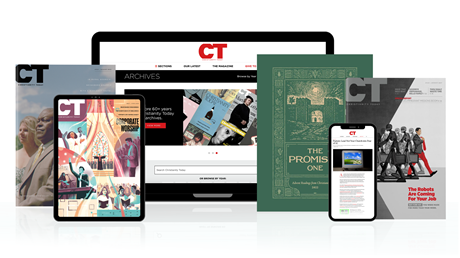 Annual & Monthly subscriptions available.
Print & Digital Issues of CT magazine
Complete access to every article on ChristianityToday.com
Unlimited access to 65+ years of CT's online archives
Member-only special issues
Subscribe
Wounds of a Friend: Egalitarian
Wounds of a Friend: Egalitarian