As the archbishop of Sydney, Peter Jensen leads one of the most evangelical branches of global Anglicanism. After becoming archbishop in 2001, true to evangelical form, he announced an ambitious goal to grow the church. But this call was to all "Bible-based" churches to reach 10 percent of Sydney's 4.2 million people by 2012. Among other things, these efforts triggered the planting of 60 new congregations and a 30 percent increase in candidates for Anglican ministry—all at a time when Christian growth in Australia has leveled off significantly.
Starting on Sunday, June 22, Jensen will be among the 1,000 top conservatives from around the world to assemble in Jerusalem for GAFCON, the Global Anglican Futures conference. This event was organized quickly after leading conservatives decided not to attend Lambeth, the once-a-decade gathering of the 900-plus Anglican bishops. Many conservatives pulled out of Lambeth in the ongoing dispute over homosexual ordination and same-sex blessings. Jensen is serving as GAFCON's chief organizer. Christianity Today spoke with Archbishop Jensen by phone from Amman, Jordan, where a pre-conference event took place.
What is the purpose of GAFCON?
Two great events have occurred. One is that liberalism in our Anglican Church has manifested itself in such a powerful way in the area of human sexuality. The intention is to export this new teaching right through the Anglican world. Second, as a response, Anglicans around the world have crossed boundaries and have provided protection and care and hope for orthodox people caught up in liberal diocese. That has changed the shape of Anglicanism. What GAFCON is trying to say is: How are we going to live with this? What changes now need to be made in order for us to be able to live in a church that has changed its shape?
GAFCON is not just a conference. It's a movement. From the very beginning, the emphasis has been on truth and transformation. There's a very strong evangelical strain in this movement. It's not only evangelical by any means, but there is a strong evangelical strain. Evangelicals are particularly interested in truth. We believe the truth, that we have access to truth in Scripture, and we believe in transformation.
We believe that people's lives could be changed. Our interest is not so much in human sexuality as such, but our interest is in that gospel of Jesus Christ, the truth that transforms, and the impact of that gospel in the whole world.
We believe that the current developments actually get in the way of serving that gospel. So that's what GAFCON's about. GAFCON is trying to bring together as many people as possible who will serve the gospel of truth and transformation.
What is GAFCON going to look like as a movement?
One of the strong emphases of the leadership team of GAFCON is listening to God, getting together, listening to what God is saying to us, discerning the mind of God, naturally, through the Scriptures, but as they apply to today. It's premature to answer the question at one level, because we need to hear what we've all got to say to each other and listen to God. On the other hand, I would have to say that speaking personally, I would be very surprised if GAFCON didn't turn itself into a movement with sufficient institutional reality to make it a new force within the Anglican Communion. I don't hear much interest in breaking up the Communion or splitting it or dividing it further than it is divided. What I hear is the idea of a new force embracing orthodoxy and empowering people to serve the gospel of truth and transformation.
What is your perspective on the crisis within the U.S. Episcopal Church?
All of us would regard this as immensely tragic. Legal proceedings are being taken between Christians. Bishops are being threatened. The irony of this situation is that those who are wanting to leave [the Episcopal Church] are the very people who up to now have been true Anglicans and who have not changed. They are not the innovators. They are simply Anglicans who are adhering to the Anglican faith as they've always understood it and have not moved an inch.
What's at stake for evangelicals worldwide in this struggle within Anglicanism?
Evangelicals find themselves in all sorts of different denominations. The convulsions which are striking [Anglicans], if they have not reached your mainstream denomination, will do so without a doubt. Evangelicals will then have to decide whether their denomination comes first or whether their adherence to the gospel comes first.
So first of all, it's a question of how deep your evangelicalism goes, which is really another way of saying, How deeply do you adhere to the Scriptures and how deeply do you adhere to the truthful and transforming gospel? Now this great struggle is occurring within the denominations because of very powerful secularizing tendencies throughout the western world. Even though people may live in largely evangelical denominations or even in independent churches, they will find that there's no place to hide.
There is simply no place to hide. Your children will feel this more sharply than you will. The movement within GAFCON is a tremendously important effort to defend the gospel and to promote true biblical teaching. This is an absolutely essential effort for us, for every evangelical no matter how pure a denomination they may think they occupy.
What is the optimal biblical and Christian response to someone struggling with homosexuality?
Evangelicals have been caught intellectually flat-footed in the whole area of human sexuality and indeed of human relations. I think we need to trace this back further to the rise of feminists and to relatively inadequate responses of evangelicals in this area.
Now let me temper that by saying I think that evangelicals in the United States have done far better than we have in Australia and perhaps in the rest of the English-speaking world. I'm very grateful for some tremendous material from the United States, but even so across the border I think we've been caught flat-footed on this.
Our problems are not so much to do with homosexuality; they're to do with human nature, human relationships, and the call of the gospel to sacrifice. We have a different view of human nature than that of the world around us. We have a different view as to what constitutes the good life. It's in those areas that the battle needed to be fought first before we ever got to the human sexuality battle.
Now we've reached the point where Christians seem to be saying: "Sorry, what we Christians say as normal, the rest of the world thinks is absolutely impossible and extraordinary."
Hence, when we say we call upon people whether homosexual or heterosexual, to live a life of self-discipline outside marriage, people around us, the world around us, thinks this is some of the most extraordinary stuff they've ever heard.
Well, it's only what all Christians used to believe, and it's what the Bible teaches.
Related Elsewhere:
GAFCON.org has live and recorded video from the conference and more information about the meeting.
SydneyAnglicans.net has commentary on GAFCON, material from Jensen, and much more material.
The Anglican blogs, such as Stand Firm, TitusOneNine, and Episcopal Cafe, will have quite a bit of rolling commentary.
More on the widening division in the Anglican Communion is available in our full coverage area.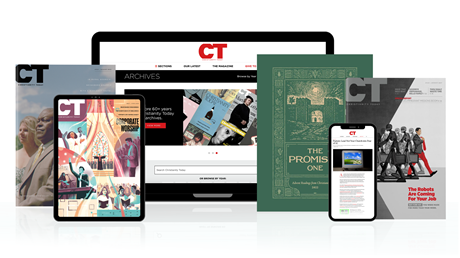 Annual & Monthly subscriptions available.
Print & Digital Issues of CT magazine
Complete access to every article on ChristianityToday.com
Unlimited access to 65+ years of CT's online archives
Member-only special issues
Subscribe
Reclaiming Orthodoxy
Reclaiming Orthodoxy