The competition in the Democratic nomination is so close among evangelicals that some researchers and pundits are being driven to prayer.
Recent polls suggest more evangelicals are voting for Sen. Hillary Clinton than Sen. Barack Obama, but most of the polls are still inconclusive.
Pundits still don't know if evangelicals have voted or plan to vote for Clinton or Obama because exit polls do not ask Democrats whether they self-identify as evangelical.
"I keep praying — so far my prayers have not been answered — that the exit polls would ask the born-again question because then we could resolve this question," said John Green, senior fellow at the Pew Forum on Religion & Public Life.
The Gallup Poll conducted the most recent poll and found a correlation between religiosity and support for Clinton among Democrats. The organization did not distinguish evangelicals from other highly religious voters, but more white religious Democrats — defined as those who attend church weekly — supported Clinton (46 percent) to Obama (43 percent).
"It's a bit counterintuitive," Green said. "It's interesting because conventional wisdom says they would be for Barack Obama, who speaks so comfortably about his faith."
Scott Keeter at the Pew Research Center said the center's general political polling shows that Clinton is doing a little better among those who attend church at least a few times a year.
CNN exit polls showed that Obama gained more votes from those who have highest church attendance. However, Obama has also led polls among African American voters, who tend to be highly religious, so Green believes the data does not show whether Obama is winning the religious vote.
Zogby International conducted a survey for Faith in Public Life, a left-leaning interfaith organization, on how evangelicals voted in Missouri and Tennessee. The survey found white evangelicals preferring Clinton to Obama in both states. Clinton's support was significantly higher among evangelicals than among white Protestants overall.
However, Nathan Gonzales at the Rothenberg Political Report said that the study's high margin of error made it inconclusive.
"The sub-samples were so small that any conclusions are not statistically reliable," Gonzales said.
Earlier Zogby polls, conducted before Democratic primaries in California, Georgia, and New Jersey, also had evangelicals preferring Clinton to Obama, according to Religon & Ethics Newsweekly.
The Barna Group conducted a telephone survey right before the February 5 "Super Tuesday" elections and found that 40 percent would support the Democratic candidate in November, compared to 29 percent who would back the Republican. Those polls said that 20 percent of born-again voters said they would likely vote for Clinton, and 18 percent would vote for Obama, but the difference was smaller than the poll's margin of error. The only Republican candidate to reach support in the double digits was Mike Huckabee, with 12 percent.
"It does indicate something unexpected might be going on," Green said. "If you put all of these together, you can get a sense that there may be a larger number of evangelicals in Democratic primaries than in the past, and they do seem to be gravitating toward Clinton."
Although both Clinton and Obama have made efforts to reach out to evangelical leaders like Rick Warren, it's still not clear which one appeals more, said Eric Sapp, cofounder of Common Good Strategies, a consulting firm that helps Democrats seek religious voters.
"You see a lot of people responding to Obama's hopeful message, unifying approach to politics," Sapp said. "Others are looking at Hillary's work with poverty, and children's health care, and her emphasis on abortion reduction."
Sapp believes that because James Dobson and other conservative leaders have denounced leading Republican candidate John McCain, it may spur Republican evangelicals to consider the Democratic candidates.
"Religion is a significant part of who Obama and Clinton are and what they're talking about it, especially compared to what we have on the other side with the Republicans so far," he said.
But Sapp said the Democrats may still have a hurdle to overcome. "They will have to continue to push back on that narrative that the Republicans have a Christian candidate and Democrats are against people of faith."
While Clinton leads among evangelicals in professional polls, Christian websites' online reader polls are favoring Obama. While such surveys are notoriously unscientific, several have gained some mainstream media attention.
A February online poll by Relevant magazine asked readers, "Who would Jesus vote for?" Obama took a strong lead (29%) over Clinton (2%) among the Democratic candidates. An online GodTube poll similarly shows Barack Obama (20%) ahead of Hillary Clinton (8%) for the Democrats. Christianity Today's last online poll, which ran February 7–8, listed all of the remaining candidates on both sides of the race. One quarter (24%) of those who took the poll said they supported Obama at 24 percent, higher than McCain's 17% (though Huckabee had 31%). Only 6 percent of the respondents said they were supporting Clinton.
Green hopes the exit polls will change for the March 4 primary, since many evangelicals live in Texas and Ohio.
"I'm going to continue to pray," Green said. "But I'm not going to hold my breath."
Related Elsewhere:
The Gallup Poll recently released a poll on highly religious Democrats who favor Clinton.
Hillary Clinton received the highest percentage of votes from those who took the Barna poll.
Previous CT coverage includes the following posts from the CT Liveblog:
Yep, Evangelicals Prefer Clinton to Obama | Zogby releases data from pre-election surveys. (Feb. 11)
Survey: Evangelical Democrats Favored Hillary in Mo., Tenn. | One of three evangelical voters voted in the Democratic primaries. (Feb. 11)
Barna Survey's Significance | Where will undecided evangelicals turn? (Feb. 11)
A Christianity Today editorial, also posted today, examines the trend of bashing Hillary.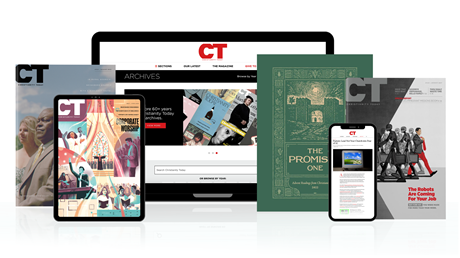 Subscribe to Christianity Today and get access to this article plus 65+ years of archives.
Home delivery of CT magazine
Complete access to articles on ChristianityToday.com
Over 120 years of magazine archives plus full access to all of CT's online archives
Subscribe Now
Do Evangelicals Really Prefer Hillary to Obama? No One Knows For Sure
Do Evangelicals Really Prefer Hillary to Obama? No ...