true
Johnny Cash and the Great American Contradiction: Christianity and the Battle for the Soul of the Nation
By Rodney Clapp
Westminster John Knox, February 2008
192 pp., $16.95
When Johnny Cash died at age 71 on September 12, 2003, he'd been everywhere, man. Everywhere, that is, in a geographic, moral, and spiritual sense. The son of a dead-end sharecropper who scratched out a meager living in Dyess, Arkansas, Cash turned to music for solace at a young age. His devout mother instilled a Southern Baptist sense of right and wrong, good and evil in the youngster. Cash spent some time worshiping in the Dyess Church of God (Cleveland) as well.
His later downward spiral into drugs and hard living gave an edge to songs about drunken veterans, murderers, prisoners, and boys named Sue. Much like Elvis—his one-time fellow Sun Records label mate—Cash traded in his heavenly crown for an amphetamine crown. The story so resembles a Hallmark Hall of Fame biopic that the 2005 film Walk the Line hardly needed writers. The slapstick send-up Walk Hard: The Dewey Cox Story (2007), proved as much.
But Cash's complicated redemption, career, and later life defy simple categories. Unlike so many pop musicians, he brought an honest, unflinching artistry to a large public. Watching episodes of his 1969 ABC TV shows is mesmerizing. Cash straddled genres and sang duets with Bob Dylan, Merle Haggard, the Statler Brothers, and Joni Mitchell. The Man in Black introduced Middle America to the counterculture with relative ease. He bridged divides. Upon his death, the president of his European fan club commented: "He sings about farmers and the working people—and that's what we all do, so the songs are common to all the people in Europe and the whole world." On this side of the water, Cash garnered 11 Grammys and picked up a lifetime-achievement award along the way. Ten years ago, he won country album of the year.
So Cash is a fitting subject for Rodney Clapp's Johnny Cash and the Great American Contradiction: Christianity and the Battle for the Soul of the Nation. Clapp, who has previously written about Christianity and pop culture, spirituality, and the American religious scene, treats Cash as both an American prophet and the embodiment of so many American contradictions. Among other things, Clapp contends, "He and his music can help us see more keenly into the often baffling murkiness that is the American relation between holiness and hedonism, church and state, faith and culture."
Drawing on the work of another Southerner named Cash—W. J., that is—Clapp explores Johnny Cash as a kind of walking, talking symbol of Southern identity. In the 1940s the journalist W. J. Cash famously described the dualistic character of the South: from its saintliness and savagery to its regional, neo-Confederate pride and deep insecurities about its place in the nation. For Clapp, Johnny Cash bore the racial and caste burdens of Southern history. Yet Cash's sense of tragedy, loss, and hope of salvation also appealed to the nation as a whole. And Clapp is at his best when he looks at how Cash helped unify Americans in a shared sense of religious and social longing.
Johnny Cash and the Great American Contradiction is a sprawling work. On one page Clapp navigates the intricacies of Herman Melville's Moby Dick, on another he alludes to Bertram Wyatt-Brown's work on Southern honor and violence, and on yet another he points to Reinhold Niebuhr's struggle with life's biggest questions. There is something almost Whitmanesque or Kerouacian about the scope. As the New York Observer said of rock journo and cultural critic Greil Marcus, "everything reminds him of everything." Clapp occasionally is tripped up by his own ambitions. When the narrative meanders onto the crooked roads of late-19th-century capitalism or lingers on the role of the American government under conservative administrations, Cash vanishes from the pages. That's unfortunate, because Clapp does have some very interesting things to say about the country icon. For instance, Clapp's treatment of how Cash was compelled and repulsed by violence, "a hallmark of the American character," is particularly insightful. The Arkansas native sang murder ballads and presented himself as an outlaw while also pointing to the plight of Native Americans and championing the cause of "the least of these."
Much of Johnny Cash and the Great American Contradiction reads like an American jeremiad. "Like millions of other Americans," laments Clapp, "by the winter and spring of 2002 I found myself less at ease with an array of family, friends, and fellow churchgoers" who mistook "America for the church." Like Charles Marsh, Randall Balmer, Jim Wallis, and others, Clapp aims his sights at the Religious Right. Cash is a fitting Jeremiah, challenging religious and political conservatism and calling the country back to God. Besides a few unnecessary diversions here and there, Clapp ably brings that fiery Christian singer and American icon to life in these pages.
Randall J. Stephens is assistant professor of history at Eastern Nazarene College.
Related elsewhere:
An excerpt from Johnny Cash and the Great American Contradiction: Christianity and the Battle for the Soul of the Nation and an excerpt on Pentecostalism and early rock from Stephens' book, The Fire Spreads, are posted on our site today.
More articles about faith and musicians, including Eric Clapton, John Lennon, and Salt-N-Pepa, are available in our full-coverage music section.
Browse All Music Reviews By: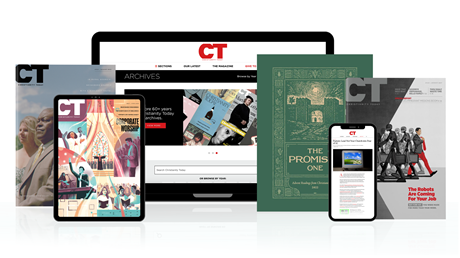 Subscribe to Christianity Today and get access to this article plus 65+ years of archives.
Home delivery of CT magazine
Complete access to articles on ChristianityToday.com
Over 120 years of magazine archives plus full access to all of CT's online archives
Subscribe Now
Johnny Cash's Very American Recordings
Johnny Cash's Very American Recordings