Visitors here don't expect to be challenged, diverted, distracted, and exhilarated when they walk into a missions building," says Jonathan Bonk. But when they enter the Overseas Ministries Study Center (OMSC), whose walls are lined with contemporary paintings, Bonk says, "The sheer beauty of the art causes people to light up. As visitors walk around, they are reminded of the gospel."
Bonk is the director of OMSC, which has an established reputation for studying and strategizing world missions. The 160 paintings highlight one of its newer roles: patron of the visual arts.
With funding from the Foundation for Theological Education in South East Asia and a special fund in honor of Paul T. Lauby, in 2001 OMSC began hosting foreign (usually Asian) Christian artists for a fully funded sabbatical year. In a nondescript, utilitarian building on OMSC's New Haven campus, seven artists have each spent a year creating a body of work in answer to the question, "What is the best missional art in a globalized world?"
"It is hot for the church to use arts now," says Hollywood art maven Barbara Nicolosi. The trend seems to be less ephemeral than the statement may suggest: besides OMSC, many other experienced missions organizations are seeing art as a way to convey the message of the gospel.
In 1990, New York City-based artist Makoto Fujimura became one of the first to start a program along those lines. He organized the International Arts Movement, which has sponsored artist missionary trips to China, Japan, and England.
Within a few years, the International Arts Movement was followed by church-sponsored arts festivals, such as the International Festival of the Arts. Schools began programs, such as Wheaton College's Community Art and Missions Program and Southern Baptist Theological Seminary's Center for Theology and the Arts. Evangelistic groups like InterVarsity Christian Fellowship, Youth With a Mission, Operation Mobilization, and Campus Crusade for Christ also started missions-oriented arts initiatives, symposia, centers, and other arts forums.
OMSC is unique for concentrating on Christian artists from the booming developing-world art scene and mixing them into American missions. This fall, the center welcomed Soichi Watanabe from Japan. In 2009, an artist from South Korea will come.
Scholars, missionaries, and international church leaders cycle through OMSC, which has a slightly Mennonite, neighborhood feel. Scholars and staff gather sometimes for communal meals, twice a week for worship, and weekly for lectures.
OMSC acts as a facilitator for the artists. It supplies them with the materials they need and sets up public showings at Yale Divinity School, churches, and a retirement community. Bonk told CT, "In some strange way, showing their art here seems to legitimize and enhance their art back home . . . giving it a kind of international cachet."
After each artist's year in residence, OMSC publishes a book of the artist's work. Bonk says he dreams of starting up a permanent gallery.
Mostly, Bonk says, the center is a peaceful and supportive rest for developing-world church leaders and missionaries. For Chris- tian artists, such as OMSC alumnus He Qi (pronounced huh-chee), working in their homelands often means isolation from other artists, difficulty supporting their families, trouble reaching a wide audience, having one's art rejected by the local Christian community, and even endangerment.
From Propagandist to Servant
Chinese artist He Qi, 59, is the program's poster child. Bonk says that He Qi's route to faith made him conscious of the power of art to introduce Christ to others. No one, he says, better represents the role of art in missions than He Qi, who became a Christian because of a painting—Raphael's Madonna.
During China's Cultural Revolution, He Qi and Zhang Yimou, the artist who produced the spectacle of the 2008 Olympics opening and closing ceremonies, both found safety as Communist propagandists—He Qi, for Mao; Zhang, for the Bloodshedding Spears, a group of teenage revolutionaries.
Both sought safety and peace. Eventually, Zhang found solace in Confucian and Buddhist history. He Qi's path led to Christ.
He Qi says his art is designed "to give peaceful feelings" and to reveal the kindness and gentleness of God.
But his art can also have an edge. It's not only a counterpoint to the violence of the Cultural Revolution; it's also a response to debates in the Chinese church.
He Qi came to OMSC partly because of what he feels is the corrupting influence of money in China. He Qi advocates "art for the resurrected church"—church design based on Chinese, not European, tradition. He sharply disagrees with the Three-Self church hierarchy, who prefer massive, neo-Gothic churches they think could more easily raise money and enhance their power in China.
At OMSC, he discovered that the American missionaries used traditional Chinese architectural styles to build universities and churches in China. He Qi says, "My time at OMSC has helped strengthen me to keep a Chinese indigenous style for my art works—much like Zhang Yimou insisted on using at the Beijing Olympics."
His stay at OMSC allowed him to reflect and talk with other Christian artists, free from political discord and anger. The result, he says, is that he has a new humility and is more able to imitate Jesus' servanthood in times of conflict.
Last summer, He Qi went back to China to "wash the feet of his critics" in order to achieve peace in the church. Then he returned to the U.S. to raise funds for the Sichuan earthquake victims, bringing together Chinese and American Christians.
A Way Out of Bitterness
In Indonesia, the young artist Wisnu Sasongko grew up in simmering ethnic and religious discord. Muslim terrorists have hacked and bombed their way through the country, so that Christian churches make bomb pits in which suspicious packages can be tossed. Natural disasters, especially the 2005 tsunami, led him to despair. But such terrors ultimately brought him closer to Christ and turned his art into a signpost that pointed the way out of strife.
After he became a believer in 1997, Sasongko discovered something in the pain in his world—a sublime hope appearing even in the blackest spots of life. Consequently, he had a new vision: "God called me to share the spirit of love through art."
He explored Christian art and terror in OMSC's one-bedroom, one-studio apartment in 2004-2005. Sasongko does not paint Bible stories or use bright primary colors, as He Qi does. "I don't want to paint the biblical stories, because I've never seen them," Sasongko says. "I've never touched them. … As an artist, I can only imagine Jesus."
Sasongko's poignant tsunami painting, In Memoriam, is a Christian response to an Indonesian religious tradition where people sing into the sea, hoping to calm the souls of drowned loved ones. Next to it he wrote, "Prayers are the only things" he could offer in the face "of the waves of the souls that have been shattered in bitterness."
Praising God in Color
Japanese artist Soichi Watanabe, this year's OMSC artist in residence, says his art is primarily praise to the Lord. "My works are responses to God's calling in my life and my images often arise from worship services and daily devotionals."
Watanabe said that during his college years in Japan, he had the emotions of a stone. When classmates talked about how a novel had moved them, Watanabe wondered why "I had nothing to share. I had quite a hard heart; nothing seemed to be able to touch it." He was hostile and critical toward others and "more stubborn than the apostle Peter." Beyond that, he was partially colorblind. To say the least, he did not fit the profile of an artist.
Then one day, Watanabe heard a heart-shattering sermon from the late Christian leader Tokutaro Takakura, read by a professor in a dorm devotional. Suddenly, "I really heard the voice of Jesus. It felt like he was hammering at my hard heart, and at the same time welcoming me to bring that hardness to him. It was like the hymn, 'Just as I Am.' "
Watanabe said that his heart started to feel. Soon he married a loving Christian woman whom he calls his "color eye." Now, when Watanabe looks at his painting of a repentant Peter, he says, "That was me. When the rooster crows—the Gospel of Luke 22:61-62—that was the starting point of my faith."
This year at OMSC, Watanabe hopes to paint the Ten Commandments in a way that will be relevant for all nations in his emblematic and instantly recognizable style.
'We Celebrate Niches'
As much as the OMSC artist-in-residence program means to individual artists, Bonk says it's designed to create a sense of unity among Christians across the globe. Bonk says Christian missions art is first and foremost a statement to the church about who it is as a global fellowship. Churches from around the United States write him about how the center's traveling art exhibits have refocused them on the gospel and its power to transform life and culture.
The program, though, is also a way to reach out to those outside the faith. In fact, Bonk says that OMSC's art program began with the question of how to do missions in their community. "New Haven is kind of a university town, a Yale town, with a highly intellectual environment and really fine students. It is difficult for a center like ours whose name sounds kind of cultish to really relate to the people until they know us."
Most of OMSC's artists paint in folk styles rather than taking a more academic approach. Bonk argues that the center's bias toward folk art is a strength in a world of relentless globalization that destroys local voices.
"In such a context, folk art can be comforting" as a niche for a human scale of life, he says. "We celebrate niches." Bonk compared the message of Christian folk art to "Jesus' interest in the blind man and the beggar in whom the religious leaders weren't interested."
Bonk also sees the role of art as undermining prejudice—possibly in OMSC's New Haven community—against Christianity as outdated and imperialistic. Beautiful, non-Western art that is also Christian helps people see Christianity afresh.
Artists like Fujimura say that their work can communicate to the sensibilities and alienations of a new class of college-educated professionals who are clustering in the world's great developing cities like Shanghai, Hong Kong, Tokyo, Jakarta, and Bangalore.
Sinologist Carol Hamrin said in a May 2008 Brookings Institute paper that in China, "a 'third church' [in addition to the unregistered churches and the Three-Self church] is rapidly growing in cities marked by an increase in middle-class fellowship groups." These new urban Christians are likely to respond to the message and medium of OMSC's alumni.
Developing-world artists come to OMSC and America knowing that they are bringing the missionary message back to Americans.
"The gospel also comes from 'there' to 'here,' " Bonk says. "A piece of art [from a foreign artist] is part of the giftedness of the church. It brings people back to a recollection of the Good News."
Tony Carnes, based in New York City, is a senior writer for Christianity Today.
Related Elsewhere:
Makoto Fujimura, He Qi, Wisnu Sasongko, Soichi Watanabe have artwork on their websites and on the Overseas Ministries Study Center website.
Christianity Today has written profiles on Makoto Fujimuru and He Qi (slideshow).
Have something to add about this? See something we missed? Share your feedback here.
Our digital archives are a work in progress. Let us know if corrections need to be made.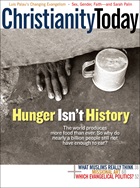 This article is from the November 2008 issue.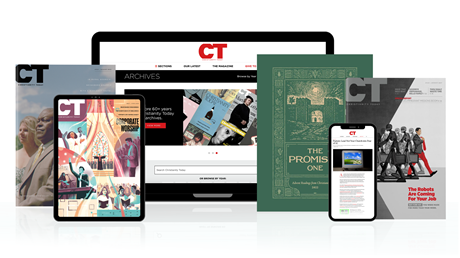 Annual & Monthly subscriptions available.
Print & Digital Issues of CT magazine
Complete access to every article on ChristianityToday.com
Unlimited access to 65+ years of CT's online archives
Member-only special issues
Subscribe
The Good News in Oil and Acrylic
The Good News in Oil and Acrylic