The leading U.S. Catholic prelate warned Wednesday (Nov. 12) that President-elect Barack Obama's promise to unify the country would be shattered if he pursues policies to increase access to abortion.
"If the election is misinterpreted ideologically as a referendum on abortion," said Cardinal Francis George of Chicago, president of the U.S. Conference of Catholic Bishops, "the unity desired by President-elect Obama and all Americans at this moment of crisis would be impossible to achieve."
"Aggressively pro-abortion policies, legislation and executive orders will permanently alienate tens of millions of Americans, and would be seen by many as an attack on the free exercise of their religion," George said.
George's statement was unanimously approved by nearly 300 bishops in a closed-door session at the end of the bishops' semi-annual meeting here, according to church officials.
After an election in which 54 percent of Catholic voters backed Obama, who supports abortion rights, over the strenuous objection of some church leaders, the Catholic prelates gathered here were eager to reassert themselves as teachers of the faith.
"The intention is to clarify the commitment of the bishops to participate in the public life of the country," George said in an interview Tuesday. The cardinal added that Catholic officials may meet soon with leaders of the incoming Obama administration.
Archbishop Charles Chaput of Denver, an outspoken anti-abortion advocate among the bishops, said the statement was also directed at the nation's 67 million Catholics.
"It's a message to the people of the church that we're not going to give up on the abortion fight until abortion is no longer accepted as part of our culture," Chaput said in an interview.
George said the bishops look forward to working with Obama on reforming immigration laws, promoting peace, and improving access to health care and quality education.
But throughout the week, the bishops expressed alarm at hints that the president-elect will loosen federal spending restrictions on embryonic stem cell research, which the church considers tantamount to abortion, as well as Obama's campaign promise to support the Freedom of Choice Act (FOCA).
That legislation, introduced in 2007, would remove all federal and state restrictions on abortion and codify Roe v. Wade, the 1973 Supreme Court decision that legalized abortion. However, it never left House and Senate committees and would need to be introduced again when the new Congress convenes in January.
Still, George devoted a sizable portion of his two-page statement to denouncing the legislation, saying that it would "coerce" Americans into subsidizing abortion with their tax dollars, outlaw parental notification laws, and "have lethal consequences for prenatal human life."
The law would also threaten the Catholic health care system, which George said Tuesday comprises about a third of all U.S. hospitals, and force doctors to perform abortions against their will, according to the cardinal.
"The danger the bishops see at this moment is that a bad court decision will be enshrined in bad legislation that is more radical than the 1973 Supreme Court decision itself," George said.
Throughout the week, the Catholic prelates debated the proper approach to take with the incoming Obama administration, as President Bush, who was seen as a church ally on the "life issues," prepares to leave the White House.
A vocal minority of bishops stood in public sessions to urge for a strident, uncompromising approach to laws and politicians—especially Catholics—who support legalized abortion.
"I think any bishop here would consider it a privilege to die tomorrow to bring about the end of abortion," Bishop Robert Hermann, interim leader of the Archdiocese of St. Louis, said during a floor debate on Tuesday. "We should be willing to spend the end of our lives dedicated to … bring(ing) about the end to this genocide."
Bishop Joseph Martino of Scranton, Pa., the hometown of Vice President-elect Joe Biden, sought support for enforcing church penalties on Catholic politicians who, like Biden, support some abortion rights.
But George's statement does not address that matter, and a quiet minority of bishops advocated for a softer approach.
"As someone who has spent most of my life in diplomacy, I would say we have to make clear what we believe, but work with those who don't share our views in a persuasive manner," said Archbishop Timothy Broglio, a former Vatican ambassador who now heads the Archdiocese for the Military Services, USA.
Bishop Donald Trautman of Erie, Pa., said George's statement generally captures both camps of bishops.
"It sends the right tone to the incoming administration that they have our prayers and support but at the same time we, as bishops, have an abiding commitment to defending life."
Related Elsewhere:
The statement is posted at the website of the U.S. Conference of Catholic Bishops, which also has more on the meeting.
See yesterday's related article, "Catholic Bishops Debate Pro-Life Statement 'With a Punch'."
John Allen Jr. of National Catholic Reporter has also been following the bishops' meeting and abortion debate, as are reporters from Our Sunday Visitor, Catholic News Service, The Boston Globe, and other news outlets.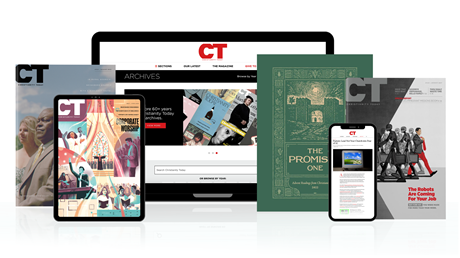 Subscribe to Christianity Today and get access to this article plus 65+ years of archives.
Home delivery of CT magazine
Complete access to articles on ChristianityToday.com
Over 120 years of magazine archives plus full access to all of CT's online archives
Subscribe Now
Catholic Bishops Warn Obama Against Expanded Abortion Rights
Catholic Bishops Warn Obama Against Expanded Abortion Rights