Since Thomas Jefferson was accused of being an atheist in 1800, the religious convictions of presidential candidates have often been an issue in American political history. In 1928 and 1960, the Catholicism of Al Smith and John F. Kennedy, respectively, drew close scrutiny and created controversy. Jimmy Carter's declaration that he was a "born again" Christian and George W. Bush's statement that Jesus was his favorite philosopher injected religion into the 1976 and 2000 campaigns.
As important as religion has been, Stephen Mansfield (author of The Faith of George W. Bush and other faith-focused biographies) argues in The Faith of Barack Obama that it is especially significant in the 2008 campaign, primarily because of the Illinois senator. Four factors have focused public attention on Obama's faith: the Democrats' revamped approach to win the votes of the nation's most religiously devout citizens; Obama's unusual faith journey; his frank admission that his faith informs his policies; and the inflammatory remarks of Obama's former pastor Jeremiah Wright Jr. Along with the claim that he lacks experience, especially in foreign policy matters, the nature and potential influence of Obama's faith on his presidency will undoubtedly remain a key campaign issue.
After John Kerry narrowly lost the 2004 presidential election in large part because Bush captured the votes of78 percent of evangelicals and 52 percent of Catholics (a higher percentage than Republicans normally win), Democrats developed a strategy to appeal more to religious Americans. They hired advisers and held forums to learn how to speak more effectively to religious groups and created organizations to target specific religious communities. Because many evangelicals are disillusioned by Bush's failure to strongly push their agenda—promoting pro-life policies, traditional marriage, and conventional morality—favor policies that Democrats have historically supported—protecting the environment, furthering social justice, and reducing poverty—they find these efforts attractive.
In his brief but engaging, sympathetic yet judicious religious biography of Obama, Mansfield carefully analyzes these factors and helps readers understand the context and impact of these issues. Mansfield also carefully details Obama's religious background: he was reared by religiously skeptical grandparents and an agnostic mother who encouraged him to view religion in a respectful but detached manner, and was influenced by the "religious tolerance of the Hawaiian Islands and the multiculturalism of Indonesia." His mother moved to Indonesia after she married a Muslim (who espoused a "folk Islam" that focused primarily on using rituals to drive away evil); as a young boy Obama occasional went to a mosque with his stepfather and learned about Islam while attending public school.
Still religiously rootless after graduating from Columbia University, he moved to Chicago in 1985 to work in community development on the South Side. Told that his lack of religious faith erected a barrier between himself and the poor people he strove to help, and already wrestling with his conscience, cynicism, and intellectual approach to religion, Obama attended Trinity United Church of Christ, pastored by Wright Mansfield chronicles Obama's journey over many months from skepticism to faith, which Obama describes as "a choice," "not an epiphany." Obama claims to have "a personal relationship with Jesus Christ" and to believe in his "redemptive death and resurrection:' Despite such affirmations, Obama admits to doubts and uncertainties, discomfort with some aspects of Christianity, and a belief that there are many paths to God and salvation.
Mansfield provides an astute description of Trinity's history, ministry, and worship services, as well as Wright's background and the influence of James Cone's black theology on his views. Convinced that to follow Jesus Christians must work to liberate the oppressed, Wright demanded that the U.S. compensate blacks for slavery and increase its foreign aid to Africa, and denounced the government for failing to obey God's commandments. Even more provocative statements—including damning the United States for its racism and contending that the government devised AIDS to further subjugate blacks—which became public in April 2008, led Obama to break with his pastor and drop his membership at Trinity.
Nevertheless, polls indicate that many Americans are troubled that Obama apparently sat comfortably under Wright's ministry for two decades. Mansfield explains what attracted Obama to Trinity and kept him there: its commitment to social activism and many ministries to the poor; celebration of his African heritage; lively worship services and stimulating sermons; theological justification of political liberalism; and sense of community. Obama stayed at Trinity because he found a faith, a fellowship of like-minded Christians, and a foundation for his political vision.
Mansfield argues that Obama is an "everyman in a heroic tale of spiritual seeking" whom many Americans find to be either "a fellow traveler" or a leader in "a new era of American spirituality:' He contrasts Obama's faith journey with that of John McCain, whose faith emphasizes character and duty; Hillary Clinton, whose faith accentuates the social ethics of Jesus; and George W Bush, whose faith focuses on evangelical conversion. These four politicians "represent the dominant religious forces in American politics today!' Obama, Mansfield maintains, is "unapologetically Christian and unapologetically liberal." His faith is "transforming, lifelong, and real!' It "infuses his public policy" and "informs his leadership!'
Numerous examples demonstrate that the faith of Presidents, if sincerely held, has a significant influence on their world-views, character, agendas, relationships, and policies. Thus, should Obama win the 2008 election, Mansfield argues, his faith will play major role in how he governs. But even if the charismatic, articulate, personable senator from Illinois should lose to John McCain in 2008, at age 47 he will long ''be a political and religious force to be reckoned with in American society."
Readers will likely want more specific assessment of how Obama's faith will influence his priorities and policies if he is elected, but Mansfield's succinct analysis of Obama's religious background, convictions, and public statements on religion and politics is informative and even inspiring. Those who disagree with Obama's approach to politics will reject Mansfield's conclusion that by wedding his faith to his political vision, Obama will help "end the moral scourges of our time": poverty, racism, unethical conduct of the powerful and powerless, and inadequate analysis of the morality of American military intervention. Those who advocate strict separation of church and state or detest the way Bush's religious convictions have affected his presidency will probably dislike the influence Obama's faith has on his policies and campaign.
Many of us, however, share Mansfield's hope that the issues raised in the campaign by faith forums and Wright's charges will prompt continued assessment of how our nation can best advance the biblical values of righteousness and compassion.
Gary Scott Smith, chair of the history department at Grove City College and the author of Faith and the Presidency: From George Washington to George W. Bush (Oxford University Press, 2006)
Related Elsewhere:
The Faith of Barack Obama is available at ChristianBook.com and other book retailers. Newsweek has an interview with Stephen Mansfield.
Christianity Today has other book reviews on a section of our website, as well as more coverage of the 2008 presidential campaign.
Have something to add about this? See something we missed? Share your feedback here.
Our digital archives are a work in progress. Let us know if corrections need to be made.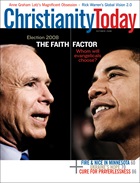 This article is from the October 2008 issue.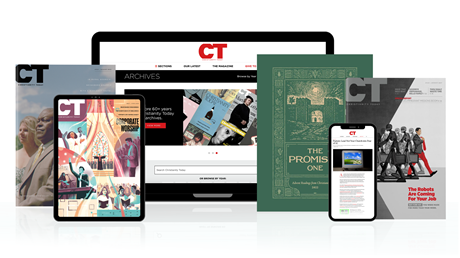 Annual & Monthly subscriptions available.
Print & Digital Issues of CT magazine
Complete access to every article on ChristianityToday.com
Unlimited access to 65+ years of CT's online archives
Member-only special issues
Subscribe
A Pilgrim's Progress
A Pilgrim's Progress