I love office supply stores. Reams of fresh paper (Aisle 16) and boxes of unsharpened pencils (Aisle 5) still give me back-to-school butterflies, the sense that the future is yet to be written and anything is possible. But I'm most drawn to the bins, sorters, and all manner of organizational aids in Aisle 7. They glisten with shiny plastic promise, reminding me I am just one astute purchase away from transforming the paper-riddled chaos of my life into structured bliss.
Recently I found just the thing, a two-foot black box with an open front divided into eight sections. I used my label maker (Aisle 3) to give each compartment its purpose, happily imagining soccer notices and utility bills lying obediently in their designated places. My husband came home and grinned at the box, envisioning it as next month's addition to the rejected-organizational-aid pile. "That," he told me gently, "is a junk collector."
But it will be organized junk.
I labeled one of the compartments "seminary"; this time the back-to-school butterflies were not merely nostalgic. I've begun chipping away at a master's degree, and on the same day I bought my new organizer I decided on a concentration in Spiritual Theology. I've been longing for more structure, not only in my office but also in my faith.
I've been searching for frameworks, outlines, contexts; ways to more thoroughly understand what I believe. The studies I've chosen emphasize systematic theology. The very word systematic gives me that Aisle 7 rush. I can hardly wait to be organized!
But there are people—wise, godly people—who grin at me like my husband did at my organizer. "Do you think," asked my friend Barbara, who happens to be a theology professor, "that part of you is looking for control?" I stared at her blankly. No, part of me isn't looking for control. All of me is looking for control. I hate chaos and uncertainty. I am deeply bothered by doctrinal divisions within even the small confines of my own church tradition.
And honestly, I really don't like it when God behaves unpredictably, when he seems to be as much about mystery as he is about revelation, and when he refuses to fit into the slots I have labeled for him.
Faith would be much tidier if God could be contained within mutually agreed upon doctrinal positions. Scripture would be much more manageable if it were pure exposition, if there weren't all those sprawling narratives, wistful poems, and cryptic apocalyptic visions. Why didn't God give us his Word in sermon points that spell out catchy acronyms? Why is it all so messy? Even our most precise expositor, the apostle Paul, holds revelation and mystery in tension. In his letter to the Ephesians, he proclaims, "God has now revealed to us his mysterious plan regarding Christ, a plan to fulfill his own good pleasure" (1:9, NLT).
But for all the time Paul spends explaining things, he still has the nerve to celebrate everything he can't understand about God. "Oh, how great are God's riches and wisdom and knowledge! How impossible it is for us to understand his decisions and his ways! For who can know the Lord's thoughts? … All glory to him forever!" (Rom. 11:33-34, 36).
This, I'm beginning to understand, is my challenge: to immerse myself in all that has been revealed about God while celebrating all that is mystery. We have a God who both transcends our messy lives and incarnates himself in them. That reality is hard to organize, but it's the best news there is.
There's a story, often credited to E. Stanley Jones, about a missionary who gets lost in the jungle. He comes upon a village in the middle of the trees, and asks a resident to lead him out. The local agrees, and for an hour he walks ahead of the missionary, clearing a way through the foliage with a machete.
Eventually the missionary asks, "Are you sure we are going the right way? Isn't there a path somewhere?" The villager smiles. "Friend, I am the path."
"I am the way, the truth, and the life," Jesus tells us (John 14:6); "I AM," declares Yahweh (Ex. 3:14). My ideas about God are not the path. My church tradition, helpful as it is in pointing to him, is not the path. I plan to spend the rest of my life learning the best terminology we have for our understanding of what God has done and is doing, but the terms are not the path. Only God is. Only he can lead me through the jungle that is my life and into the boundless adventure of life with him.
Praise God, there is not a thing in Aisle 7—or in the universe—that can contain him.
Related Elsewhere:
Other articles on spirituality and prayer are available on our site.
Arend's previous columns include:
The Grace of Wrath | Is there any story about God that isn't a love story? (May 12, 2008)
Carbonated Holiness | Laughter is serious business. (April 1, 2008)
Have something to add about this? See something we missed? Share your feedback here.
Wrestling with Angels
Singer/songwriter and author Carolyn Arends has written and released 9 albums and penned 2 books, including
Wrestling With Angels
(Harvest House/
Conversantlife.com
). A list of her blogs can be found at
CarolynArends.com
. Her bimonthly "Wrestling With Angels" column has appeared in
Christianity Today
since 2008.
Previous Wrestling with Angels Columns:
Our digital archives are a work in progress. Let us know if corrections need to be made.
This article is from the September 2008 issue.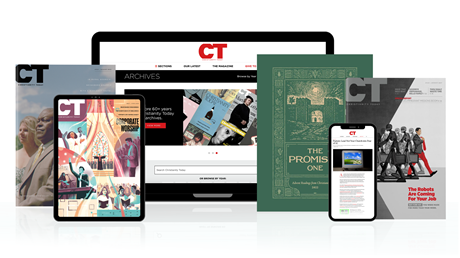 Subscribe to Christianity Today and get access to this article plus 65+ years of archives.
Home delivery of CT magazine
Complete access to articles on ChristianityToday.com
Over 120 years of magazine archives plus full access to all of CT's online archives
Subscribe Now
Theology in Aisle 7
Theology in Aisle 7