Emergent is no longer just emerging. It has in many respects emerged. Though some things remain unclear, what you see is what it is and, more importantly, what you see is also where it is going. Where it is going is in the direction of gospel expansion. Is emergent "evangelical"? Some answer with a hearty, "By all means!" Others, a more moderate, "Well yes, on some level." Still others, a most definite, "No, of course not!"
The emerging movement, the larger movement of which emergent is a segment, remains more or less connected to the core of evangelicalism. It contains a variety of missional impulses; it remains concerned about the church; and its theological ideas will undoubtedly continue to impact evangelicalism. John Stott recently sketched three core practices of emerging churches: the way of Jesus, breaking down the sacred-secular divide, and community living. He says that "emerging churches are rediscovering [these core practices] and giving them a fresh emphasis." Rediscovering accurately describes what is going on, but those in the emerging movement feel these core practices are a fresh discovery. Furthermore, what Stott calls the "emerging churches" involves a spectrum that deserves a closer look.
I maintain a crucial distinction between two related streams: emergent and the broader emerging movement. Emergent is crystallized in Emergent Village and its leaders Brian McLaren, Tony Jones, and Doug Pagitt. Emerging is a mix of orthodox, missional, evangelical, church-centered, and social justice leaders and lay folk. When I think of this broader emerging movement, I think of Dan Kimball at Vintage Faith Church in Santa Cruz, Dave Dunbar at Biblical Seminary in Hatfield, Pennsylvania, Michael Frost and Alan Hirsch and their book The Shaping of Things to Come, and Donald Miller's Blue Like Jazz. Some of this was anticipated by Lesslie Newbigin's many writings and is now sketched in Tom Sine's The New Conspirators. Furthermore, I see emerging trends in megachurches like Willow Creek Community Church and Saddleback Church.
Despite what some critics assume, Brian McLaren, the most controversial of emergent leaders, does not represent all things emerging. But he does represent the more progressive wing, and his latest books offer a glimpse of where that movement might be heading.
To understand McLaren, one must appreciate two things. First, his books are "works in progress." He's working things out in front of us all, and he isn't offering final words on anything. Second, he's exploring how the gospel, seen as the kingdom vision of Jesus, impacts both global crises and Christian discipleship. So although I continue to have questions for McLaren (see below), I believe he can be a rich source for Christian imagination, vision, and reflection.
McLaren's two recent books, The Secret Message of Jesus and Everything Must Change, build upon his earlier works, such as Reinventing Your Church, his three-volume set of fiction, and his best-selling Generous Orthodoxy. If his fiction and Generous Orthodoxy questioned prevailing ideas, Secret Message and Everything Must Change try to construct a positive vision of his priorities and the foundation for future work. These two recent books are the focus of this article.
No one today better expresses, like a beat poet, both the ironic faith of emergents and a strong sense of how the gospel should be lived today. As emergent's pastor and confessing priest, McLaren has moved through this irony and come out the other side with a vision that has won over many.
Reworking Jesus' Kingdom Vision
McLaren's vision is, simply, to return to Jesus and to rework and revitalize Jesus' kingdom vision. In The Secret Message of Jesus, McLaren explores a variety of phrases, including "empire of God," "dream of God," "revolution of God," "mission of God," "party of God," the "network of God," and the "dance of God." McLaren self-consciously brackets the "conventional" gospel message he grew up with among the Plymouth Brethren and reads Jesus, to cop the words of Marcus Borg, "again for the first time." What McLaren discovered was Jesus' thoroughly social vision, and he believes that most people—especially the conservative evangelical group in which he was nurtured—buried the kingdom vision of Jesus and distorted the gospel. "What if," he asks in what must be seen as a window to everything he is doing, "the religion generally associated with Jesus neither expects nor trains its adherents to actually live in the way of Jesus?"
Secret Message is "dedicated to all who work for peace among nations, races, classes, religions, ideologies, parties, families, and individuals, because these people are part of something bigger and more important than we fully understand." These peace workers, McLaren says, have "this unshakable intuition that both [Jesus] and his message are better than anything they've heard or understood or figured out so far." Furthermore, and typical for McLaren, a disclaimer: "I can't tell you that I have it all figured out, but I can tell you that I am confident that I'm onto something," and, "I've seen a few things that are making the pieces come together for me and many others." So what is the message of Jesus?
In a word, peace, or perhaps reconciliation, or perhaps love. Not just with God and not just in the heart, but both and more: the peace Jesus envisions is global. Jesus really "had a message that truly could change the world."
McLaren believes Jesus' kingdom vision is bigger than what many are accustomed to think. "I've been convinced that [Jesus' message] has everything to do with public matters in general and politics in particular—including economics and aid, personal empowerment and choice, foreign policy and war." Jesus countered the Zealots and the Sadducees and the Pharisees and the Essenes with a message about the "empire of God," and made the astounding claim that it was available to all right then and there. Jesus' kingdom vision was a "revolutionary new sort of revolution" in which "the ultimate authority is not Caesar but rather the Creator," and where you "find your identity—your citizenship—not in Rome but rather in a spiritual realm." Everything about Jesus brings Israel's story to fulfillment and "through him, God was launching a new world order, a new world, a new creation."
Right then and there. And here: "The radical revolutionary empire of God is here, advancing by reconciliation and peace, expanding by faith, hope, and love—beginning with the poorest, the weakest, the meekest, and the least. It's time to change your thinking. Everything is about to change. It's time for a new way of life. Believe me. Follow me. Believe this good news so you can learn to live by it and be part of the revolution." This revolution, then, is a revolution of peace and hope that, in both the insignificant and the Cross, in both sacrifice and love, reveals and unmasks corporate and cosmic evil.
In this aggressive emphasis on the here and now, we see a devaluation of the traditional view of heaven, and the need for a radical reworking of familiar terms—eternal life, heaven, kingdom, repent, believe, and sin. These terms now take their meaning from the story of God's current redemption of the entire created order through the followers of Jesus who embody and expand his message. In essence, then, the kingdom of God as Jesus teaches it is a "reconciling movement."
How does one get into this reconciling movement? According to McLaren, five commitments point the way: rethinking (or repentance), believing, receiving, going public, and practicing a new way of life—a life of denying the use of violence (which is, according to McLaren, the message of the Cross) and of embracing enemy-love. Or, as he says in his exposition of spiritual disciplines in chapter 15: The kingdom of God proclaims "a ceaseless rebellion against the tyrannical trinity of money, sex, and power. Its citizens resist … by … generosity toward the poor … prayer … [and] fasting."
McLaren tells us that he could only see this kingdom vision of Jesus when he came to a "place of cynically doubting much of what I had been told about Jesus." To use the words of fellow emergent thinker Peter Rollins, the Northern Irish philosopher at Ikon community, McLaren experienced the "fidelity of betrayal." He had to betray the Jesus and the gospel and the church that nurtured him to become faithful to the Jesus of this kingdom vision.
The 'Deep Shift'
Everything Must Change continues the deconstructive work, arguing that our problem is our "framing stories." Framing stories are the stories we tell ourselves to make sense of our world, and every theological system has a framing story. The conventional framing story, found among some evangelicals, Catholics, and Eastern Orthodox, is told in such a way that the world's greatest problems—the crises of our present age—are not (usually) addressed. McLaren seeks to replace this conventional framing story with Jesus' kingdom framing story. He calls this move a "deep shift." In one of the more telling paragraphs in Everything Must Change, McLaren says:
[The conventional framing story] has specialized in dealing with "spiritual needs" to the exclusion of physical and social needs. It has specialized in people's destination in the afterlife but has failed to address significant social injustices in this life. It has focused on "me" and "my soul" and "my spiritual life" and "my eternal destiny," but it has failed to address the dominant societal and global realities of their lifetime: systemic injustice, systemic poverty, systemic ecological crisis, systemic dysfunctions of many kinds.
For McLaren, this is a colossal mistake, what he calls an "adventure in missing the point." Jesus' kingdom vision was much bigger and more earthly; it is "the sacred ecosystem of God."
In the words of Justine, a Burundian living in Rwanda and from whom the title of this book comes, "I see what Jesus meant by the kingdom of God. I see that it's about changing this world, not just escaping it and retreating into our churches. If Jesus' message of the kingdom of God is true, then everything must change. Everything must change."
McLaren then becomes thoroughly apocalyptic: the three crises we face compose a "suicide machine" that threatens the existence of the world—the prosperity system, the security system, and the equity system. Each has its own characteristic dysfunction: unhindered economic growth, unredemptive violence, and the rich/poor conflict. They are part of the reigning secular framing story—one that Western Christians subconsciously believe in.
In this story, people conceive of themselves in godlike fashion, accumulating things in a never-ending competitive struggle in which they are but "masses of atoms." Instead, "Our Creator wants us to pursue virtue, collaboration, peace, and mutual care for one another and all living creatures, and that our lives can have profound meaning if we align ourselves with God's wisdom, character, and dreams for us."
Questions for McLaren
I wish more believers would follow McLaren's cue and think about the implications of the Bible for global and systemic issues; that Christians would return to the Bible and ask, "What, then, is the gospel?" as well as its necessary follow-up, "How do we live out the gospel today?" For far too many, the gospel preached is not leading to any serious engagement with the global crises of our time.
But that doesn't mean I don't have questions about McLaren's theology.
Clarity Despite his many proposals in these last two books, McLaren would rather ask a question and create a conversation than propound a solution. This style is an attribute of a good teacher. Yet having said that, I want to voice the frustration of many: McLaren's willingness to muddy the waters, which is characteristic of Generous Orthodoxy, goes only so far. Many of us would like to see greater clarity on a variety of questions he raises.
McLaren grew up among evangelicals; we'd like him to show the generosity he is known for to those who ask theological questions of him. The spirit of conversation that drives much of his own pastoral work urges each of us to answer the questions we are asked, and the Bible encourages those who ask those questions to listen patiently and to respond graciously. The lack of the latter has so far inhibited the former. This can be taken as a plea on behalf of all concerned to enter into a more robust, honest conversation.
The Cross What role does the Cross play in the emergent kingdom vision? One way to get to this is to see how McLaren concludes chapter 10 of Everything Must Change: "How ironic that the cross—the icon of the dominating Roman framing story—became the icon for the liberating framing story of Jesus. And how much more ironic if we who believe in Jesus don't get the irony."
It is right here that I want to dig in. In brief, what McLaren has written about the Cross in these books approaches French intellectual René Girard's theory—namely, that by the Cross God identified with the victim and both unmasked and undid evil, systemic violence, and injustice. In Secret Message, McLaren says that at the Cross, "God exposed and judged the evil of empire and religion" and that the King "achieves peace not by shedding the blood of rebels but by … shedding his own blood … [The] crucifixion of Christ can in this light be seen as a radical repudiation of the use of violent force."
Well, yes, I say to myself—after having written two books dealing with the Atonement. Yes, I believe this unmasking role of the Cross is not only true, but also vital to a political reworking and revitalizing of the Cross. Given the sociopolitical focus of these two books, perhaps McLaren didn't think any more needed to be said.
But I feel obliged to ask, "Can we have more?" Emergents believe that penal substitution theories have not led (as they should have) to a kingdom vision. What I have been pondering and writing about for a decade now is how to construct an "emerging" gospel that remains faithful to the fullness of the biblical texts about the Atonement, and lands squarely on the word kingdom. Girard said something important about the Cross; so does McLaren. But they aren't enough.
The most stable location for the earliest understandings of the Cross, from Jesus all the way through the New Testament writings, is the Last Supper—and not a word is said there about violence and systemic injustice. Other words are given to explain the event: covenant, forgiveness of sins, and blood "poured out for many." Insight into the Cross must start here. In fact, I question whether a cross that only undoes violence is enough to create liberation, peace, and a kingdom vision. Can McLaren's view of the Cross create the emergent understanding of kingdom?
Kingdom and Church Kingdom talk has become trendy and fashionable among emergents, and God be thanked that they are one group among many that are forcing us to reexamine what we think about Jesus' kingdom vision. But the lack of a thorough definition of kingdom is a major concern. On my blog, I spent several months slogging through what the Gospels say about the kingdom, text by text. I have discovered two points that cannot be denied: There is no kingdom without faith and attachment to Jesus Christ, and there is no kingdom without attachment to Jesus' followers. In other words, Jesus' kingdom vision is not that far from Paul's church vision, yet there is little ecclesiology in either Secret Message or Everything Must Change.
So my second question for McLaren is this: What is the relationship of kingdom to church? Can his emergent view of the kingdom lead to the New Testament picture of the church?
According to the New Testament, the kingdom vision of Jesus is, it seems, only implemented through the church. Only in the community of Jesus does one hear about the problem of Adam and Eve's rebellion (McLaren's own terms) and the need for resolution through the life, death, and resurrection of Jesus Christ and the gift of the Holy Spirit. I believe the solution to the global crises McLaren helpfully highlights will come as the followers of Jesus Christ live out the gospel, as they expand the presence of God's redemptive Good News through evangelism, compassion, and justice. But it will only come through a church empowered by a Spirit-prompted kingdom gospel it is called to embody and proclaim.
We need more reflection by emergents on the relationship of kingdom and church. For me, there is hope here: McLaren's focus on the sociopolitical implications of the kingdom can shape a new perspective on the church in Paul's letters.
Partner in the Gospel
All in all, I am hoping that McLaren's works will lead to a massive conversation on the meaning of one word: gospel. If I have any say in that conversation, I'd like to begin in Luke's gospel, with Mary's glorious Magnificat, and see where Luke leads us.
My soul magnifies the Lord,
and my spirit rejoices in God my
Savior. …
he has brought down the mighty
from their thrones
and exalted those of humble estate;
he has filled the hungry with good things,
and the rich he has sent empty away. …
Luke tells of a gospel far greater than most of us are hearing today.
Scot McKnight is Karl A. Olsson Professor in Religious Studies at North Park University. His books include A Community Called Atonement (2007) and The Blue Parakeet, forthcoming from Zondervan in November.
Related Elsewhere:
Scot McKnight also wrote The Ironic Faith of Emergents for Christianity Today.
Brian McLaren is the founding pastor of Cedar Ridge Community Church in Maryland. He was a contributing editor of CT's sister publication, Leadership Journal, and is author of several books, including The Secret Message of Jesus and A New Kind of Christian.
John Wilson reviewed Everything Must Change and an excerpt is available from ChristianBook.com and other retailers.
McKnight's blog, "Jesus Creed" has many posts on the Emerging Movement.
He has also written "The Five Streams of the Emerging Church" and "The Mary We Never Knew" for Christianity Today.
Christianity Today's website has a special section on The Emergence of Emergent.
Have something to add about this? See something we missed? Share your feedback here.
Our digital archives are a work in progress. Let us know if corrections need to be made.
This article is from the September 2008 issue.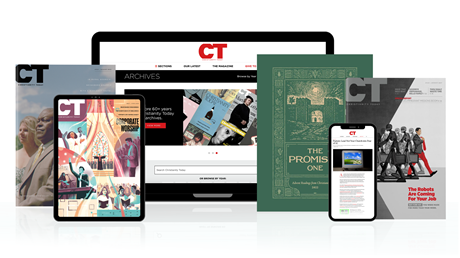 Annual & Monthly subscriptions available.
Print & Digital Issues of CT magazine
Complete access to every article on ChristianityToday.com
Unlimited access to 65+ years of CT's online archives
Member-only special issues
Subscribe
McLaren Emerging
McLaren Emerging