The apostle John's first letter is one of the most frequently quoted books of the Bible. Here we read, "But if we walk in the light, as he is in the light, we have fellowship with one another, and the blood of Jesus his Son cleanses us from all sin" [1 John 1:7]. And who can forget the other John 3:16: "By this we know love, that he laid down his life for us, and we ought to lay down our lives for the brothers." Perhaps the book's most famous passage is 1 John 4:8: "Anyone who does not love does not know God, because God is love."
Though John is known for his simple, direct language, he does not avoid complex problems. Robert Yarbrough takes up these challenges in his new commentary on 1-3 John and in his notes for these books in the ESV Study Bible. Yarbrough, chair of the New Testament department at Trinity Evangelical Divinity School, spoke about these projects with Collin Hansen.
You edit the Baker Exegetical Commentary on the New Testament. What is this series' unique contribution?
These commentaries blend serious scholarship with commitment to the gospel message that gave rise to the New Testament documents. Readers with theological interests will be stimulated and encouraged in the Christian faith. Readers with more narrowly academic interests will find awareness of, and interaction with, the range of evidences, questions, and theories that have occupied scholars throughout the generations. Having said that, the commentary does have a basic commitment to serve the needs of those who read and minister the Scriptures as the authoritative Word of God.
You write in the author's preface to the 1-3 John commentary, "I offer no defense for this commentary if the requirement is earthshaking novelty, unprecedented profundity, or unrivaled comprehensiveness." How do you advance our understanding of biblical books and discern what not to discuss?
Various factors can promote the aim of advancing understanding of a biblical book. Most foundational is careful and informed analysis of the New Testament book in the original language—in other words, fresh attention to primary sources. This quickly brings with it reference to books and studies by other scholars—books on backgrounds, language, history, early Christian thought, and so on. None of us knows enough to ignore what the larger community of scholarship has discovered, both recently and through the centuries. I have also found that ministry involvement sheds light on New Testament writings. I teach these writings to children and adults each week in church, to seminary students as my profession, and to students and pastors in sites in Eastern Europe and Africa on a regular basis. This generates a lot of feedback and fresh perspective on a given book.
As for what not to discuss—editorial limits often keep discussion within certain bounds. Some things are beyond one's expertise and better left to others for serious treatment. Reflection on intended audience can also factor into decisions. For example, there is a fairly technical monograph on speech-act theory in 1 John. But most readers, I felt, were unlikely to find close and sustained attention to this book worth the space and energy in a commentary, though as a work of scholarship it certainly has its place.
What are some of the most perplexing challenges posed by 1-3 John?
The first is the precise historical setting or even socio-cultural location of the author and/or addressees. I am comfortable with viewing these letters as contemporary with, and geographically proximate to, the seven churches of Asia that Revelation 1-3 addresses. But the epistles themselves don't leave many explicit clues, and since a lot of scholarship discounts patristic testimony and limits itself to internal literary evidence, it is hard to be certain of a great deal in this crucial area.
The second challenge is determining the best understanding of statements like "no one who is born of God sins," [1 John 3:9] or a phrase like "the sin unto death," [1 John 5:16] or a literary feature like the abrupt and dark final warning against idols. The prose is simple in terms of rudimentary vocabulary. But the depth of reflection these simple clauses fairly force upon the reader is daunting to break down and draw out.
How has computer technology contributed to our understanding of 1-3 John?
One can also do word analyses and various grammatical and syntactical searches of the New Testament or related writings with a speed, ease, and comprehensiveness previously undreamt of. Ease of access to reference works eliminates tedious book hunting and page turning. A downside is that every decade we move farther into computer technology, the greater the danger becomes that younger scholars will lack the hands-on intimacy with the text that pen and paper demanded, and the ingrained, deeply intuitive grasp of the text that a trained memory can arrive at. Voluminous information easily accessible can not only obscure but actually stunt creative and historically responsible scholarship.
Your commentary draws upon recent scholarship but also reaches back to Augustine, Luther, and Calvin. How did their reflections shape your work?
Augustine rarely reflects what I would call great exegesis. But he still says much that is riveting and germane to John's epistles as well as to the human condition in the world and before God. Luther and Calvin are simply seminal expositors whose work has stood the test of time. You stumble on a great insight in a commentary published in the 1990s, only to discover later that Calvin said it better and at length centuries ago. That is not to deny, of course, that the Reformers had their limitations and blind spots.
You write in your introduction to 1 John in the ESV Study Bible: "The rhetoric of 1 John is challenging. John rarely sustains a clear line of argument for more than a few lines or verses. He wanders from subject to subject, unencumbered by any discernible outline." How, then, should we alter out reading approach when we move from Paul's more organized epistles to 1 John?
John's epistles make tolerable sense if read against the backdrop, first of all, of John's Gospel, and prior to that, the Old Testament. The Johannine epistles witness to the Johannine Messiah, Jesus the Christ. Once that Gospel-Epistles corpus is absorbed for what it is, it is not too hard to see that Paul is like John in that he testifies to Jesus. But he is unlike John both in his background and conditioning prior to meeting Christ, and then in his literary and intellectual giftedness. In addition, Paul was a missionary in ways that to our knowledge John never was.
How do we know if John had early Gnosticism in mind when he wrote 1 John?
It's hard to rule out that he could have had some exposure to what later came to be called Gnosticism. But if he did, he didn't obsess in drawing it out into the open. His stress and concern lay much more along the positive and productive lines of affirming the truth of Christian teaching, the imperatives of Christian ethics, and the richness of Christian relationality—God's love received, reciprocated, and expressed toward others.
Many beginning Greek students start by reading 1 John. What does the book's simple language tell us about the author, his aims, and his audience?
He was content to be plainspoken. His literary gifts were by some measures modest. For example, he doesn't use the flashy vocabulary of a literary artist like Luke, probably because he didn't possess active command of such a breadth of terms and expressions. His audience was the target not only of his discomfiting warnings and correction but also of his fatherly love and loyalty. He wrote for the sake of their joy and their assurance of eternal life. A major benefit of the simple prose is that readers can hardly mistake the writer's deep conviction that they are the objects of the true God's love, grace, and mercy. John's simple style, and the substance he conveys with it, are suggestive of an intense, sagacious, endearing personality with a comely mystical air about him. This by no means proves, but is consistent with, his traditional identification as the Beloved Disciple.
Collin Hansen is a CT editor at large and author of Young, Restless, Reformed: A Journalist's Journey with the New Calvinists.
Related Elsewhere:
Previous Theology in the News columns are available on our site.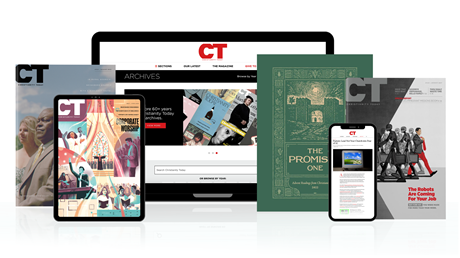 Subscribe to Christianity Today and get access to this article plus 65+ years of archives.
Home delivery of CT magazine
Complete access to articles on ChristianityToday.com
Over 120 years of magazine archives plus full access to all of CT's online archives
Subscribe Now
God Is Love
God Is Love