true
"I was running away from the love you gave me/Wanted a life but everything was crazy/Unsure of love, I needed love/Then came you, you were like the springtime/You make everything new … You were there for me/You never left one." —from "The One
Recording artist Ledisi Young knows a little something about being lost. After nearly ten years, two independent records, a brief stint on Broadway, and a faulty record deal, the Bay area singer was still largely unknown, underground, and underpaid. Having slowly made a name for herself in regional black music circles, the neo-soul singer first introduced her golden pipes to the mainstream when she covered Luther Vandross' "My Sensitivity" on the 2004 tribute album Forever, For Always, For Luther.
It wasn't until 2007 that Ledisi (pronounced Led-duh-see) really began to gain ground. Verve signed the indie phenomenon and gave her enough attention to elicit the national recognition she had been working towards. First there were contributions to a couple other tribute albums from the record label: We Love Ella and Interpretations: Celebrating the Music of Earth Wind & Fire. Then, a few months later, Ledisi upped the ante—and her profile—by finally dropping her major label debut Lost & Found, a slick soiree of traditional soul and modern R&B that garnered her two Grammy nominations in 2007 for Best New Artist and R&B Album of the Year. Three years in the making, Lost & Found marries the tasty sounds of her native New Orleans with a proper UC Berkley training to deliver sixteen distinct tracks on life and love, combining wily jazz licks and streetwise R&B hooks.
The title cut begins sets the tone, as well as Ledisi's meaningful search for love and purpose. A lone piano and distressing violin form a haunting accompaniment for her exquisitely raw vocal, personifying the often lonely quest for greater meaning: "Lost not yet found, breathing in misery/Hope lurks around, when will the sun ever shine on me/I need love to come and carry me, take me away/Please someone find me."
"I can talk about the lost side of things—spiritually, musically, and personally," Ledisi told Lee Bailey's EURweb in an interview after Lost & Found's release. And her complicated path from itinerant songstress to paid professional rarely followed the straight and narrow, as reflected in her album's title. "It's from 'Amazing Grace': I once was lost, but now I'm found. It has a lot to do with having faith."
In a song her official bio describes as "so reverent that it really couldn't be about anything else but loving the Lord," "Think of You" pays homage to God's omniscient qualities, recounting the practical and supernatural ways he is daily present: "I can't help but feel you all around me, feel you everywhere/You bring me peace of mind, you bring joy to my soul/Everywhere that I go every day every night/I think of you/You're the air that I breathe, you're the love of my life/I think of you."
With a thick acoustic groove, "The One" (excerpted above) almost recalls the Parables of the lost sheep (Matthew 18:10-14), in which Jesus uses the metaphor of a shepherd and his flock to depict how much the Father is concerned for each individual's well being.
With vocal chops rivaling Patti LaBelle, scats often comparable to Ella Fitzgerald, and the sheer soulfulness of Chaka Kahn (with whom she appeared on AOL's "The Bridge" last fall), Ledisi is performs with vocal adlibs so passionate, they convict even when the lyrical content is spiritually less specific. In "Upside Down", a fitting commentary on the state of society and its need for repair, the spirited singer admonishes, "World are you listening?/World pay attention/World, where is your heart?/World, love gave us this start …Preachers, tell us about the light so we can learn to live right/I see everybody's looking for the answers."
Despite her strong personal convictions, Ledisi's statements of faith appear more frequently in interview than in song. The soul singer readily admits her third disc focuses less on an alliance with God and more on the connectivity of human relationships in the here and now, though an undercurrent of spiritual belief deliberately supports this polished set. The album's first single, "Alright" is positively upbeat with infectious urban hooks and contagious melodies supporting lyrics of hope amidst adversity, a light-at-the-end-of-the-tunnel type of mindset that works well for the once down and out diva.
However, the experienced songstress at times foregoes her morally centered insights for more suggestive fare. "Joy" surrogates its spiritual dimension with the sexual dalliances of two young lovers. Provocatively professing her desire to redeem a man with the kind of compensation only God can truly issue, Ledisi sings: "Can we do this, make love by the moonlight?/Let me hold you, give you what you need/There ain't nothing I wouldn't do to please you … Can I be the one to bring you joy?"
It can be easy to mix messages in a genre often dominated by themes of sex and self. But as her career continues to bloom, Ledisi seems increasingly determined to submit to the Almighty and let the rest fall into place. "I've learned to move with my gut feeling, and to ask God for guidance," she told USA Today early this year. "My mom always told me, 'Just focus on one thing at a time and finish it, and everything you want will come to you.' And here it is, coming to me."
But her career continues to bloom, Ledisi seems determined to submit to the Almighty first and let the rest fall into place. "I've learned to move with my gut feeling, and to ask God for guidance," she told USA Today. "My mom always told me, 'Just focus on one thing at a time and finish it, and everything you want will come to you.' And here it is, coming to me."
Hopefully, that trust in God will further guide this talented singer in her career decisions and song subjects. Because in light of all her recent accolades and attention, as told in an interview with AOL's Black Voices, Ledisi still knows who to attribute her success to: "All I had to do was move out of my own way and let God take over."
Unless specified clearly, we are not implying whether this artist is or is not a Christian. The views expressed are simply the author's. For a more complete description of our Glimpses of God articles, click here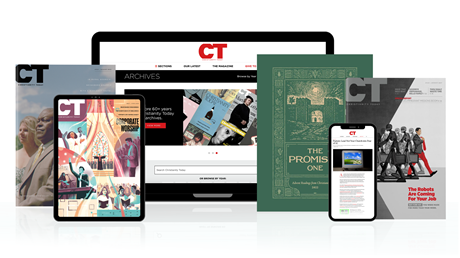 Subscribe to Christianity Today and get access to this article plus 65+ years of archives.
Home delivery of CT magazine
Complete access to articles on ChristianityToday.com
Over 120 years of magazine archives plus full access to all of CT's online archives
Subscribe Now
Lost & Found
Lost & Found