Pentecostal evangelist Oral Roberts died Tuesday of complications from pneumonia. He was 91. Roberts was one of the nation's first television evangelists, author of more than 100 books, and founder of Oral Roberts University in Tulsa. Christianity Today spoke with the president of the university, Mark Rutland, about Roberts's life and legacy.
What will we look back and remember about Oral Roberts?
His legacy will be on two different levels. One is the physical aspect. Oral Roberts University is a healthy, strong, comprehensive university that's going forward and will continue to prosper. Leaving a university that you carved out of the prairie is a pretty big legacy. One of his other legacies will be a spiritual or theological legacy. Oral Roberts kind of transcended his own roots. He was a prairie Pentecostal who began in the healing ministry at tent revivals. He was part of the wave of healing ministries in the mid-20th century. While some of those people thought medicine was the opposite of faith, Oral Roberts took a more holistic look at life. One of the great aspects of his legacy is a broad view of spiritual life. He really was one of the prominent lights of the 20th century. Oral Roberts and Billy Graham were the two preeminent luminaries of the 20th century.
Is there anyone who could take his place?
I don't think people take somebody's place like that. I don't think there's a swap label where another steps in. I think God raises up unique ministries at unique times. I believe Oral Roberts was a truly unique instrument. I don't really see anyone slipping on Oral Roberts's coat.
Jack Hayford said, "If God had not … raised up the ministry of Oral Roberts, the entire charismatic movement might not have occurred." Would you agree with that assessment?
He was certainly a great instrument to encourage Pentecostals and charismatics. He never allowed himself to be trapped in denominationalism or in Pentecoslism or any of those   "-isms." He was a person that seemed to draw the interest of charismatics in mainline denominations. When I first met Oral, I was a United Methodist minister. He had a cup of coffee with me at a Methodist church. He spoke across denominational lines. He was a tremendous part of the encouragement in the charismatic/Pentecostal world in the second half of the twentieth century.
What set him apart from other charismatic leaders?
One of the things that set him apart was that he was not trapped in any kind of rigidity. He was able to think outside of the box. He had a vision for physical things like the university. He walked out and looked at a plot of land and said, "I'm going to build a university here." That's a huge visionary. He was also unique in his ability to communicate the broader issues of the charismatic movement, particularly his emphasis on healing. He brought, for example, an emphasis on physical fitness into the campus and into the DNA of Oral Roberts University before others were even thinking about it. His emphasis on excellence was a hallmark of his leadership. One of his ideas that is built into the university is "go into every man's world." Every man has a world. There's a theater world, there's a communications world, a journalism world, or philosophy. Evangelical Christians and spiritual charismatic Christians should be excellent in all those spheres. He saw the university as a means to raise up people who hear God's voice, respond, and go into every man's world that wins the admiration of the world, and give glory to God. He resisted everything that would marginalize spiritual Christianity. He never saw Christianity as pulling away or pulling apart. I think sometimes in the evangelical world and sometimes in the charismatic or Pentecostal world, there was an early sense that we should pull away, separate ourselves from the ungodly. Oral said just the opposite. He refused to be marginalized. He didn't want spiritual Christians marginalized by ignorance or anything else.
How did he make Oral Roberts University different from other Christian universities?
At the core of its DNA is an emphasis on the Holy Spirit's present tense action and power. It continues to be the preeminent charismatic university in the United States. The emphasis is not just on evangelicalism in a broad sense, though it is that and evangelicals attend. It's a university that embraces and celebrates and lives in the Holy Spirit, present tense, in and among us in the operation of the gifts, and in responding to God's direction in the world. It is also a university that takes a holistic view: body, mind, and spirit. How do you steward your resources, your body, your mind for the kingdom?
How did he influence other charismatic/Pentecostal leaders who came after him?
Oral was a trailblazer. He was a frontiersman. People followed him into a lot of things. His use of media was very forward thinking. There are a lot of ministries today that find their emphasis and insights in how to do ministry from Oral Roberts. He was the father of many ministries, either literally in some sense that they modeled after him, or at least in thought. He was the pioneer of spirit-filled ministries in many ways. His creative use of whatever instrument was there; he refused to be trapped. He was not frightened by technology, and he wasn't put off by media. He never saw the charismatic and Pentecostal movement as fitting into a slot somewhere. He saw it as being broad based, broad thinking, and broad visionary.
Where do you see the movement headed?
There will be a huge event on our campus called Empowered21, from April 8—10, about empowerment for the 21st century. The central question will be, Where is the spirit-filled movement headed? How is it going to express itself? What is it going to be called? The great heritage of people like Oral Roberts and others will inform the future of the movement and its destiny. Oral would have been one of the very first people to say, "They don't have to talk like we talk, they don't have to use the same methods we use, they don't have to sound like we sound." He would be the first person endorsing new ways, new terminologies to express unchangeable truths: The upper room experience is for Christians today, and out of the upper room will go into every man's world. He was a great man, a great visionary, and in many ways, a giant.
Related Elsewhere:
Roger Olson also wrote on "God's Man in Tulsa: The Life and Ministry of the Original Televangelist."
Previous articles on Oral Roberts and Oral Roberts University include:
Healing ORU | $70 million and Mart Green's business acumen are repairing a scandal-scarred school. (September 3, 2009)
Fund Raising: Did Oral Roberts Go Too Far? | The television evangelist links receiving $8 million to the extension of his early life. (February 20, 1987)
Obituaries in other publications include:
Oral Roberts dies | The Rev. Oral Roberts, the internationally known television evangelist and faith healer who founded Oral Roberts University, died today in Newport Beach, Calif. He was 91. (The Tulsa World)
Evangelist, university founder Oral Roberts dies at 91 | Oral Roberts, the entrepreneurial evangelist known to millions by catchphrases such as "expect a miracle," and by the Oklahoma university bearing his name, died Tuesday at age 91. (USA Today)
Oral Roberts, Charismatic Pentecostal Evangelist, Dies at 91  | At the height of his influence, Mr. Roberts sat at the head of a religious, educational and communications enterprise based in Tulsa, Okla., that managed a university, conducted healing "crusades" on five continents, preached the gospel on prime-time national television and published dozens of books and magazines. (The New York Times)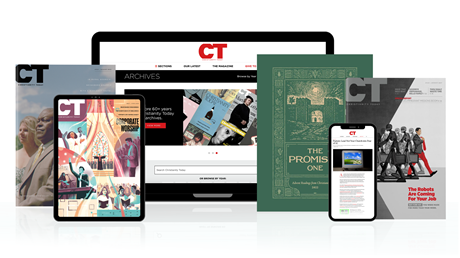 Annual & Monthly subscriptions available.
Print & Digital Issues of CT magazine
Complete access to every article on ChristianityToday.com
Unlimited access to 65+ years of CT's online archives
Member-only special issues
Subscribe
Q+A: Mark Rutland on Oral Roberts's Legacy
Q+A: Mark Rutland on Oral Roberts's Legacy