true
Two years after quietly disappearing from the Christian music scene, FFH is back—but the original foursome, which specialized in a capella harmonies, is now just husband-and-wife duo Jeromy and Jennifer Deibler. And their new independent record, Wide Open Spaces, is nothing like the FFH you've heard before. That's because in 2006, the Deiblers entered a self-described wilderness that changed almost everything about their lives and careers. The battle is far from over, but in this interview with CT, the couple opens up about Jeromy's diagnosis with multiple sclerosis, their long season of waiting, and why they don't care if they ever have another hit single.
Why did FFH step away from music in 2006?
Jennifer: We were traveling a lot and having to leave our son, who was 2 at the time, behind. We'd been on the road ever since we'd been married, 10 or 11 years, and I was just really tired. We were getting kind of burnt out. Jeromy went on a mission trip to South Africa with our church, and he came home saying, "We need to spend some time there." The pastor of the church had asked him to come back for six months and help with the worship there, mentor their worship leaders. But we thought we couldn't do it because of our job.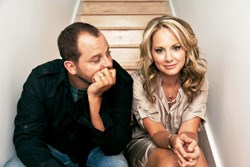 We went for a counseling session with our whole band and I said, "I can't do this anymore." Our counselor said, "OK, let's go around the room. How does everyone feel if we don't do this anymore?" Everybody said, "I feel relieved." So we devised a plan of a six-month off-ramp. We played the shows we had, and Jeromy and I decided to take six months in Africa after that.
Jeromy, even before you left for Africa, you were having health problems. What was happening?
Jeromy: In May 2006, I went to bed one night feeling normal, and woke up feeling a numb, painful area on my left arm. Two hours later my arm was really sore, and by that afternoon I had debilitating pain up and down my left arm. I was mowing the grass that afternoon and just a blade of grass touching my arm caused excruciating pain.
The doctor told me I had a pinched nerve in my neck and carpel tunnel. But when I went back and got an MRI done, the guy was like, "Look, man, I don't want you to be freaked out, but we found something on the MRI, something inside your spinal column." They sent me to a neurologist who poked a lot of needles in my arm, did a lot of tests and sent me home. I got better, which is typical of MS—it slowly fades and you feel better. But a month later, my abdomen went numb. I had three or four episodes in a year, until the last one affected my leg and put me on the couch. I went back for a spinal tap and got diagnosed with MS. But there was a year and a half of time I dealt with this.
What was going on with you and Jennifer emotionally and spiritually during this time?
Jeromy: I was miserable. Part of the misery was not knowing [the diagnosis], and something chemical was going on in my brain because of the MS that was making me very scared. It was debilitating, depressive fear. It made Jennifer miserable. For a lot of that time, I was probably a very difficult person to live with. Not that I was cranky and explosive to her, but I was very scared. I was scared that I wasn't going to see my kids grow up; I was scared that I was going to die.
Finally Jennifer was like, "You have to get people praying for you." That helped. Antidepressants helped. My disease had caused a chemical deficiency of serotonin; almost all people with MS get on antidepressants. They gave me a level playing field to fight against this and pray.
Jennifer: It was very, very scary. I had found out I was pregnant [with daughter Sadie-Claire] a few days before we left South Africa [to return to the U.S.], so I was just thinking, OK, I'm having another baby. What does this mean? What does this look like when she's 18? Am I gonna be taking care of my kids and my husband? A lot of fear. I was like, I have no skill. I can't provide for us. But I felt very strongly that God was reassuring me that I'm not our provider. Jeromy's not our provider. God is our provider. No matter what, God is going to take care of our family. That was very comforting.
Jeromy, what treatment are you getting for MS?
Jeromy: The day I was diagnosed, my doctor told me about a clinical trial still in experimental stages. I met all the requirements, but it wasn't available yet. So I ended up waiting eight months for this chemo-based treatment. During that time, I didn't have a relapse, which I thank God for. There's almost always permanent damage when you have an MS episode. I got on the drugs, had my first round of chemo, and have been fine ever since. I still have remnants of the symptoms I had over the past two or three years, but I have some medicine that helps with that.
You didn't make any music during that time. Why not?
Jennifer: When we decided that FFH was going to take a break, we didn't say it was over for good. So we came home from Africa with this expectation. We just knew we'd get off the plane and God would give us this big sign of the next thing. And we felt absolutely no leading at all. We just sat still.
We started looking for worship leader jobs other places, and we just felt nothing. No door opened. Nothing happened. It was not at all what we wanted. So we waited, waited, waited, and then we got Jeromy's diagnosis, and we had to wait, wait, wait again—he couldn't do anything waiting for his treatment. For two whole years, we just waited and felt completely in the desert of not knowing.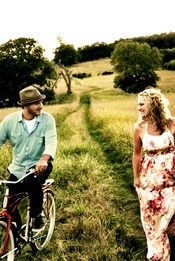 Jeromy: A lot of people read this story as, This guy got MS and God took him into the wilderness. It was part of that journey, but it began before that as us responding to God's invitation to go there. We made the conscious decision to get off the road, to go to Africa, at God's leading; it's something we chose. During that time we were, and still are, very broken. When I talk about this desert, this wilderness experience, I don't want people to get the impression that we are experts on it, that we've been in it and now we're out of it. We're still in it, but we have a little more motion than we had before.
How did you begin to minister again as FFH?
Jennifer: Jeromy started leading worship at our church in 2008 [Nashville's Fellowship Bible Church]. After we played a couple times just the two of us, we just felt a release, like God was saying, "OK, you can go now." While we were in Africa, [former bandmates Brian Smith and Michael Boggs] had to go on with life, and they have their own things going now. But that makes it easier for us in decision making and traveling because it's just our family in our motor home, and our band guys just meet us [at the concert venue].
We feel like our message has changed so much, just speaking to people about what we've gone through and the things we're learning. Our new record is way more "us" than anything we've ever done. It's more vulnerable and way more personal.
What have you learned that you're sharing in your songs?  
Jennifer: We've had to learn that joy and suffering go together. We used to think that suffering was something you hurry up and get through so you can be done with it, but we're really learning that "Blessed are those who mourn," and what that means.
For a long time people didn't want to hear it. The church was like, "I don't want to hear about suffering; I want to hear about the good stuff." But it's so important. We get so many letters from people who hear our new single ["What It Feels Like"] and go, "That is exactly where I am." People are hurting and suffering and I think it's important for us to talk about.
Jeromy: We realized there are not a lot of songs about suffering that people can make their own. If you go to church on Sunday morning, you might not feel like worshipping God in an "I love you, hands in the air" kind of way, but that's all [churches] offer people. Jennifer and I have found that in writing songs about our experience, people can identify with what we're saying and playing. People see the wilderness as a negative, but it's not just negative. It's also a time where you're completely dependent on God and you get to see him come through for you in ways only he could do.
How are audiences responding to your honesty?
Jeromy: They seem to really love it. They come to us afterward and say, "You are living through exactly what I am living through." We've had songs at other seasons in our careers that really meant something to people—"One of These Days" and "Ready to Fly" got played at a lot of funerals—but they were also translating into huge amounts of radio success and No.1 songs.
The industry is different now, and our message is different. We released "What It Feels Like" to radio stations like we've always released songs, and in the past, it's been an FFH song and it's uplifting and everybody plays it. This message is way more polarized. We have some radio guys saying, "I love this song. I love how I feel Jeromy's heart in it," and other guys literally going, "Don't get it. Not a chance I'm going to play it." This isn't the most popular message, but if we feel like this is the way God wants to use us to help encourage the body, then that's what we need to do.
What's on the horizon for the new FFH?
Jennifer: Career-wise, I don't care anymore. We went away and things went on as normal, and we had to realize, it really doesn't matter. On one hand we care more because we're independent now and it feels more like [the record is] your baby, but as far as success, I don't care. We're happy when we hear people want to hear it, but we have no expectations of No.1s or anything like that. It doesn't mean as much as it used to. We'll keep doing this until God leads us out. This is what he's put on our plate right now and we're going to do the best we can and be good stewards of it.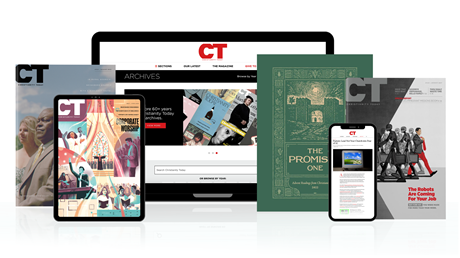 Subscribe to Christianity Today and get access to this article plus 65+ years of archives.
Home delivery of CT magazine
Complete access to articles on ChristianityToday.com
Over 120 years of magazine archives plus full access to all of CT's online archives
Subscribe Now
Wilderness Songs
Wilderness Songs