President Obama signed into law a $787 billion economic stimulus bill that includes a provision authorizing funds for higher education institutions. Some conservative church-state watchers have decried the caveat's language as discriminatory against religious schools.
The bill was approved by both the U.S. House and Senate at the end of last week, including a qualification that federal funds may not be used to renovate facilities "(i) used for sectarian instruction, religious worship, or school department of divinity; or (ii) in which a substantial portion of the functions of the facilities are subsumed in a religious mission."
Last week, former presidential candidate Mike Huckabee called the stimulus bill "anti-religious." The Christian Coalition said the Democratic Congress is trying to satisfy "anti-Christian whims." Likewise, the Traditional Values Coalition declared that the economic package "stimulates anti-Christian bigotry." The American Center for Law and Justice stated that "this provision has nothing to do with economic stimulus and everything to do with religious discrimination." And Sen. Jim DeMint (R-SC) called the bill "an attack on people of faith," and introduced an amendment that would remove restrictions for giving federal money to religious universities.
However, the language in the stimulus bill is neither new nor unusual, since restrictions have been part of federal higher education policy for over 40 years. Rather than inhibit religion, these restrictions make possible federal funding to religious colleges and universities.
In the final version of the stimulus bill, funds for higher education are included as part of the block grants to states. Not only does the bill state that these funds may be used to renovate facilities at private institutions, it also states that governors may not consider "the type or mission" of a college or university. The states must consider religious institutions along with public and other private colleges and universities.
There are only two major restrictions on the use of funds. First, the funding cannot be used for athletic facilities or other events where admission is charged. Second, the facilities must have a religiously neutral purpose.
Even with these two restrictions, nearly all buildings at religious colleges and universities would qualify for funding. The only facilities that would not qualify are chapels, church buildings, and others that are most often used for explicitly religious purposes. The key is to define the primary purpose of a facility. If its purpose is religious teaching or worship, then the building is ineligible. If the facility is used for classes, housing, or study, however, then it can be renovated using funds from the stimulus bill.
When the Senate originally considered the stimulus bill, it voted down an amendment by DeMint that would have removed the religious restrictions. The DeMint Amendment's stated purpose was "to allow the free exercise of religion at institutions of higher education that receive funding" from the stimulus bill. The irony is that without the inclusion of such language, funds would not be permitted to go toward religious colleges or universities at all.
At issue is whether the restrictions would mean that no religious activity could occur in a federally funded facility, or whether some religious activity could occur so long as the primary purpose is religiously neutral. DeMint argued that the restrictions would eliminate all religious activity. He claimed that "any university or college that takes any of the money in this bill to renovate an auditorium, a dorm, or student center could not hold a National Prayer Breakfast there any longer because of what is written in this bill."
This is highly unlikely. Moreover, this is not a change in policy. Federal funding of facilities and programs have included these restrictions for nearly half a century. Even with the stimulus bill signed into law, student religious life will be the same as it was before.
When the DeMint Amendment came up for a vote, it was defeated 43—52. The vote was nearly a straight, party-line vote. Only a couple of Republicans voted against it, and only a handful of Democrats supported it.
For advocates of religious higher education, it is likely best that the amendment failed. Here's why: With the restrictions, religious colleges and universities are able to qualify for the same type of funding as public and secular schools do. Without them, such funding would likely be considered unconstitutional.
The history of federal funding for higher education facilities goes back to the Higher Education Facilities Act of 1963. As with the stimulus bill, the act allowed funding to go to private colleges and universities. However, the act explicitly prohibited funding for "any facility used or to be used for sectarian instruction or as a place for religious worship." Grants were also prohibited for facilities "primarily in connection with any part of the program of a school or department of divinity."
In 1971, the U.S. Supreme Court considered the constitutionality of such prohibitions in Tilton v. Richardson. At issue was whether federal support for facilities such as libraries, music halls, or science buildings was unconstitutional because the colleges were religiously affiliated. In a split decision, the court found that the act was constitutional. Grants may go to support "religiously neutral" facilities at religious colleges because the purpose of the act was to promote education, not religion.
In the nearly four decades since Tilton v. Richardson, the constitutionality of federal funding for projects and programs at religious institutions has been upheld in the courts and supported by Congress. In the last Supreme Court case to consider public funds and religion at colleges, Rosenberger v. University of Virginia in 1995, the court found that as long as the purpose of a facility is religiously neutral, students have the right to use that facility for religious purposes, even at public universities If a college allows students to use a conference room for any social function, it must allow them to use it even as a place to pray and study the Bible together.
Funding of higher education is, in some sense, our largest faith-based initiative. And like other faith-based initiatives, what allows the government to support education at religious colleges and universities is the necessary caveat that the federal funding be used for religiously neutral purposes. Far from being "anti-religious," the restrictions in the stimulus bill are the same old prohibitions that have allowed the federal government to help religious colleges and universities educate students for the past 40 years.
Tobin Grant is an associate professor of political science at Southern Illinois University — Carbondale. He is coauthor of Expression vs. Equality: The Politics of Campaign Finance Reform and dozens of academic articles on politics and religion.
Related Elsewhere:
Christianity Today covers more politics on the politics blog.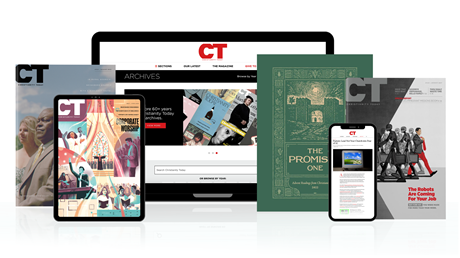 Subscribe to Christianity Today and get access to this article plus 65+ years of archives.
Home delivery of CT magazine
Complete access to articles on ChristianityToday.com
Over 120 years of magazine archives plus full access to all of CT's online archives
Subscribe Now
Is the Stimulus Act Anti-Religious?
Is the Stimulus Act Anti-Religious?