Josh Spavin knows the stereotypes about evangelical Christians: judgmental, sanctimonious, narrow-minded. He may not buy into the image, but at the same time, he knows how real — and damaging — it can be.
So that's why Spavin, a recent graduate of the University of Central Florida and an intern with the UCF chapter of Campus Crusade for Christ International, wants to launch an HIV/AIDS outreach with a campus gay-lesbian group.
"Because of the way they perceive us," said Spavin, 25. "What we wanted to do is find common ground where we can serve along side with them. … We don't necessarily agree with their choices, because that's not part of our faith, but we still love them."
Campus Crusade — an organization that once denounced rock music only to later embrace it — is once again changing with the times, engaging potential new Christians through social issues that perhaps seemed taboo in the past. Unofficially nicknamed "Good News, Good Deeds," the initiative at UCF, and others like it, is a ground-up effort by one of the nation's largest evangelical groups.
It also provides a peek at what issues young evangelicals see as important, and how they are changing a faith they inherited from their parents, but sometimes chafe against.
"Young evangelicals in particular are very conscious about poverty and the environment, and they tend to be more tolerant on issues such as gay rights and homosexuality," said John Turner, assistant professor of history at the University of South Alabama and author of the new book, Bill Bright and Campus Crusade for Christ: The Renewal of Evangelicalism in Postwar America.
"Evangelicals and evangelical organizations, they do have a big public relations problem of being known for intolerance or homophobia or not being concerned enough about social issues, and I think their desire is to correct that image," he said.
Campus Crusade was founded in 1951 by the late Bill Bright and his wife, Vonette. Today, the Orlando-based megaministry counts 55,000 student members at nearly 1,100 U.S. campuses, and is active in 191 countries.
Campus Crusade officials say they detect a new desire among young evangelicals to live out Christian concepts such as compassion and understanding, and to imitate Jesus' welcome be engaging in broad-based social issues.
"Students today realize that connecting to other people, that just to tell the story or talk about Christianity doesn't seem to completely connect," said Chip Scivicque, a 30-year Campus Crusade veteran who's now based at Auburn University in Alabama. "There's this desire to live out the Christian life and live out gospel truth so that when those truths are explained they make more sense."
Last year at Michigan State University, Campus Crusade partnered with other organizations on several events to draw attention to the international sex slave trade. The biggest event drew about 1,000 for a mock "Price-is-Right"-themed game show in which contestants bid not on prizes but people.
At Stanford University, Campus Crusade has partnered with a local nonprofit group on nearly a dozen construction and renovation projects in recent years, including elementary schools, a center for at-risk youth and a home for unwed teen mothers.
"I think a lot of it has to do with just getting into the Word more," said Trent Wiesen, 27, who belonged to Campus Crusade as a student at Stanford and now works with the local nonprofit group, 2nd Mile. "There's just a hunger for the Word, and they're kind of looking at the way of the church in those early years and kind of seeing the ways in which it doesn't exactly match up with the church a lot of us have been growing up with."
Back at UCF, Spavin attributes the new interest in social justice issues to a more global world. Internet-savvy young adults read about AIDS and poverty afflicting the world — and they want to do something, Spavin said. Just before Christmas, Spavin's group joined with a gay student group, a pro-marijuana group and fraternities and sororities to gather gifts for underprivileged children. Some 400 shoeboxes of gifts were collected for Samaritan's Purse for distribution worldwide.
"It's not just Christians but young people now — it's almost like they're waking up to the world," Spavin said. "In general, Christianity has, like, a negative connotation to it. People feel like we are putting ourselves on a pedestal and condescending to people, and that's not the love of Christ."
This article has been edited since its original publication.
Related Elsewhere:
Campus Crusade has more information about its ministries. Christianity Today also has more articles on education.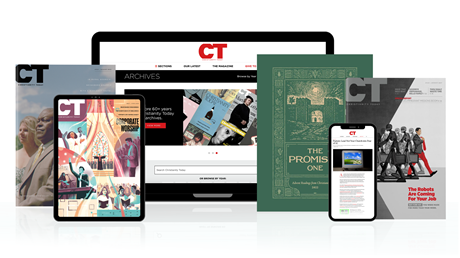 Subscribe to Christianity Today and get access to this article plus 65+ years of archives.
Home delivery of CT magazine
Complete access to articles on ChristianityToday.com
Over 120 years of magazine archives plus full access to all of CT's online archives
Subscribe Now
An Unlikely Gay-Straight Alliance
An Unlikely Gay-Straight Alliance