true
NASHVILLE—Don Miller, author of Blue Like Jazz, admits that it's difficult to keep social justice from becoming just another sexy cause, and that it's extremely difficult to maintain one's passion for changing the world—not to mention actually doing the difficult dirty work of pursuing justice in the first place.
"Raising awareness is very easy, especially in the age of Twitter, Facebook and websites," Miller said at a Blood:Water Mission (BWM) event here Friday night. "We can dress it up and make it sexy for a moment, but that's not the purpose of it. We can create this incredible image of compassion but never really ask the question, 'What is being done here?' The actual work is incredibly difficult and complex."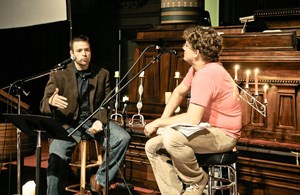 Miller was one of several guest speakers and musicians who appeared at "Love (As it Turns Out) Is a Battlefield," an evening of live music, conversations and film sponsored by BWM, an aid organization founded by Christian band Jars of Clay. More than 600 turned out for the event, which focused on "faith in action's flirtations with fashion, and its connection to sustainable transformation," said organizer Matt Ward, grassroots director for BWM.
Traveling from as far as Washington state and Maine to attend, audience members, including BWM's 2009 Ride:Well Bike Tour cyclists, packed out Downtown Presbyterian Church in a night highlighting modern society's tension between "cause fatigue vs. continued action," as Ward terms it.
Donations were designated to help continue BWM's commitment to provide 150,000 locals in Marsabit, Kenya sustainable solutions for Africa's HIV/AIDS and water crises.
Sarah Masen, Justin Caldwell, Sandra McCracken and Matthew Perryman Jones, four local singer/songwriters who have long been involved with BWM, entertained the energetic audience with simple, three-song acoustic sets, before authors David Dark (Sacredness of Questioning Everything) and Donald Miller (Blue Like Jazz) engaged in an on-stage conversation about culture's faddish response to social justice, creating trends rather than lasting change.
Citing Miller's Blue Like Jazz as a perfect catalyst for "expanding the space of the talkaboutable," a phrase Dark coins for media that instigates conversation, the two modern-day apologists conducted a live discussion dissecting fashionable philanthropy. 
Both began by mentioning U2's Bono as a major player in promoting social justice and raising the collective conscience through pop culture over the past two decades, becoming one of the first international celebrities to portray caring as "cool." Which Miller says is great. But he admits, is only a beginning.
In an often humorous address, Miller noted that "the flip side [of social justice being cool] is that caring about justice became a great way to attract the opposite sex. The problem with fashion is fashion changes. So the problem with justice being a fashionable issue, or the problem with Africa being an issue that can attract the opposite sex, is that it can go away for those who just found a new way to get laid."
Exposing his own elementary motivations, Miller reminisced over his desire to start The Mentoring Project, a faith-based initiative to provide community male role models for boys ages 7 to 14, a few years ago, and the sobering steps it would take to see his dream realized. "I didn't want to do the work. I wanted to be somebody who started a mentoring program. I loved raising awareness," admits Miller. "I certainly didn't want to mentor a kid because that's getting into the messy part."
And while Miller admits raising awareness is important and fundraising is essential, he insists charity is not a substitute for getting your hands and knees dirty.
"In [financially] providing education for kids in South Africa, you can feel like a humanitarian, and not do anything. To step into the life of a smelly kid and take on the role of a father figure, you have to do something that even the founder doesn't want to do."
Convicting Americans of hands-off help, making justice a "social commodity," Miller asserts, "I associate that kind of justice activity with 'inhumane kindness,' kindness without the messiness of humanity, without the actual chaos that it brings."
"If you look at the life of Christ, it's not very clean. [He doesn't offer] many clean solutions and clean answers. He doesn't leave and everything's OK. The chaos continues, but he goes, and in the process proclaims truth and meets tangible needs. The gospel is directly associated with meeting tangible needs."
But why is everything so messed up to begin with? What is wrong with the world anyway? Miller says it goes a little bit like this: "God loves people and he has an enemy who hates God. So the enemy goes after people because it hurts God."
Taking it even a step further, Miller opines, "Part of the motivation of justice work is to say, 'We are here because God has not forgotten you.' I think the majority of the world is convinced that he has."
But Miller says apathy is not an option.
"What God does to combat this is he incarnates; he sends his Son into the mess. So in terms of our model for social justice, we look around, see the devastation and go there. We actively go out of our comfort zones, out of our raising awareness, into this sloppy mess."
Photo by Victor Huckabee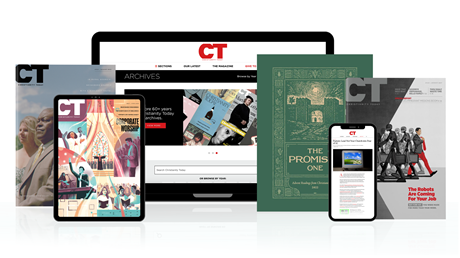 Annual & Monthly subscriptions available.
Print & Digital Issues of CT magazine
Complete access to every article on ChristianityToday.com
Unlimited access to 65+ years of CT's online archives
Member-only special issues
Subscribe
More Than a Sexy Cause
More Than a Sexy Cause