true
Christians who have enjoyed the Harry Potter books and films have picked up on biblical themes and truths throughout the series, and author J. K. Rowling has said that her own Christian faith informed her writing of the seven books. Many see Harry, though far from perfect, as something of a Christ figure, while his nemesis, the Dark Lord Voldemort, clearly represents The Devil himself.
Connie Neal, author of The Gospel According to Harry Potter, certainly sees the parallels. Here, we've abridged three portions of her chapter that deals with Book Six, Harry Potter and the Half-Blood Prince, which opens in its theatrical version around the world this week.
The Chosen One
"'People believe you are 'the Chosen one,' you see," said Scrimgeour. 'They think you quite the hero—which, of course, you are, Harry, chosen or not! How many times have you faced He-Who-Must-Not-Be-Named now? Well, anyway,' he pressed on, without waiting for a reply, 'the point is, you are a symbol of hope for many, Harry. The idea that there is somebody out there who might be able, who might even be destined, to destroy He-Who-Must-Not-Be-Named—well, naturally, it gives people a lift.'" (Book Six, p. 344-345)
Harry is believed to be "the chosen one" because the prophecy identified him as the one who has the power to defeat the Dark Lord. This has been confirmed by the amount of interest he has elicited from Voldemort, causing him to "mark him as his equal." Add to that the fact that Harry has faced Voldemort several times and lived, and it's no wonder that those in the Wizarding world set their hopes on him.
Some readers say this means Harry is a Christ figure or a Messiah. Yes, there are some things that happen to Harry that have marked similarities to major events in the life story of Jesus Christ, whom the New Testament asserts is THE Chosen One, THE Messiah. And the prophet Isaiah wrote:
"Look at my servant, whom I strengthen. He is my chosen one, and I am pleased with him. I have put my Spirit upon him. He will reveal justice to the nations. He will be gentle—he will not shout or raise his voice in public. He will not crush those who are weak or quench the smallest hope. He will bring full justice to all who have been wronged. He will not stop until truth and righteousness prevail throughout the earth. Even distant lands beyond the sea will wait for his instruction" (Is. 42:1-4 NLT).
Harry's designation as "the chosen one" isn't up to this level. "Revealing justice to the nations" and not stopping until "truth and righteousness prevail throughout the earth" seem out of his league given his tendency to lie when it serves his purposes and his penchant for rule breaking.
The phrase "chosen one" or "anointed one" is used throughout the Bible, not just referring to the universal "Chosen One" but also to people chosen by God to accomplish a specific purpose. The Old Testament book of Judges is full of stories of people God designated as "chosen." God chose David to be King of Israel. There is even an account where God predicted that a man named Cyrus would be his chosen one to rebuild Jerusalem and help the exiles return after being taken captive to Babylon (see Isaiah 45).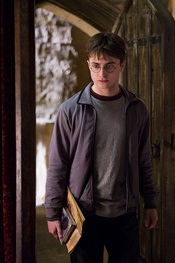 Harry Potter displays some characteristics that are definitely not Christ-like, even though he does fit the bill as a "chosen one" to defeat a particular enemy. But Jesus Christ, THE Chosen One, lived his life without sin. This is vital because the only way his self-sacrifice on the cross could pay for the sins of the world would be if he had no sins of his own. On that count alone, Harry's wrongdoings set him apart as being less than Christ material. But if you were to compare Harry to one of the Judges, there are numerous similarities. In the case of Gideon, you have a young man stuck in a situation where his people are being oppressed and attacked by the Midianites. He is appointed by God to lead the battle. This is confirmed with supernatural signs supplied by "the angel of the Lord" (see Judges 6-8).
If we look at Harry as "chosen" by Providence, predicted in the prophecy to defeat Voldemort, to accomplish a divinely assigned task, then it's an apt fit. Scrimgeour (the Minister of Magic) was right about a few things: the sense that there is a superior power—the Author of our world—who knows the outcome of the story and has predestined a specific character to defeat the evil of our day does give people a lift.
Love. Just Love.
"'So when the prophecy says that I'll have 'power the Dark Lord knows not,' it just means—love?' asked Harry, feeling a little let down. 'Yes—just love,' said Dumbledore." (Book Six, p. 509).
Love. Just love; that power that protected Harry as a baby when his mother died to save him. Love, the most mysterious of the many subjects studied in the Department of Mysteries where Dumbledore told of a room containing it "that is kept locked at all times. It contains a force that is at once more wonderful and more terrible than death, than human intelligence, than forces of nature" (Book Five, p. 843). It was love that caused Harry to try to rescue Sirius, which protected him for the lure of the power of the Dark Arts, love that filled his heart and mind so as to drive out Voldemort when he sought to possess him. Love made all the difference.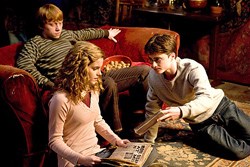 The Bible also shows us that love is the virtue above all virtues. The apostle Paul wrote, "If I speak in the tongues of men and of angels, but have not love, I am only a resounding gong or a clanging cymbal. If I have the gift of prophecy and can fathom all mysteries and all knowledge, and if I have a faith that can move mountains, but have not love, I am nothing. If I give all I possess to the poor and surrender my body to the flames, but have not love, I gain nothing" (1 Cor. 13:1-3 NIV). After recounting the qualities of love the passage concludes, "And now these three remain: faith, hope and love. But the greatest of these is love."
Voldemort did not love. He had not loved his parents, or his grandparents. He had never loved a friend or any of his caretakers at the orphanage. He did not love any of the Death Eaters nor even his own soul. Indeed, perhaps if Tom Riddle had known love there, may never have been a Voldemort. The Bible says, "Love does not delight in evil but rejoices with the truth" 1 Cor. 13:6). Tom's absence of love made a way for him to take delight in evil, but that lack of love made him no match for Harry.
It was Harry's love for his parents, godfather, teachers and friends that empowered him to drive Voldemort out of him during the battle at the Ministry. Although Harry long underestimated the power of love, it would be his love for others that exceeded self-love that would prove to be his greatest power and greatest weapon against evil.
The Power of an Untarnished Soul
"'You have flitted into Lord Voldemort's mind without damage to yourself, but he cannot possess you without enduring mortal agony, as he discovered in the Ministry. I do not think he understands why, Harry, but then, he was in such a hurry to mutilate his own soul, he never paused to understand the incomparable power of a soul that is untarnished and whole.'"(Book Six, p. 511)
Voldemort was in a hurry, urgently trying to create more Horcruxes than any evil wizard before him. (A Horcrux is a Dark Magic device created for the purpose of attaining immortality.) Voldemort He never paused to understand the incomparable power of a soul that is untarnished and whole.
Scripture says, "To the pure, all things are pure, but to those who are corrupted and do not believe, nothing is pure. In fact, both their minds and consciences are corrupted" (Titus 1:15).
With every act of evil committed, every murder, every Horcrux, Tom Riddle became more and more corrupt, less and less truly human, more and more snakelike. With this devolution into evil, Voldemort's mind and conscience was corrupted. He had no pang of guilt at the evil he committed or the pain he caused. He also lost the ability to understand that which might have saved his soul.
In their early years Tom and Harry had much in common, both raised by Muggles, both outsiders to the magical world, both inclined to break the rules. However, while Tom becomes selfish, more corrupt, more murderous, and more hardened, we see an opposite progression in Harry's life.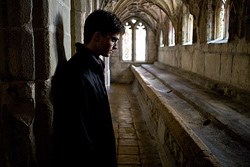 Harry develops a good conscience. He recognizes, even worries about, his inclination to do wrong. We see his lust for vengeance against Sirius Black when he thought he was the one who betrayed his parents. Then when he discovers it was really Peter Pettigrew, we see Harry tempted to let Pettigrew be killed by Lupin and Sirius. But his conscience prevents him standing aside, and he stops the murder. As Harry grows into a man, he exercises his conscience to make it more sensitive to doing that which is good. Harry is certainly not perfect, nor is he without sin, but he grows in goodness to the point where he will be able to choose that which is good for others over his own self-preservation.
Contrary to what many opponents of the Harry Potter stories insist, the Bible does not present flawless characters who model moral perfection. Indeed, every Bible hero has a back-story that records misdeeds, sins, even murders, adultery, and rebellion against God. Scripture and the Potter stories are similar in this regard: we see some characters harden themselves to the point that they have no conscience and end up being destroyed, while others recognize their sinfulness, respond to their conscience, and are transformed into the heroes they become in the end.
King David is perfect examples of this. While his army was out on the battlefield, he committed adultery with the wife of one of his most faithful warriors. When she became pregnant as a result, he tried to trick her husband into coming home from battle to sleep with her (so he'd think the baby was his). When that ruse failed, he put the husband on the front lines where he was sure he'd be killed. This plan worked and David thought he'd gotten away with murder. But a prophet confronted him with the truth, and David's conscience was put to the test. His response:
"Surely I was sinful at birth, sinful from the time my mother conceived me … Cleanse me with hyssop, and I will be clean; wash me, and I will be whiter than snow … Hide your face from my sins and blot out all my iniquity. Create in me a pure heart, O God, and renew a steadfast spirit within me" (Ps. 51:5,7, 9-10).
Harry Potter was as sinful as the next person at birth too. He even had the added burden of having a part of Voldemort attached to him when he was struck with the curse. But Harry was very different than Tom Riddle. When he thought he might be the Heir of Slytherin, this troubled him. When on the verge of vengeance, he stopped himself. Over and over we see Harry make choices that show he was responding to his conscience. When he did wrong and was caught, Harry bore his rightful punishment. He was very different from Voldemort in that he did pause to consider that which would have been damaging to his soul—and chose to resist it.
The New Testament says, "Religion that God our Father accepts as pure and faultless is this: to look after orphans and widows in their distress and to keep oneself from being polluted by the world" (James 1:27).
In the final analysis, if we were to judge Harry by these religious guidelines, I'd say he comes out very well.
Adapted with permission from The Gospel According to Harry Potter, Revised and Expanded Edition by Connie Neal, published in 2008 by Westminster John Knox Press.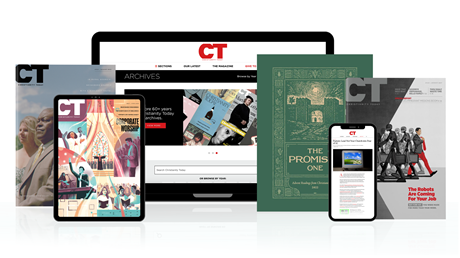 Annual & Monthly subscriptions available.
Print & Digital Issues of CT magazine
Complete access to every article on ChristianityToday.com
Unlimited access to 65+ years of CT's online archives
Member-only special issues
Subscribe
Is Harry the Chosen One?
Is Harry the Chosen One?