If he wasn't the most obscure person in the room, Barack Obama was close: a young, first-term state senator with few connections outside of Chicago.
"When people went around the room and said who they were, you could probably figure out why they were there," said the Rev. Jim Wallis, a well-known progressive preacher and activist.
Among those seated at the table were former Clinton White House aide George Stephanopoulos, Washington Post columnist E.J. Dionne, and former Christian Coalition head Ralph Reed.
And when it got to Obama, people thought, "Yeah, OK, why are you here?" Wallis recalled with a laugh.
It was a Harvard seminar in 1997 on social capital—the human equivalent of greenbacks. Compared to the 32 others in the room, Obama was pretty broke in that regard; the seminar helped turn his little pile into a fortune.
Though the Saguaro Seminar, which met every few months from 1997 to 2000, remains an unfamiliar chapter in Obama's well-thumbed biography, over the last decade, he has continually built on relationships, ideas and political skills gleaned from or reinforced by those meetings.
Obama has hired fellow Saguaro alumni for top White House posts; solicited two more, including Wallis, to be close spiritual advisers; and implemented a host of ideas kicked around those tables 10 years ago. In ways large and small—from extending an olive branch to Muslims overseas to revamping the White House faith-based office to seeking common ground on abortion, Obama has echoed themes straight from the Saguaro playbook.
"There's a lot of resonance between what we talked about in this group and what he's saying now," said Robert Putnam, the Harvard political scientist who convened the Saguaro Seminar. "But I would never claim there's a causal link, because maybe that's why he showed up." After all, Obama had already been a community organizer for three years, probably the last occupation that needs a lecture on civic engagement.
Still, Xavier de Souza Briggs, an expert on social capital who met Obama at the seminar, said the president's commitment to public service "was reinforced and enriched by the Saguaro experience." Earlier this year, Obama hired Briggs to be associate director of the White House Office of Management and Budget.
"More than anything, I'd say that Saguaro deepened my understanding of why and how people participate in public life," Briggs said in a recent interview, "why they give back, create community connections—or choose not to."
Putnam argues that too many American have chosen the latter option, declining to join clubs, volunteer, vote, or generally look after each other as much as in decades past. Without those connections, society has become balkanized into small, self-interested camps, with harmful effects for the health of the country, he says.
In 1997, Putnam decided to gather a diverse group of "the most interesting" pastors, politicians, pundits, artists, academics and community organizers he could find. The plan was to meet every few months for three years "to talk about how we can begin to reweave the fabric of American community," Putnam said in a recent interview.
Obama was invited because of his background as a community organizer, and because they wanted a diversity of ages, races, regions and occupations, Putnam said. Obama was one of the few black men in the group; another was the Rev. Kirbyjon Caldwell, a Houston megachurch pastor who was a spiritual adviser to former President George W. Bush and now plays a similar role with Obama. Oddly, Caldwell said through a spokesman that he doesn't recall meeting Obama at the seminar.
Although young and unknown, Obama impressed with his now familiar political skills, including his ability to synthesize disparate points of view and rally opponents around a common cause, according to several seminar participants. "When he talked, people listened," said seminar co-chair Lewis Feldstein, "which was all the remarkable because he had no creds." Endearingly ambitious about his political aspirations, Obama was dubbed "the governor."
Reed, who said that it was clear that Obama was "going places," was nonetheless a little less dazzled.
"He wanted to be able to turn to the conservative and say, 'I want to talk to you, and turn to the liberal and say, 'I want to talk to you,' and he would wind up pleasing nobody," Reed recalled. "He's always trying to split the baby."
During the wide-ranging seminar, the group talked about whether houses of worship spark neighborhood renewal; how political campaigns had morphed from door-to-door canvassing to advertising "air wars"; and how to harness technology for grass-roots organizing. Sessions explored what the government can do to encourage public service and how to build paths over racial, ethnic, religious and class boundaries.
 "Today, when Barack Obama speaks about how citizens can transcend their political divisions to participate in projects of common purpose, he is drawing on the arguments and ideas from those intellectual debates of a decade ago," Henry J. Farrell, a political scientist at George Washington University wrote last year in The American Prospect.
Both Stephen Goldsmith and John DiIulio, the men who essentially wrote the blueprints for the White House faith-based office under George W. Bush, attended the seminar. Obama, though, skipped the session on "religion and social capital," according to Saguaro records. His conciliatory skills were missed, according to Putnam. The session was a "fiasco," he recalls, with secularists and believers arguing across the table. "There was such alienation in the group, we thought the (seminar) might end at that point," Putnam said.
 Obama attended most of the sessions, however, and it seems he was taking mental notes. As president, he has relentlessly used the bully pulpit to call for a "new era of public service." He's painted schools on Martin Luther King Jr. Day, created a Web portal to connect people with volunteer opportunities in their neighborhoods, and successfully pushed for a huge expansion for AmeriCorps. His 2010 budget includes a 25 percent increase to create more public service jobs.
At the same time, Obama has pledged to restore trust in government by making public spending more open and accountable, pushed for early education programs, and touted a "social innovation" fund to bring private dollars to worthy public causes. Meanwhile, he has frequently convened town hall meetings outside Washington, connected with supporters through e-mails and Internet applications, and chastised corporate executives and divisive religious leaders—all ideas with roots in Saguaro discussions.
Obama's Saguaro ties were most visible, perhaps, last April, when he signed the Serve America Act, which includes a measure to study the "civic health of communities." With five Saguaro alums in the room, the signing ceremony became a sort of class reunion. Putnam was invited but could not attend because of family illness. Asked his feelings about the ceremony, he seemed a mix of proud parent and careful academic.
"There's a lot of rhyming between what he's been saying and what we've been saying," Putnam said, "but I really want to emphasize, I don't think he needed me to tell him that."
Related Elsewhere:
Christianity Today has a special section on Barack Obama and follows political developments on the politics blog.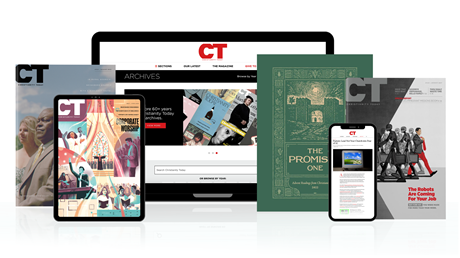 Subscribe to Christianity Today and get access to this article plus 65+ years of archives.
Home delivery of CT magazine
Complete access to articles on ChristianityToday.com
Over 120 years of magazine archives plus full access to all of CT's online archives
Subscribe Now
Saguaro Seminar Stays with Obama
Saguaro Seminar Stays with Obama