true
But if I make the Pearly Gates / I'll do my best to make a drawing / of God and Lucifer, a boy and girl / An angel kissin' on a sinner.


—from "Trapeze Swinger"
Sam Beam, who records under the name Iron and Wine, has released three full-length albums and three EPs (including one in collaboration with the band Calexico) for Sub Pop Records since 2002, during which time he has risen from being an intriguing oddity to a respected, important and, ultimately, famous songwriter, whose music can be heard everywhere from Skittles commercials to movie soundtracks (most recently Twilight).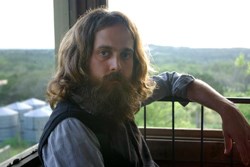 The first Iron and Wine album, 2002's The Creek Drank the Cradle, was startling in its modesty, a collection of hushed home recordings, guitars and banjos as whisper-quiet as Beam's own multitracked vocals. To listen to Creek is to eavesdrop on private moments of a family's life: a soon-to-be-parted couple's day at the beach, a son leaving home, a mother's grief. Its follow-up, 2004's Our Endless Numbered Days, was similarly intimate, though more slickly produced, and caught a number of the ears with its plaintive opening prayer, "On Your Wings," a song that pleads, "God, give us love in the time that we have." Mortality and faith run throughout the record, to the final title track, which tells of a woman who has "chosen to believe in the hymns her mother sings."
Beam himself remarked to Pitchforkmedia.com in 2002 that he made a decision to leave behind the Christian religion he was raised with: "That was a big step, I mean, just saying, 'You know, I'm not going to believe that any more.'" Yet the language of Christianity remains present in his music; his 2007 LP The Shepherd's Dog, which was supposed to be a "political" album, took oblique shots at both presidential policy and piety with lines like "There ain't a penthouse Christian wants the pain of the scab / But they all want the scar." That record was more spaced-out and experimental than Beam's earlier work, which brings us to Around the Well, the just-released collection of hard-to-find Iron and Wine songs.
The two-disc set is split neatly between Beam's home recording period and his newer full-band work, tracing his development as a songwriter and arranger. The first disc's songs, mostly culled from the original collection of songs that was whittled down for The Creek Drank the Cradle, are beautiful, though not revelatory. A trio of cover songs walks the line between sadness and hope that Beam treads in his own work: the Flaming Lips' "Waitin' for a Superman" is wearier than the original, urging the hopeless in need of a savior to "hold on the best they can," while on Stereolab's "Peng!" there are "incredible things happening in this world." Beam's best known cover, the Postal Service's "Such Great Heights," breathes even more warmth into Ben Gibbard's pop ditty about divinely predestined romantic love, turning it into a tender ballad.
The second disc begins with some missing-link tracks—what Beam's earlier work might have been if he'd had a band and a producer from the get-go: "Communion Cups and Someone's Coat" might be a parable about seizing the day, while "Belated Promise Ring" is a bouncy narrative of courtship. Things get a bit thicker and deeper on the cynical "God Made the Automobile," about a father passing down a somewhat warped faith along with "fear of the Black and the Jew" to his children, and by the time we get to "Sinning Hands," "New Moon," and "Serpent Charmer," folk songs give way to slithering, sinister jams.
It's "The Trapeze Swinger," the final track (on the LP or mp3 versions of the album) that sums up Iron and Wine's oeuvre, a bittersweet and evocative ten-minute farewell litany that imagines the human predicament as a circus balancing act, "a frightened trapeze swinger" somewhere between "God and Lucifer, a boy and girl / an angel kissing on a sinner," and "a monkey and a man." And while that may not be how we all see this life, it's an apt picture of the confusion in which we as a people often find ourselves. Like "the Trapeze Swinger," Around the Well is, ultimately, sad and wise and just the slightest bit hopeful about the breakups and breakdowns that plague us as we fumble about for grace.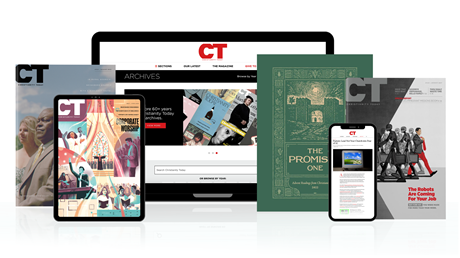 Subscribe to Christianity Today and get access to this article plus 65+ years of archives.
Home delivery of CT magazine
Complete access to articles on ChristianityToday.com
Over 120 years of magazine archives plus full access to all of CT's online archives
Subscribe Now
Around the Well
Around the Well