Finding a good biography is like a mushroom hunt: on the surface, one mushroom looks pretty much like any other one. But beneath the surface, some are delicious and healthy, and some are inedible and even poisonous. Here are the main categories into which biographies fall:
Fanciful or Indecipherable
Hagiographies (the Greek adjective hagios means "holy") usually are accounts written for a "captive audience," an in-group whose identity is inextricably linked to the biographer's subject: John Wesley for Methodists, Francis of Assisi, Thérèse of Lisieux, or Mother Teresa for Roman Catholics, and so on. Hagiographies do not acknowledge evidence that contradicts their squeaky-clean image of the subject. The authors write as if their subjects lived above the quirks and quandaries of ordinary mortals, impervious to temptation, let alone sin. In short, hagiographies strike most readers as either fanciful or depressing.
Critical biographies, meanwhile, almost always come from academic presses (publishers named after a university), though not all academic-press biographies belong in this category. The virtue of critical biographies is that they look carefully, often exhaustively, at every facet of their subject's life. Their downside is that most get bogged down with analytical hair-splitting and jargon decipherable only to guild members. These are more repositories of research than stories to savor.
A Middle Ground
Some biographies are written by scholars who write for a general audience. Such scholars know that most of their readers are looking not only for depth of detail but also for illumination and nourishment. They paint a well-rounded, critical portrait of their subject, but they add the sorts of narrative elements that make stories fun to read.
Rather than spending page after page excruciatingly analyzing their subject's motives, they show the subject working through situations, being formed through trials and triumphs. Such authors allow well-chosen snatches of dialogue, quotations from the subject's letters and diaries, and observations from the subject's peers bring to light the subject's unique personality. Though such biographies are often heavily footnoted, they hold the reader's interest.
One of the best in this genre is the late Roland H. Bainton's Here I Stand: A Life of Martin Luther (1950). A professor, Bainton also proved himself with this book a great biographer. Historian Kenneth Scott Latourette justly hails Here I Stand "a superb combination of accurate scholarship based upon a thorough knowledge of the sources and secondary works with insight [and a] vivid, readable literary style." George Marsden's biography of Jonathan Edwards also deserves a top billing, as does Alan Jacobs's of C. S. Lewis. This genre is also what I attempt in my Patron Saints for Postmoderns.
The Sweet Spot
Now we come to what for many is the sweet spot of biographies. These are books written not usually by professors but by professional biographers and journalists who dedicate 100 percent of each workday to crafting prose that is accessible to the average reader. Here, story is the operative word. All the narrative techniques of the novelist, and many of the research techniques of the scholar, make their way into books written by stars of the biographical galaxy.
At or near the top of this pantheon are the writers Antonia Fraser on Oliver Cromwell and Mary Queen of Scots; Humphrey Carpenter on W. H. Auden and J. R. R. Tolkien and the Inklings; and the sparkling G. K. Chesterton on Thomas Aquinas and Francis of Assisi.
Other deserving members of the class include the prolific John Pollock (on John Newton, Billy Graham, Hudson Taylor, Dwight L. Moody, George Whitefield, and others). Note also the InterVarsity Press Histories series, which includes biographies of Augustine, Luther, and Francis of Assisi (the latter by CT's Mark Galli), as well as a volume featuring some of the Celtic saints (by CT's Ted Olsen). All such books travel in that difficult but admirable middle passage between hagiography and scholarly skepticism.
Related Elsewhere:
Christianity Today also posted a story today on recovering the lost spiritual discipline of reading biographies.
The books referred to in this piece are available from ChristianBook.com and other book retailers: Here I Stand: A Life of Martin Luther, Patron Saints for Postmoderns, Francis of Assisi and His World, and Christianity & the Celts.
Previous Christianity Today articles on spiritual discipline and biographies include:
Man of His Time for All Times | W. Robert Godfrey paints popular portrait of Calvin as pilgrim and pastor. (May 18, 2009)
Spiritual Formation Agenda | Three priorities for the next 30 years. (February 4, 2009)
Out of Africa | Thomas Oden reminds us of classical Christianity's debt to Africa in How Africa Shaped the Christian Mind. (February 29, 2008)
Previous articles by Chris Armstrong for CT include:
The Future Lies in the Past | Why evangelicals are connecting with the early church as they move into the 21st century. (February 8, 2008)
Sharing Stories from the Heart | The lessons of history are fair game for use today. (December 9, 2005)
Christian History Corner: The Bible Alone? Not for John Calvin! | When we seek answers to churchly and societal issues in the Bible alone, citing the Reformation principle of sola scriptura, we are actually contradicting the Reformers. (October 1, 2004)
Have something to add about this? See something we missed? Share your feedback here.
Our digital archives are a work in progress. Let us know if corrections need to be made.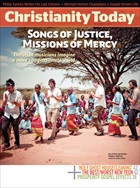 This article is from the November 2009 issue.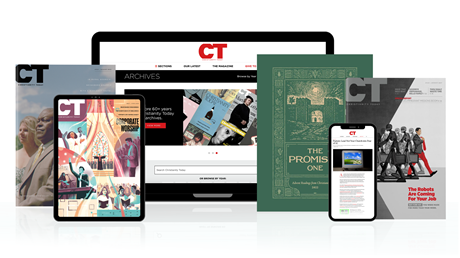 Subscribe to Christianity Today and get access to this article plus 65+ years of archives.
Home delivery of CT magazine
Complete access to articles on ChristianityToday.com
Over 120 years of magazine archives plus full access to all of CT's online archives
Subscribe Now
The Mushroom Hunt
The Mushroom Hunt