A YouTube segment from Conan O'Brien's show entitled "Everything's Amazing and Nobody's Happy," with guest comedian Louis C.K., has been making the rounds. In it, Louis talks about how he was on a plane that offered in flight Wi-Fi access to the Internet, one of the first planes to do so. But when it broke down in a few minutes, the man sitting next to him swore in disgust. Louis was amazed, and said to O'Brien, "How quickly the world owes him something that he didn't know existed 10 seconds ago."
Louis then talked about how many of us describe less-than perfect airline flights as if they were experiences from a horror film: "It was the worst day of my life. First of all, we didn't board for 20 minutes! And then we get on the plane and they made us sit there in the runway for 40 minutes!"
Then he said mockingly, "Oh really. Did you fly through the air incredibly, like a bird? Did you partake in the miracle of human flight? … Everybody on every plane should be going, 'O my God, wow!' … You're sitting in a chair in the sky!" And then he mocks a passenger who, trying to push his seat back, complains, "It doesn't go back a lot!"
The segment is humorous because we recognize ourselves in it. That's human nature. We take things for granted so quickly, so easily fall out of a state of gratefulness.
This week, we'll hear plenty of stories that show our ungratefulness, along with admonitions to be more thankful. Some pleas will be appropriately sentimental or patriotic. But when we think about gratefulness theologically, we find that such pleas are, in the end, not very helpful. We discover that gratefulness is a human impossibility—and a gift.
Thanksgiving Everywhere
Several biblical passages talk about thanksgiving, but few get to the heart of the matter better than Ephesians 5:20, where the apostle Paul says we should be " … giving thanks always and for everything to God the Father in the name of our Lord Jesus Christ."
The idea of giving thanks is central to Paul's entire ministry. We see it not only here, but in many of his letters.
For example, to the Colossians he writes, "May you be strengthened with all power, according to his glorious might, for all endurance and patience with joy, giving thanks to the Father … " (1:11-12) To the Thessalonians he says, "Rejoice always, pray without ceasing, give thanks in all circumstances; for this is the will of God in Christ Jesus for you" (1 Thess. 5:16-18). Many other examples abound.
And he practices what he preaches. To the Romans, he says, "I thank my God through Jesus Christ for all of you" (1:8). In his first letter to Corinth, he writes, "I give thanks to my God always for you because of the grace of God that was given you in Christ Jesus" (1:4). To the Ephesians he explains, "I do not cease to give thanks for you, remembering you in my prayers" (1:16). And on it goes.
Paul is a thanksgiving junkie. And he is so because he understands that thankfulness is not one of many virtues that characterize the Christian life, but the characteristic of faith.
To look at it from the other side: It is not pride nor greed nor lust but ungratefulness that he says has caused so much confusion and despair on the planet: "For although they knew God," Paul writes of humanity, "they did not honor him as God or give thanks to him, but they became futile in their thinking, and their foolish hearts were darkened" (Rom. 1:21). From there, he describes how things just got worse and worse and worse, so that in the end, he can only describe humankind as "foolish, faithless, heartless, ruthless" (1:31). And it all begins with ungratefulness.
So, when Paul summarizes the nature of the Christian life, and thus the fundamental activity of the church, he frames it in terms of gratefulness. "Therefore," he tells the Colossians, "as you received Christ Jesus the Lord" [how the Christian life gets started], so walk in him [how the Christian life is made manifest—how exactly?], rooted and built up in him and established in the faith, just as you were taught, abounding in thanksgiving." (2:6-7).
He is very much in sync with the entire biblical witness. Gratefulness is the most characteristic act of the people of God, as witnessed by the Psalms, the Old Testament's hymnal: "Sing to the Lord with thanksgiving; make melody to our God on the lyre!" (Ps. 147:7). It's practically a cliché.
As we look forward to the second coming of Christ and the establishment of the kingdom, we see that gratefulness is that which most will characterize our life in the kingdom of heaven. The iconic description of that life occurs in the Book of Revelation:
"And all the angels were standing around the throne and around the elders and the four living creatures, and they fell on their faces before the throne and worshiped God,saying, "'Amen! Blessing and glory and wisdom and thanksgiving and honor and power and might be to our God forever and ever! Amen'" (7:11-12).
It is any wonder that the high point of the principal gathering of the community week by week in many Christian communions is called Eucharist, the Greek for "thanksgiving"?
In the context of the church, then, gratefulness is the normal, expected lifestyle. In the context of the world in which we live, it is anything but that. Anyone with half an ounce of self-awareness recognizes how much we whine about what is missing in our lives, and how often we nurture what I call thanks-killing vices like anger, lust, and greed, and how often we are just indifferent to the many divine gifts showered upon us hour by hour. The Conan O'Brien segment, "Everything's Amazing and Nobody's Happy," is but one example of this tendency.
When this happens to Christians, it's even more amazing. Here we are, aware of the multitude of blessings that God has showered upon us, claiming to be people who love God and yearn to be in his presence—and then we find ourselves at the dinner table. The father or mother turns to one of the children and asks her to return thanks. If the parent absent-mindedly calls on the same person two nights in a row, they'll hear, "I did it last night! It's Susan's turn!" As if saying grace was a punishment. You'd think, given the abundance of grace poured down upon us, we'd all be waving our hands to be recognized so that we could return thanks! As the parent who initiates this little liturgy each night, I'll admit that many nights I feel exactly like the person who says, "It's not my turn!" and I'm glad I can appoint another person to pray.
Yikes! And this from a supposedly dedicated and devout follower of Jesus. And I suspect I am not alone! This little iconic moment around the dinner table reveals so much about our hearts. How funny we are. And so it seems that Paul's encouragement here—to give thanks to God always and for everything—is the perfect message for us.
Pedestrian Thanksgiving
But wait: Can a simple admonition—"Be thankful"—do the trick? Can something so deeply inbred in us as ungratefulness be whisked away with a simple command, one that seemingly can be simply obeyed with a tweaking of the will? Is thankfulness something we can conjure up like that? Or is it something like happiness, which we can never manufacture but which is always the product of something else, the effect, not the cause? Can thankfulness be easily manufactured?
Yes, at a certain level. For example, we've come up with verbal formulas to snap us out of ungrateful funks: "Look for the silver lining in the dark cloud"; or "Look at the glass as half full, not half empty"; or the cliché par excellence, "Count your blessings." Frankly, I hate these clichés because, well, they often work. Before I can count all my blessings (as if I could count that high!), my whining has turned into thanksgiving. There is a reason Norman Vincent Peale became a hit in the 1950s and 60s with his bromides on positive thinking, and why Robert Schuller became his heir with his admonitions about possibility thinking, and why Joel Osteen's message about "Your Best Life Now" is so infectious. It all works at one level.
As Barbara Ehrenreich, author of Bright-sided: How the Relentless Promotion of Positive Thinking Has Undermined America, has implied, you don't need to be a Christian to imbibe in this sort of thing. I agree. We don't even need prayer or God or Christianity to be thankful—just the right words and a positive attitude. It seems a gift of God's common grace, available to Christian and pagan alike, to anyone who simply puts his mind to it.
But when Paul is talking about thanksgiving, he's not talking about this common, everyday, pedestrian thanksgiving. He has bigger fish to fry. Pedestrian thanksgiving is a human and therefore limited thanksgiving, a thanksgiving that depends utterly on our willpower to keep it up. Feeling down? Count your blessings! Discouraged? Look for the silver lining! Depressed at cup of suffering you are enduring? Well, remember, that cup is half full!
Such bromides can help for a time. But here's the truth of the matter: We can't keep it up. There are days when we just don't have the energy to count our blessings. And sometimes those days turn into weeks or even years. There are long stretches when we'd like to be thankful, but frankly, we just don't give a rip.
So thanksgiving—even pedestrian thanksgiving, the thanksgiving well within our abilities—may sound easy, but it's looking more and more impossible by the minute. And it doesn't get better when we look at the way Paul talks about it in Ephesians 5.
The Great Impossibility
Note Paul's words: "giving thanks always and for everything to God the Father … "
This little phrase reveals the utter inadequacy of all our human attempts to manufacture thanksgiving, whether through clichés or any other mood altering activity. Be thankful always? My gosh, is he kidding? Give thanks when you wake up, even if you're not a morning person? Give thanks when I'm on the way to a job I hate?
And then Paul twists the knife: "giving thanks always and for everything." Even for my spouse and kids or roommates when they are driving me crazy? Even for my church when it fails to meet my spiritual needs? Even for my cancer, which is draining life from me?
This little phrase points out that it's not from time to time that we get in sour moods, that once in awhile we forget to be thankful, that it's only a matter of will power to get upbeat again. No, ungratefulness is a state of being, a sickness at the very core of souls, something that defines our personality; it's what theologians call original sin—a signal of something desperately, desperately wrong with us.
Thankful always and for everything? Are you crazy, Paul? It would take a miracle!
Reality Check
And that's exactly what Paul believes it does take, and why he's bold enough to command thanksgiving. He believes the miracle is possible, and so he adds a little phrase that suggests from whence the miracle comes. This phrase has been inserted into so many prayers that we hardly notice it anymore. And the phrase is this: "giving thanks always and for everything to God the Father in the name of our Lord Jesus Christ … "
That's the miracle phrase, but what exactly does it mean? Well, it sums up the substance of the Christian life, so it means many things, but three in particular come to mind in this context.
First, it's a reality check. To give thanks in the name of our Lord Jesus Christ means to recognize that Christian gratefulness begins with an affirmation of a great negative: we simply can't thank God in the manner congruent with his love. We can't do it always. We can't do it for everything.
To adapt the second step of Alcoholics Anonymous, to give thanks in the name of the Lord Jesus begins with admitting we are powerless over our ungratefulness, and that our lives have become unmanageable—that is, we are unable to do the very thing we are called to do: to live thankfully in the name of our Lord Jesus Christ always and in everything. And that's precisely when things turn around.
At just such a moment, God comes to us whiners, and comes to us in our Lord Jesus Christ. He comes to do a work of thanksgiving in us, revealing to us that it's less important that we cannot do anything in the name of the Lord Jesus than that the Lord Jesus has done something in and for us. To paraphrase Paul: "For while we were still weak, at the right time Christ died for the ungrateful.For one will scarcely die for a righteous person—though perhaps for a good person one would dare even to die—but God shows his love for us in that while we were still self-centered and ungrateful, Christ died for us … And so we rejoice in God in the name of our Lord Jesus Christ … " (Rom. 5:6-11).
So, we begin with a reality check, and the paradox is that only by acknowledging our absolute failure to give thanks, to live in thanks, can we receive the gift of thanksgiving.
Thanksgiving Lifestyle
Second, it's a lifestyle. To give thanks in the name of our Lord Jesus Christ means not only to say thanks, but more importantly to live it. Now that the ground of our thanksgiving has been secured and assured, we can live a life of thanksgiving, giving thanks always and for everything.
What other response can the survivor of a shipwreck feel when hauled aboard a life-saving vessel but to give thanks? What other feeling can well up in one's soul when facing bankruptcy and foreclosure, if another comes along and pays off the mortgage, but the feeling of gratefulness. What else can we do when reminded of the love of God poured out in Jesus Christ to the selfish and ungrateful, but to give thanks to God always and for everything in the name of our Lord Jesus Christ? To give one's whole life as an offering of thanksgiving and praise!
Ah, but we seem addicted to silliness, no? Most of us remember what it was like as children to look under the Christmas tree, and see our first bicycle—shiny, new, sparkling with possibilities. We were so excited we didn't even want to unwrap our other gifts. We rushed up to our parents and said, "Can I go ride it now? Can I? Please, please?" Even it was 10 below, and snow was piled on the streets—"Can I go ride it now, Can I? Can I?"
Sometimes we Christians get the bicycle of grace under the Christmas tree of the Cross, and we too marvel at how it shines and sparkles. But rather than jump on it and enjoy the ride of new life, we sometimes just marvel at it and take pictures of it. We write books about this bicycle, how it's mean and wild, and great and terrible, and yet so beautiful! We create special services and conferences to discuss its wonders! But God gave us the bicycle with a note saying, "Enjoy; there's more where this came from."
Or it's like some of us rush up to our parents and thank them for the bicycle and then say, "What can I do to thank you for this wonderful gift?" Can I do the dishes every day for a month? Can I take out the garbage? Can I tithe back my allowance to you? Can I do something righteous, moral, good, and religious to show that I'm thankful?" When all the time the parents are saying, "No, the way to be thankful is to get on the bike and enjoy it!"
The gift of new life in Christ is a grace which we are called to live and enjoy 24/7/365. We can indeed give thanks always and for everything if we do so in the name of our Lord Jesus Christ, if we recall that our entire lives are to be an expression of gratefulness of this gift of grace. It's merely a matter of verbally saying thanks to God, but living and breathing gratefulness. We love because Christ first loved us. We can share a spirit of gratefulness with others, because, there's so much more where that came from.
Thanksgiving as Hope
Third, it's the ground of hope. To live in gratefulness in the name of our Lord Jesus Christ is to recognize that the impossible possibility of gratefulness is granted to us again and again. There is no reason to despair.
Naturally, our calling to live and breathe thanksgiving is high, so high as to be humanly impossible. So we will fall far short of it in this life, and fall short time and again. We will have moments when a pure and complete thanksgiving floods our souls, but most days we'll live in hope.
That means that when, unsurprisingly, we find ourselves wallowing in ungratefulness again, we will not get discouraged. Because at that very moment, despite the fact that we do not yet thank God always and for everything in name of our Lord Jesus Christ, we will remember that the Lord Jesus Christ has done something extraordinary in and for us, something that affects us in everything and for always. We'll recall that we are destined for an eternity in which we do nothing more than ride our bikes under a glorious sun, laughing and singing the whole way—And that, mysteriously enough, plants again the seeds of grace that blossom into the miracle of thanksgiving.
Mark Galli is senior managing editor of Christianity Today. He is author of A Great and Terrible Love: A Spiritual Journey into the Attributes of God (Baker).
Related Elsewhere:
Christianity Today has more articles on Thanksgiving, including:
Fruit Pies, Popcorn, and Music | The Pilgrim legacy goes beyond Thanksgiving to a love of music still with us today. (November 23, 1984)
Thanksgiving at Fair Acres | A meal with my mother and other nursing-home residents opened a small crack in their stony detachment, and gave a brief glimpse of the kingdom of heaven. (November 13, 2000)
Marching Farmers, Homeless Slaves | How Christianity's Jewish roots point us to a different kind of Thanksgiving. (November 25, 2008)
SoulWork
In "SoulWork," Mark Galli brings news, Christian theology, and spiritual direction together to explore what it means to be formed spiritually in the image of Jesus Christ.
Mark Galli is former editor in chief of Christianity Today and author, most recently, of Karl Barth: An Introductory Biography for Evangelicals.
Previous SoulWork Columns: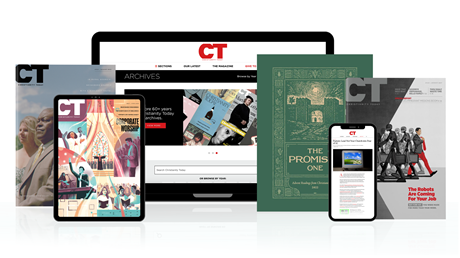 Annual & Monthly subscriptions available.
Print & Digital Issues of CT magazine
Complete access to every article on ChristianityToday.com
Unlimited access to 65+ years of CT's online archives
Member-only special issues
Subscribe
The Impossibility of Thanksgiving
The Impossibility of Thanksgiving