Renowned evangelist Anne Graham Lotz recently told Amy Sullivan at Time magazine, "Religion can be one of the greatest impediments to finding God." Newsweektook that as Billy Graham's daughter "slamming" churches. Actually, I think Lotz is expressing the difference between faith in God and faith in the church.
"I've been [burned] by local churches and by people who call themselves in God's name," Lotz told Sullivan. Newsweek reports that Lotz has parted ways with more than one church over theological or pastoral disagreements. "I've had Christians treat me in a way that is so wrong and so vicious, I realized there's a difference between God's people and God," she said.
Lotz's story, sadly, is not unique. She dedicates her new book, The Magnificent Obsession: Embracing the God-Filled Life, to everyone who has ever felt disconnected or hurt by organized religion.
I am one of those people, calling myself an "uncomfortable ex-churchgoer." I stopped going around 10 years ago, after many of the same experiences Lotz described in the interview, but I was uncomfortable with giving up on the church community. During college, I church hopped—and felt bad about doing it, because most Christians emphasize the importance of making a commitment to a church home. Honestly, for a person who is not entirely convinced that church is worthwhile, visiting church after church after church for two years is a profound act of optimism.
Eventually, I gave up visiting churches altogether. I felt bad about it, didn't like to admit to it (I got really good at avoiding the "Where do you go to church?" question), and wasn't entirely sure it was the right thing to do. On the other hand, I felt I had given churches enough of a try that I resented feeling guilty. No doubt I had was partially culpable. Lotz says that while people can be vicious, they can also be petty. Still, when the church cannot even convince somebody who wants to believe, I think it means something.
I continued to listen to the conversation about the work of the church and church-improvement—an important conversation carried on in magazines like Christianity Today magazine—willing to be convinced that church was, in fact, worth it. Unfortunately, if logic alone were all it took, I would have become a card-carrying church member long ago. Hebrews 10:25 warns believers not to forsake "the assembling of ourselves together," but church is not the only way to fellowship with other believers. And in the digital age, it is entirely possible to tune into services online or download mp3 sermons.
I don't want to accept that the church only functions as a social network, either; like the logic-based argument, that reasoning seems lacking. However, like Lotz, I never gave up. I believe that if God wants me in a church, he will help me find the right one. What I have learned from my struggle is that the line between churchgoers and non-churchgoers is not as clear as Newsweek makes it seem. I have experienced other Christians being quick to judge Christians who stop going to church. I think that is unfortunate, because those Christians might be people like me: believers struggling with uncertainty about the meaning of church.
I have recently started attending a church where, for once, the word commitment does not make me want to retreat to my Internet connection and WOW worship CDs. Part of me wonders if it would be so bad to stick with sermons on demand and private discipleship methods, but really, it's not an either-or decision. Christians get it backward when they assume someone is faithful because he or she is in church, but there is something amazing about being welcomed into a community because of your faith.
It is time for Christians to tackle the issue of what Lotz calls "believers in exile": Christians doubting not their faith, but the church.
Alicia Cohn previously interned at Christianity Today magazine. She has written previous blog posts for Her.meneutics on summer reading, journalists in North Korea, marriage in Florida, the Breast Cancer Bible, and The Stoning of Soraya M.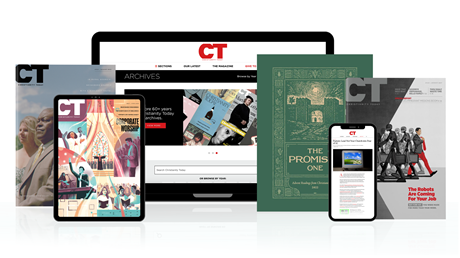 Annual & Monthly subscriptions available.
Print & Digital Issues of CT magazine
Complete access to every article on ChristianityToday.com
Unlimited access to 65+ years of CT's online archives
Member-only special issues
Subscribe
Anne Graham Lotz, the Church, and Me
Anne Graham Lotz, the Church, and Me