If a recent New York Times piece is to be believed, the latest trend in dating is a spin on the calling card, delivered to attractive strangers, with instructions on where to find the bearer online. Religious communities have often adopted secular dating services and technologies—sometimes even pioneered such—but I wonder whether this trend (if it really is one) will prove as malleable for Christians' use.
Certainly Christians are not averse to online services. I would be surprised to poll my peers at church and find many who hadn't at least once tried online dating—whether the freewheeling Match.com and Plenty of Fish, or faith-oriented sites like eHarmony and Christian Caff©. But as much as these sites advise you to include a profile picture, they also generally include enough text boxes for listing interests and "must haves" to square with Jesus freaks' ostensible search for substance.
It's inconceivable that a dating site could succeed without allowing user photos, but Christians still have an uneasy relationship with forms and faces. Would we take to services designed to connect folks initially attracted to appearances?
I grew up in a home where someone's looks were never mentioned without an attendant remark on the greater merits and importance of character. Even now I struggle with how concerned God is with satisfying sexual desires, though he's been remarkably kind at fulfilling a range of other longings. Physical attraction seems such an unreliable instinct that surely, surely God could not be at work in that—even if Proverbs speaks of a man finding satisfaction in his wife's breasts.
Yet I like to think that one's appearance is not unimportant, and could even be a predictor of personality and character. Some people radiate kindness through the simplest interactions, while others project cockiness without a word. Granted, such things are more apparent in person than in pictures, but nonetheless, others' demeanor shapes our impressions of them all the time. Even for Christian couples, whose romantic bonds owe a fair debt to unselfishness, patience, and love for Jesus, their mutually perceived "cuteness" probably plays some role in their success. Indeed, couples like my grandparents, who got married shortly out of high school and are in sight of their seventieth anniversary, didn't have much time for character vetting beyond a general sense that they got along well, liked each other, and seemed to have the makings for partnership.
Did their marriage last based on physical attraction? Certainly not. But neither was their union solely the result of prior, extensive rational calculations. From what I can tell, their decision to wed was based on a mix of head and heart, to which they added day-by-day commitment and following through. We could stand to learn from that.
A couple of years ago, a class on dating at a local church introduced me to John Van Epp's excellent if embarrassing-to-read-on-one's-commute book, How to Avoid Falling in Love with a Jerk. He observes that people tend to enter relationships for either head reasons (the extreme being arranged marriages) or heart reasons (the extreme, I guess, being great sex). Though he spends more time examining the pitfalls of heart-only-based relationships, his goal is to help readers make romantic decisions with both head and heart.
While I don't see many church folks over-relying on physical attraction in dating decisions, we sometimes forget that attraction has a healthy place in courtship. And maybe if we remembered that, we wouldn't have to be so serious about the whole dating thing.
Is the solution a line of fish-shaped cards to hand out to cute strangers at church, with a URL for our Godsmatch profile? Not necessarily, but they might not be such a bad thing. Nor, I propose, would a few more blind dates.
A while back, I grew weary of my dateless spell and invited several friends who share my faith to set me up with men they knew who were interested. I'd initially conceived it as a "12 dates of Christmas and Epiphany" project (which didn't completely work out), but to my surprise, a seemingly barren romantic wasteland resulted in three or four nice dates with guys from my housemate's church. No significant sparks with any of them, but neither did I find myself freaking out about becoming the girlfriend of someone I wasn't into. They were just—dates. And they reminded me that a date was not a pledge of betrothal, but could sometimes even be fun.
Have you found a good way to balance head and heart in your dating and take the whole thing more in stride? Share your stories in the comments section.
Anna Broadway is a writer and web editor living in the San Francisco Bay area. She is the author of Sexless in the City: A Memoir of Reluctant Chastity. She has written for Her.meneutics about Mel Gibson.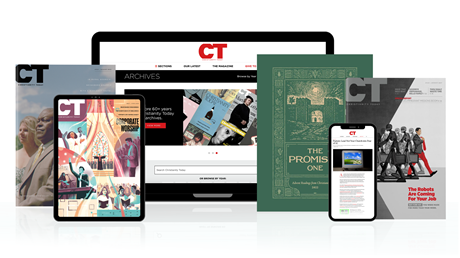 Subscribe to Christianity Today and get access to this article plus 65+ years of archives.
Home delivery of CT magazine
Complete access to articles on ChristianityToday.com
Over 120 years of magazine archives plus full access to all of CT's online archives
Subscribe Now
Seeking a Spouse? Lighten Up
Seeking a Spouse? Lighten Up