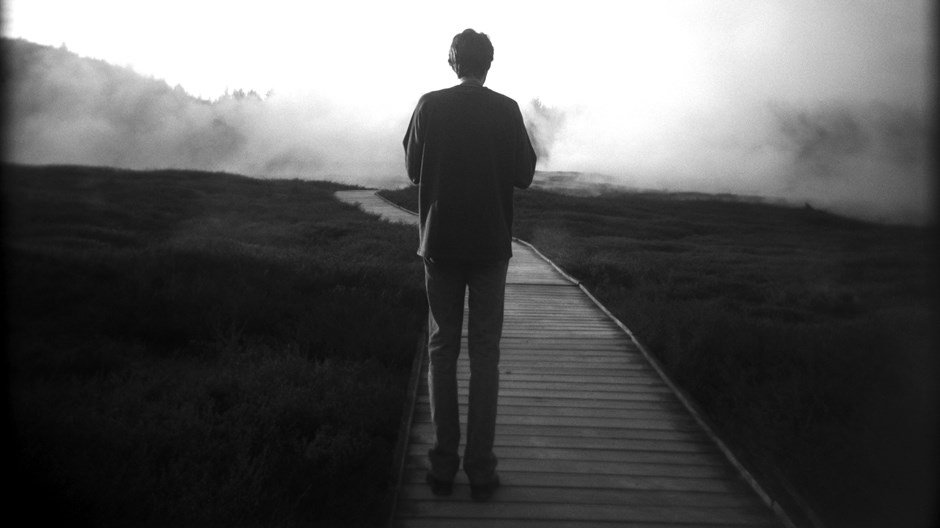 Image: Elena Dorfman / Index Stock Imagery, Inc.
While on rounds one morning, my brother Matt, an oncologist at a research hospital, consulted with a man in his mid-40s who had an inoperable brain tumor. The patient had a prior history with cancer that he had lived with for years, but now was accosted by a brain tumor that eventually would take his life.
"I know you need to talk to me about my options," the dying man said, "and I'm willing to undergo the chemo. But I most want to return to the West, watch the sunsets, and enjoy my family with the time that's left." He then talked about his faith in Christ as if my brother needed conversion.
Minutes later, Matt walked a dozen steps to his next patient, a woman in her mid-80s who had just received news of reoccurring, metastatic cancer. "I've never seen so much anxiety in a patient," said Matt. "Her eyes were wild with panic."
Age, of course, does not necessarily correlate with heroism or stoicism at the breaking news of the end of your story. I'd like to think that the older I get, though, the deeper I am becoming spiritually—i.e., that I am growing more like Christ. The middle-aged patient seemed to possess a reality of faith beyond intellectual assent to its truths and a couple decades of church and Bible study. I wonder what my level of anxiety—and faith in the goodness of God—would be on the drive home after a visit with my oncologist. It's sobering enough to remember that every year, as poet W. S. Merwin once observed, I pass unaware the anniversary of my death.
Have I made any real spiritual progress over the past 30 years of faith?
For many, the blossoming of faith coincides with their teens or 20s. It's the phase of life when everything is fresh and full of my potential to transform the world for Christ. It's the years of short-term mission trips and earnest decisions for Christian service and long conversations about a life of significance. In suburban America, much of what 16th-century Spanish monk John of the Cross called the "beginner years" of faith correspond to life's early milestones: high school, college, marriage, and children.
But sometime after age 30, the steep learning curve plateaus, and the markers of spiritual growth are less pronounced. The language of faith is not fresh anymore (much like life itself). Once I've sung the most contemporary choruses in church for a decade or so, studied the Bible, changed a few diapers in the toddler room, and ministered to the imprisoned, the culture of faith feels comfy, like the friendship of an old married couple. I now can anticipate the denouement of most Advent sermons: "Find some time to quiet your soul to find Jesus amid the hubbub of the Christmas season."
But my obligations are also now different in scale. I'm lashed down by a mortgage, three high-maintenance kids, looming college tuition, and the chronic anxiety of managing a small business. I seldom chafe at that. But the enthusiastic pursuit of a life of significance peters out in midlife. Life's poorly marked trail soon disappears around a bend and into an unmapped stretch of desert: unforeseen suffering and unanticipated consequences. A friend with two children, one of whom has special needs, spent five years in court fighting her ex-husband for the monthly support that the judge had granted her at the divorce. Broke, she stopped pursuing the money. She says, "I had reservations about marrying him—and even my mom warned me. But I wouldn't listen to anyone."
The middle is fraught with course corrections and an incorrigible hope in do-overs. So what's the measure of my life in Christ once I've veered off the map or reached a destination short of what I thought God had planned?
One of the more arcane theological concepts—the kenosis of Christ—has taken on new meaning for me as I walk through the valley of the shadow of midlife. Kenosis ("emptying") is the theological attempt to explain what happened at Christmas, when God became a human in the person of Jesus. The word comes from the Greek for self-emptying, which Paul uses in a crucial passage in his letter to the Philippians: "Though [Christ] was God, he did not think of equality with God as something to cling to. Instead, he gave up his divine privileges; he took the humble position of a slave …." (2:6-7, NLT). What Christ volunteered to do models a different kind of spiritual growth as I involuntarily come to terms with the limits of my own story.
Realities of Harvest Season
Who can say, really, when middle age begins? Is it a specific age? Is it a precise but unobservable moment in time, like when the chlorophyll begins its soundless retreat from the leaves in a stand of aspens in the wilderness? Only later do the leaves change from green to gold or red, and then fall off. Is it a change in mindset? A friend complained loudly when I suggested that she, 52, was in middle age.
No matter the arc, midlife is full of joy for the middle-class, suburban Christian—high-school football games under the lights, high-achieving children, and personal milestones. I once overheard a friend say to another who had landed a senior-level promotion at a financial services company that "your hard work all these years has paid off. It's now harvest season." It was one financially successful 50-year-old pumping his fists with another successful 50-year-old. But late summer also foreshadows the coming sadness and inevitable resolution of my story on this earth—divorce, depression, compulsory career changes and long periods of joblessness, the disappointments of childrearing, health issues, the deaths of parents, and the funerals of friends. In the developed world, these are the years when faith confronts a harsher reality.
I also begin to engage the novel idea that I may, actually, die.
These accumulating "limits," as Franciscan Richard Rohr has described them, enable me to grasp emotionally and actually what Christ experienced as a human. I have, of course, always been human. But I've experienced only a modicum of suffering, unlike my Christian brothers and sisters throughout much of the rest of the world. Suffering is not meted out evenhandedly in this life. In my darkest and most lonely moments, I can't recall thinking much about the life to come. I don't have to. I awaken most mornings with the naïve assurance that tomorrow will be better than today.
When God took the form of a human, he was confronted with our limits, though, granted, much different in degree and in kind from my petty psychological and physical ones. The cryptic expression that Christ "gave up his divine privileges" has raised numerous theological questions: Was Christ still all-knowing as he lived and suffered? Was he still knowingly and actually all-powerful, even as the whip tore up his back and as he hung on the cross?
Theologians have framed their debates in the context of Christ's humility, a trait for which I have little imagination. Christ's humility, though, is not like the demeanor of a passive lap dog. His humility originates in power, and that is an important starting point for someone like me, who has achieved a modicum of power and status in this life. His voluntary decision comprises both self-knowledge and self-restraint, modeling how I should submit to the limits of this life.
Beginner's Deception
"How are you doing, spiritually?"
I confess that I almost always dodge that question from well-meaning folks. There's no way to answer it cleanly. "I'm doing well" hints at spiritual pride or implies that I'm in denial: What is he hiding? "Not that well" means I have explaining to do. I'm not opposed to that, but only to a friend or two.
Asking about the state of my soul is not like asking what I had for breakfast, largely because of what the fathers and mothers of the faith called the "false self." My spiritual assessment chip tends to operate intermittently, especially during the beginner years of faith. At conversion, an internal conversation ignites between the bloated false self and the new true self who has been awakened by faith. Life itself becomes, as Catholic writer Thomas Merton wrote, a "series of choices between the fiction of our false self, whom we feed with the illusions of passion and selfish appetite, and our loving consent to the purely gratuitous mercy of God."
The ability to accurately assess how I'm doing spiritually doesn't seem to come standard with the original equipment at conversion. I paid scant attention to this interior banter as a young man. I exhausted myself corralling the sins of the flesh (lust, ambition, and greed). I spent years absorbing all the information I could about the earthly expressions of faith: friendships, church, Bible study, mission trips, and other forms of Christian service—all important to establishing a beachhead on the shores of faith.
So much of my pursuit of God was conflated with my anxiety about significance. When my wife, Jana, and I said our vows 20 years ago, we felt a sense of marital destiny: God had brought us together for a purpose. It's a holy emotion and universal, I suspect. But 20 years later, I discern our gliding trajectory and think, Did God have something "bigger" in mind than our suburban story? Is caring for an aging parent in a memory unit significant? Or threatening your oldest repeatedly on Sunday mornings with cell phone oblivion just to motivate him to attend church? A life of significance as it is lived out is simply different in kind from how it is youthfully envisioned. Many of my ideas about significance during the beginner years of faith were at least one part grandiosity, cloaked in the guise of serving God.
In The Interior Castle, Teresa of Avila, the 16th-century spiritual writer, hitches the word self-knowledge with humility. She describes self-knowledge as the first mansion (out of seven) in the progression to knowing God fully: "However high a state the soul may have attained, self-knowledge is incumbent upon it … Humility must always be doing its work like a bee making its honey in the hive: without humility all will be lost." Self-knowledge and its visible corollary, humility, seem not to be a one-time acquisition like conversion or an urgent sense of call that often marks the beginner years of faith. It's a slow, agonizing progression as the soul makes its way toward God.
Many of my ideas about significance during the beginner years of faith were at least one part grandiosity, cloaked in the guise of serving God.
A friend, an Episcopal priest, invited me to lunch at an exclusive country club near the upscale community in which he served. We sat at a table that overlooked the 18th hole. The lunch crowd hailed the priest like a celebrity coming home to a neighborhood bar. The elderly ladies at a table nearby tried to catch his eye as we sat down. The women giggled like middle-schoolers. When the check for the meal arrived, the waitress asked, "What is your number?" and my friend rattled off his membership number, a perk of his collar, and signed the guest check. He then turned and said to me, "I know this is not real. I know this will all go away once I retire."
In his mid-50s, he planned to retire early, in about a year. After many years of wearing the collar, though, he recognized the temptation to conflate his person with his role as pastor—and all the delights of the gratis membership. I doubt whether as a 26-year-old pastor he could have separated the two. His ascending story of significance would have distorted reality. Self-knowledge—my ability to distinguish between my false self and the new self God is creating in me—marks progress in midlife. Self-knowledge exposes my naïve faith in my status and the true nature of earthly power.
A Spirituality of Limits
With all the promise of do-overs at midlife—second (and third) marriages, second families, and fresh careers (and "radical" journeys of Christian service)—it's still late summer. It's not springtime. As my story resolves, I will continue to lose whatever status or power I have gathered to myself. I once attended a dinner celebrating the lives of local professional baseball players, several of them in their 80s and 90s. One broke down in the middle of his witty major-league stories from the 1950s and 1960s, and sobbed, "I now have Parkinson's." The moment was poignant, and the point was not lost on me: He's only thirty years older than I am.
The marker of kenosis includes the self-restraint to stop fighting the limits of this life. This is not a passive concession to time but an active discipline that allows me to more freely engage my calling in this life, pursuing what God has left for me to do with honesty, energy, and joy.
On a fly-fishing trip, with still an hour in the truck before arriving home, my fishing buddy off-handedly observed that I was overly sensitive to criticism. He listed a couple instances, including my response to some reviews of my writing. Suddenly, the truck felt cramped. I snapped back that simply debating what others say about me or what I do isn't being overly sensitive. I asked him to give more specific examples, which I debunked. Hurt, I withdrew from the conversation and nursed my new wound from a friend. How could I be sensitive to criticism?
In the years since, I've come, glacially, to another layer of insight: Not only am I overly sensitive to criticism, I also like to play consultant to others about how they can advance their lives. That's not how I viewed myself as a beginner in the faith. I saw myself as much more large-hearted. Perhaps that's what is meant by Merton's phrase "fictional self": the fiction I weave about who I am distorts my perception of reality. I now see why humility comes on the heels of self-knowledge: I cringe when I think of how unaware I've been. Another friend reminds me that humility and "I feel stupid" are related, but not equivalent. The humility of the true self is by choice (the voluntary component), not by consequence. Now, when I feel duty-bound to defend myself or point out the truth in another's life, I try to apply the discipline of silence.
That's approaching the humility of Christ. The marker is not easily acquired, especially for those in the developed world whose lives have been largely about consumption and accumulating status. The markers of faith never seem to appear fully developed. They emerge like larvae that rise from the bottom of a river and over decades make their way to the surface in adult form. No one marker, of course, is the final destination of my life in Christ. But the pursuit of humility is a decent start in the middle years, in which I increasingly find myself yearning to immerse myself, in the words of Merton, in the "rivers of tranquility that flow from God into the whole universe and draw all things back to God."
Dave L. Goetz is the author of Death by Suburb (HarperOne) and the president of CZ Strategy, a marketing consulting firm in Wheaton, Illinois.
Related Elsewhere:
Previous articles by or about Dave Goetz include:
Grand Illusions | Caleb Stegall reviews David Goetz's Death by Suburb. (July 1, 2006)
Paying Your Volunteers | How to get them to say yes next time. (BuildingChurchLeaders.com, July 11, 2007)
Why Pastor Steve Loves His Job | Pastors are overworked, underpaid, and bear the weight of unrealistic expectations. Why then are so many so satisfied? (April 7, 1997)
Have something to add about this? See something we missed? Share your feedback here.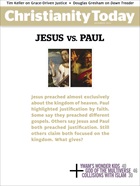 This article is from the December 2010 issue.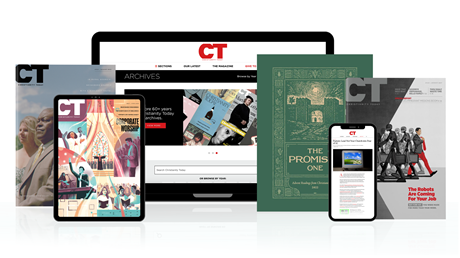 Annual & Monthly subscriptions available.
Print & Digital Issues of CT magazine
Complete access to every article on ChristianityToday.com
Unlimited access to 65+ years of CT's online archives
Member-only special issues
Subscribe
Read These Next
Trending

American Christians Should Stand with Israel under Attack

While we pray for peace, we need moral clarity about this war.

From the Magazine

I Studied Christianity with the Hope of Debunking It

A decade later, I became a Christian.

Editor's Pick

Don't Miss These African Christmas Hits

Jam out this season to highlife, Afrobeats, jazz, a cappella, R & B, rap, dance, and hip-hop artists from Nigeria, South Africa, and more.
Welcoming Limits
Welcoming Limits