Raised near the mountains of Sandpoint, Idaho, novelist Marilynne Robinson remembers sensing God's presence there long before she had a name for him. "I was aware to the point of alarm of a vast energy of intention, all around me," she writes, "barely restrained, and I thought everyone else must be aware of it." Perhaps they were, but in a culture in which "it was characteristic to be silent about things that in any way moved them," the young Robinson was, in her deepest experiences, alone.
There were mentors, though. She remembers her grandfather holding an iris blossom before her, quietly commending its miracle of form, and the "patient old woman who taught me Presbyterianism," offering Moses' burning bush and Pharaoh's dream of famine as wonders to contemplate. In their reticent attention, both mentors gave Robinson a way to stand before mystery and gradually behold it. "It was as if some old relative had walked me down to the lake knowing an imperious whim of heaven had made it a sea of gold and glass, and had said, This is a fine evening, and walked me home again."
Robinson's first novel, Housekeeping (1980), began as a series of prose exercises inspired by the great 19th-century American writers Herman Melville, Emily Dickinson, and Henry David Thoreau. Their rapturous, attentive language drew Robinson back to her childhood landscape, giving her a way to re-inhabit that spiritually charged world. Readers greeted Housekeeping as a masterpiece, praising in particular the haunting voice of its narrator, Ruth, whose prose circled and looped, creating a world out of orphaned bits of memory and observation. Raised by her transient, railroad-riding Aunt Sylvie, Ruth finds in her aunt's disregard for boundaries a way to touch what she had lost. And what Sylvie taught Ruth, Dickinson and her peers taught Robinson. Housekeeping demonstrates the power of their attention to the world, their confidence in "the sacramental quality of reality." To Robinson, their way of seeing things is, sadly, nearly gone.
Robinson wrote no novels for almost 25 years after Housekeeping, instead deliberately reading her way back into the life and culture that had inspired Dickinson and others. She discovered that one voice influential for those writers was John Calvin, a figure Robinson has been working hard to restore. In her preface to John Calvin: Steward of God's Covenant (2006), Robinson bristles at the fact that the Reformer has been hidden under a caricature, known only as "an apostle of gloom dominating a gloomy city," his legacy one of "repression and persecution." Robinson instead finds three liberating themes in Calvin's thought, and in the preface and an earlier collection of essays, The Death of Adam (1998), she articulates how they impress upon her literary vision.
Perception is the Point
For Robinson, Calvin's theology centers on the belief that God has given individuals the ability to commune with and respond to him without the mediation of priests or bishops. "Perception is at the center of Calvin's theology," she observes; God willingly floods our senses with his grandeur in such a way that we can take it in and reflect it back, his glory "shining forth" as we participate in it. "It is as if we were to find a tender solicitude toward us in the fact that the great energy that rips galaxies apart also animates our slightest thoughts." Think how elevated a vision of the human soul this is, Robinson suggests, and how far it is from how we often view ourselves.
At the same time, our ability to perceive God is deeply compromised. None of us sees clearly; indeed, none of us even desires to. All of us turn away from God's presence, failing "to acknowledge what ought to be obvious," Robinson writes, inclined instead "to indolence and selfishness, dishonesty, pride and error, cruelty." She calls the notion of total depravity the "counterweight to Calvin's rapturous humanism," insisting that we can't understand the one aspect of his thought without the other.
Working together, writes Robinson, these twinned elements of "our strangely mixed nature" mean that the passage of a soul "through the vale of its making, or its destruction" will be marked by halts and recoveries, each attempt to find meaning chastened by a recognition of limits. This almost exactly describes Ruth's voice in Housekeeping, now traced to one of its sources.
Not everyone, however, carries this realization as a great weight, or senses a chance to find release. The doctrine of election, developed in Scripture but popularly associated with Calvin, is a third element for Robinson, who links it to Calvin's focus on perception. True perception—"the radical understanding of the presence of God, and of his nature as manifest in Christ"—is something God must grant a person. It is not natural to our fallen state.
And because God grants such ability entirely according to his own mind, we are brought into a chastening—and, to Robinson, exhilarating—encounter with "the freedom and mystery of God." Far from inducing a dulled passivity, such a doctrine leads to a deepening awareness of the grandeur of God and the fragile beauty of one's neighbors. To borrow a phrase from Dickinson, it keeps believing nimble.
Robinson bristles at the fact that Calvin has been hidden under a caricature, his legacy one of 'repression and persecution.'
Grace in
Gilead
Robinson has recently returned to the novel, producing two honored works: Gilead, which won the Pulitzer Prize for Fiction in 2005, and Home, which won Britain's Orange Prize for Fiction in 2009. Both novels are set in Gilead, Iowa, in 1957, and bring to life the history and rhythms of what was, at the time, a new landscape for Robinson, who began teaching at the Iowa Writers' Workshop in 1989. The mid-century setting allows her to explore a culture in which post-Calvin assumptions about soul and perception and limits are still operative. That readers have used words like grace, radiance, and gravity to describe Robinson's characters suggests that, in their probing, revising reflection on their internal selves, the characters are connected to their 19th-century literary ancestors. And both, it is clear, draw from the same source.
Gilead features the voice of John Ames, a 76-year-old Congregationalist minister writing a series of letters to his 7-year-old son, to be read after he dies. (Robinson is an active member of a Congregationalist church in Iowa City, having moved, as she puts it, "the doctrinal and demographic inch that separates Presbyterians from Congregationalists.") Ames lost his first wife and infant daughter in childbirth, then spent decades living alone, writing sermons and listening to baseball in the dark, only to have those wilderness years redeemed by a younger woman with whom he unexpectedly fell in love. They married and bore the adored son he writes to now.
These are the major events of Ames's life, but what he wants to tell his son is what his soul made of them. All three themes that Robinson highlights from her reading of Calvin are at play here. Ames believes he has been called to respond to the sparks of God's presence visible to him as he passes through life. "What an amazing instrument you are," he tells his son. "What a power you have to experience beyond anything you might ever actually need." In Ames's eyes, we are actors on a stage, and God is our audience—an idea he credits to Calvin. We are called to make something of the highs and lows that come to us, all for God's good pleasure.
Yet our souls draw back, and we are burdened by our distance both from God and from the deepest part of ourselves. Ames reassures his son, though, that God gives us eyes and the courage to trust them despite our limits, emboldening us "to acknowledge that there is more beauty than our eyes can bear, that precious things have been put into our hands, and to do nothing to honor them is to do great harm."
One memory Ames recounts—of watching his father help a community take apart a church that had burned down—demonstrates this struggle to perceive. Ames's father squatted beside him and, wet and covered in soot, fed his son a biscuit from his scorched hand. "It seems to me much of my life was comprehended in that moment," Ames writes. Returning time and again to the ashy bitterness of the biscuit his father gave him, Ames tries to pinpoint the meaning of it. The bread becomes, in his musing about it, "the bread of affliction," given to both of them by the Lord at separate times. He finally sees it as God's own body, broken for our nourishment, all that he can with confidence offer to his son. "I hope you will put yourself in the way of the gift," Ames quietly remarks, passing on what he has made of his initial perception, leaving room for grace.
The Prodigal Comes
Home
Robinson returns to the Gilead drama in Home, working through it again from the vantage of the Boughton family. Robert Boughton is Ames's best friend and an aging Presbyterian minister who has struggled mightily with his ne'er-do-well son, Jack, recently returned to Gilead after two decades.
Jack's sister Glory has also just returned at age 38, and struggles alongside her father to make sense of Jack. We have already been introduced to Jack's unsettling presence in Gilead. He radiates estrangement and uncertainty; an "incandescence of unease" seems to hang about him. Glory can't take her eyes off of him and gradually moves from anger and intimidation at his "inaccessible strangeness," to a posture of sorrow, wonder, and love. Or, to return to Calvin, she begins to perceive in Jack's inexplicability a live soul. The sparks he emits are the sparks of a soul in hiding but desperately wishing to be found. For Glory, Jack is a "shockingly unclothed" version of us all, unable to imagine that he can ever be forgiven or welcomed home. Jack "seemed to feel the presence of a soul," says Glory. "Cankered, perhaps, but that was what gave him his awareness of it." It's to this broken soul that she draws near.
Glory's father, on the other hand, closes himself off from his son. He is declining in health, too tired to forgive. He has loved Jack more than any of his other children. Although he has tried to overlook Jack's lifelong estrangement, he has not been able to forget a series of events: Jack's impregnating and abandoning a local girl over 20 years ago; his decades-long disappearance; his absence during his mother's funeral 10 years ago.
As Boughton wearies and loses control of his tongue, all of that failed effort returns in the form of bitterness. "Things don't change, I guess. People don't. So it seems." He mutters this after one disappointment. "Tired of it," he chokes out near the end of the novel, withdrawing his hand when an equally broken Jack prepares to leave again.
The central question of Home is why Glory and her father react so differently to Jack. Why does one soul shrivel before his wounded presence, while the other expands to accommodate him? What it comes down to, I think, is election. Both novels give the doctrine a fair amount of attention. Jack references it as he seeks to understand why he cannot rest and believe, venturing that perhaps he is one from whom grace is withheld. Robinson, wisely, does not try to address the contentious doctrine in that form. Rather, she is curious about the ability of the other characters to rest in the mystery that the doctrine insists on—that God opens eyes and hearts when and how he chooses.
Glory stares at Jack and is gradually drawn away from a habitual belief, based on the patterns of her family, that "things would come right if only enough effort was given to making them come right." She becomes someone who can shake her head in awe at a world beyond her control. Suddenly the gospel she has heard all her life, often from her father's lips, comes alive. Boughton stares at his son and sees only his own failure. Despite his words, he is not able to rest in God's sovereignty, and it nearly destroys him.
Near the end of Home, Glory has an insight that makes full sense only when the reader knows the lost voices that Robinson is recalling. As Jack walks away from Gilead one more time, weary and sick of the very taste of himself, Glory quietly remarks: "A man of sorrows and acquainted with grief, and as one from whom men hide their face. Ah, Jack." She is remembering Isaiah's suffering servant, of course. She sees in Jack the great burden of human grief and suffering, and our yearning for it to be otherwise. And she sees an even greater mystery: the incarnate God taking on that burden in Jack's place. She sees this and reaches out to him.
It is an amazing thing to be able to dramatize this inner act, to make it attractive and alive. These are the motions that Robinson's novels teach us to attend to.
Thomas Gardner is professor of English at Virginia Tech and writes regularly for CT sister publication Books & Culture.
Related Elsewhere:
Marilynne Robinson's books can be found at ChristianBook.com, Amazon.com and other book retailers. Books mentioned in this essay include Housekeeping, John Calvin: Steward of God's Covenant, The Death of Adam, Gilead, and Home.
Thomas Gardner's articles for Books & Culture include:
Cradling the World | Annie Dillard's The Maytrees. (July 21, 2008)
What Will Suffice | Larry Woiwode's testament. (July 1, 2008)
This Poor Gray Ember of Creation | Marilynne Robinson's Gilead is a novel to savor (March 1, 2005)
Have something to add about this? See something we missed? Share your feedback here.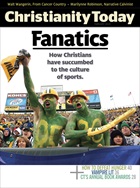 This article is from the February 2010 issue.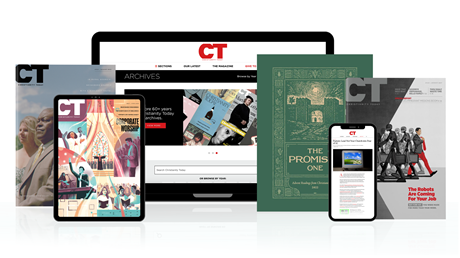 Annual & Monthly subscriptions available.
Print & Digital Issues of CT magazine
Complete access to every article on ChristianityToday.com
Unlimited access to 65+ years of CT's online archives
Member-only special issues
Subscribe
Marilynne Robinson, Narrative Calvinist
Marilynne Robinson, Narrative Calvinist