Political Advocacy Tracker is a roundup of what Christian activist organizations have been talking about the past week.
Renewing the Call for Reform
President Obama entered the Independence Day holiday weekend with a renewed call for comprehensive immigration reform. Speaking at American University, he said that "fixing our broken immigration system is not only a political issue, not just an economic issue, but a moral imperative as well." It was a view echoed by evangelical leaders, both right and left.
NAE president Leith Anderson said, "President Obama raised immigration higher on the national agenda. Now we are looking forward to Republicans and Democrats joining together to write and pass immigration reform legislation."
"It was encouraging to see a religiously and racially diverse audience of faith leaders standing with the president, calling for comprehensive immigration reform," said Sojourners president Jim Wallis. "Now the task is for religious leaders to stand up in their own communities and, in particular, press their own political representatives to put narrow political interests aside and take a moral stand for necessary reform."
Richard Land, president of the Southern Baptist Ethics & Religious Liberty Commission (ERLC), agreed. He and the Southern Baptist Convention have officially supported comprehensive immigration reform since 2006. However, Land said that before current immigrants are granted legal status, the U.S. must "[secure] the border first with measurable metrics that have been certified as met by the federal government in terms of stemming the flow of illegal immigration."
Faith in Public Life's Shannon Sullivan said such arguments calling for greater border security before enacting reform often represent a "false dichotomy."
"We cannot secure the border without comprehensive reform, without a way for individuals to legally and fairly enter the system," said Sullivan. "The faith community isn't backing down on the overwhelming need for reform. They know that the pragmatic and moral solution is a comprehensive one, and not one that relies on faulty logic and calls for militarization along our Southern border."
Both the American Family Association (AFA) and the American Center for Law and Justice (ACLJ) oppose the federal government's lawsuit against the state of Arizona's recent immigration law. The U.S. government claims that the law violates the Constitution because Congress alone has the power to regulate and enforce immigration policy.
ACLJ's chief counsel Jay Sekulow called the lawsuit "flawed" and "nothing more than a waste of taxpayer funds." He said the Arizona law is "both sound and constitutional."
"It's troubling that the federal government, which has repeatedly failed to secure our nation's borders, is now attempting to punish the state of Arizona for doing just that," said Sekulow. "Instead of spending taxpayer funds to challenge Arizona's constitutional right to protect its borders and its citizens, the Obama Administration should secure Arizona's borders and the borders of other states."
The AFA's Jeremy Wiggins said that "the federal government wants to take power from the states and give it solely to the federal government, which goes completely against what the framers intended." The Arizona law does not change federal immigration law, said Wiggins, it merely enforces the law differently. He said the lawsuit "is exactly what you would expect from a socialist run establishment."
Without taking a position on the law, ERLC's Land said, "The Arizona law is a cry for help from a state that is in crisis because the federal government has not done its job for many years now."
Summer Agenda
Summer is a busy season for Congress, particularly in an election year. It is when most important legislation is passed. Evangelicals for Social Action's Heidi Unruh listed some of the pressing issues midway through this year's session.
She put the following on her list of bills to ask your legislators about as you "turn up the heat" on "issues of justice and the common good":
• The American Jobs and Closing Tax Loopholes Act (HR 4213), which would extend unemployment coverage through November. The bill has passed the House but is being blocked in the Senate.
• HR 5466 would reauthorize federal substance abuse treatment funding that is administered by the Substance Abuse and Mental Health Services Administration (SAMHSA). Unruh objected to a portion of the bill that would restrict hiring based on religion by faith-based organizations. The bill is not expected to be approved by its House committee.
• The Youth PROMISE Act (H.R. 1064 / S.435) would fund community-based juvenile crime prevention and intervention programs. This bill has not been approved by either chamber.
The American Family Association is calling on Congress to pass a resolution sponsored by Rep. Randy Forbes (R-VA) that would "[Reaffirm] 'In God We Trust' as the official motto of the United States and [support] and [encourage] the public display of the national motto in all public buildings, public schools, and other government institutions." As a concurrent resolution, the bill would not have the force of law. It has 72 cosponsors, only one of which is a Democrat.
Family Research Council president Tony Perkins urged people to ask their representatives in the House and Senate how they would take action on four issues at the fore of the FRC summer agenda:
• There are two bills that would repeal the health insurance reform law. However, with a Democratic majority, neither bill will be voted upon unless 212 Representatives sign a discharge petition. Perkins called on people to ask their Representatives to sign the petition. Currently, only 109 Members of Congress have signed the petition.
• The Senate is considering a Department of Defense authorization bill (S. 3280). The FRC opposes two portions of the bill: the repeal of the military's "Don't Ask, Don't Tell" policy and allowing abortions to be performed in military facilities.
• The FRC opposes Elena Kagan's nomination to the Supreme Court "largely because she placed the homosexual agenda over the law while she was Dean of Harvard's law school."
• Finally, Perkins called on people to "ask your Member if they will vote to cut spending or vote to raise our taxes more. The national debt is over $13 trillion and job growth remains low."
Odds and Ends
• Glenn Beck is getting more support from some prominent evangelical pastors and political leaders. Last Friday's show included a panel to provide their interpretation of the news. Pastors on the panel included Jim Garlow, Richard Lee, Dave Stone, Tom Mullins, John Hagee, and Stephan Broden. The panel also included Wallbuilders founder David Barton, Faith & Freedom Coalition chairman Ralph Reed, and American Principles Project founder and Princeton professor Robert George. Among other topics, the panel criticized churches that promote social justice, which Beck has criticized in a public fight with Sojourners president Jim Wallis.
• Tony Perkins is taking a break from the FRC to go on a mission trip with his family and others from his local church to Tornabe, Honduras, a village with a very high rate of HIV. Perkins' church has partnered with a Honduran evangelical church to establish an orphanage for children whose parents have died of AIDS. Perkins left for Honduras shortly after testifying against Kagan's nomination in the Senate Judiciary Committee.
• The American Family Association's Crane Durham has joined the chorus of those wanting Republican National Committee (RNC) chairman Michael Steele to step down. "Unfortunately, I cannot honestly review his chairmanship and think anything except Steele is there because of the color of his skin, which if true, just plain stinks! It is bad enough that one party engages fully in ID politics, but both?" said Durham. "The RNC can elect the chairman of their choosing. However, they should not be afraid of voting for someone who is qualified and capable; Michael Steele is neither."
• New York became the last state in the union to adopt no-fault divorce. CitizenLink's Jenny Tyree said, "[W]e should expect it to have the effect no-fault laws have had in the other 49—an increased divorce rate. And besides devastated families, what will probably follow is more taxpayer money to care for them—a sad result of no-fault laws."
• Sojourners' God's Politics blog has featured a debate over the war. Not Afghanistan or Iraq—the Revolutionary War. Kurt Willems made the case that Christianity and celebration of Independence Day are "incompatible." Willems said, "I believe we cannot justify glorifying the 'winning' of our independence from our friends across the pond … Our nation … killed other Christians in order to gain independence that would have eventually been granted to them in a 'just' fashion, had the founding fathers not been so trigger-happy over issues of taxation." In response, Logan Laituri said, "Something in the American experiment has worked … The Fourth of July holiday may represent to some the violence that our forebears used to win our freedom from King George III, but it just as powerfully represents freedom to others."
• Concerned Women for America (CWA) is calling on Iran to release Sakineh Mohammadi Ashtiani, 43, who has been imprisoned for four years, whipped, and sentenced to death by stoning for the crime of adultery. CWA CEO Penny Nance said, "It's difficult to imagine a supposedly civilized nation stoning its citizens in the year 2010, but unfortunately, human rights and the rights of women are virtually non-existent in Iran today."
"One last question," said Nance. "What happened to the man with whom Sakineh is accused of having an affair?"
Related Elsewhere:
Earlier Political Advocacy Trackers are available on our site.
Christianity Today also follows political developments on the politics blog.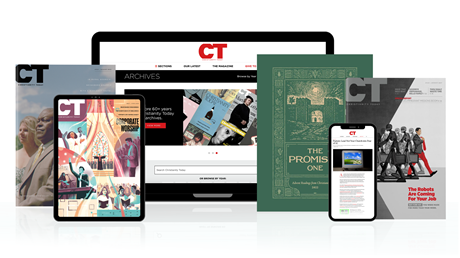 Annual & Monthly subscriptions available.
Print & Digital Issues of CT magazine
Complete access to every article on ChristianityToday.com
Unlimited access to 65+ years of CT's online archives
Member-only special issues
Subscribe
Is Immigration Reform 'A Moral Imperative'?
Is Immigration Reform 'A Moral Imperative'?