Brazil's lauded soccer team may have failed to win the 2010 World Cup, but the nation's evangelicals were satisfied by their own success in South Africa.
More than 250 Brazilian missionaries were busy evangelizing during Sunday's final match between Spain and the Netherlands. Though disappointed over dashed dreams of Brazil's "hexacampeonato" or sixth championship (after all, they are citizens of the nation's football fever as well as the Kingdom of God), missionaries reported they will return home happy.
"I'll never be the same," says João Batista, one of many who used the universal language of soccer to offer outdoor worship services, impact evangelism, hospital visitations, and even soccer schools for underprivileged children in South Africa's major cities.
"This kind of evangelism during events like the World Cup or the Olympic Games focuses not only on tourists but also local people," said Marcos Grava, sports coordinator of the Brazilian Baptist Convention, whose World Missions Board was one of the entities participating in Connection Africa 2010, sponsored by the Brazilian Coalition of Sports Ministry. Grava said evangelicals should seize the vast preaching opportunities created by the World Cup, including the ability to interact with people from qualifying countries that are closed to the gospel, such as communist North Korea and Muslim Algeria.
"Most people here are concentrated on the games, but we as people of God use several strategies to proclaim the Good News," said Brazilian missionary Vanessa Faustini from the Baptist Church of Curitiba. She came to South Africa in March and will remain until August working for Youth With A Mission. "As our organization mobilizes teams from around the world for such events, the local church is also assisted and encouraged." Faustini said the emphasis is always to work with local churches in the country hosting the competition; after all, this is where new believers will congregate.
Faustini said Brazilian evangelists have an advantage: the popularity among soccer fans worldwide of green and yellow, the team colors of Brazil. "I could easily get closer to many Africans, being from Brazil," she said. To start conversations, she said nothing works better than speaking the name of famous soccer stars such as Kaká, Robinho, and Ronaldinho, who despite not having gone to this year's World Cup remain very popular, especially among children.
Such efforts by Brazilian evangelicals become more relevant considering that their country will host the next FIFA World Cup in 2014. Four years will be more than enough time for the Brazilian evangelical church, which has grown exponentially in recent years, to prepare for the world coming to its doorstep.
The connection between evangelical faith and football in Brazil has grown in recent years. Interest began during the 1994 World Cup, held in the United States, when the title game between Brazil and Italy came down to a penalty shootout that some considered a duel between Jesus and Buddha. The last kick was entrusted to Italian Roberto Baggio, a professed Buddhist. The Brazilian goalie was Taffarel, a professed Christian who later said he was reflecting on Psalm 33:20-22 at the time. Baggio's missed shot gave the title to Brazil—and some Brazilian believers a reason to give glory to God.
Since then, the number of star players who openly profess the gospel has continued to grow. The best known is midfielder Kaká, named the best player in the world by FIFA in 2007. Connected to a neo-Pentecostal church in São Paulo, Kaká is an evangelical who remained a virgin until marriage and tithes faithfully to his church from the sizable wages he receives from Spanish club team Real Madrid. He is also keen on using evangelistic props, such as revealing a shirt under his jersey that says "I belong to Jesus."
Kaká and other top Brazilian players, including defender Lúcio, midfielder Kléberson, and striker Luís Fabiano, have sometimes attracted controversy for their religious commitment. In the last Confederations Cup, a World Cup prelude won by Brazil in 2009, these evangelical players were the target of protests from other soccer federations and even FIFA itself for spreading their religious message in the stadiums. Before the 2010 World Cup, FIFA sent representatives to the Brazilian delegation to recommend moderation in such expressions of faith. It was decided that player shirts bearing Christian messages could not be used, but Kaká did not have to beg: one sponsor asked that the word "Jesus" be printed on his shoe. The result was questionable; playing listless football, as did the entire Brazilian squad, Kaká was little noticed in the field this tournament.
It's too soon to tell how many evangelical players will take the field for Brazil in 2014. However, given the significant growth of Brazilian evangelicals, which now number about 35 million, it is near certain that Brazil will have many believers in action at the next World Cup—some on the field but most off, proclaiming the name of Jesus in the land of football.
Related Elsewhere:
Previous Christianity Today articles on evangelism and the World Cup include:
Harnessing Haiti's Football Fever | How one ministry is using Haitians' passion for soccer to dispel post-earthquake stress. (July 6, 2010)
Ghana: The Team That Prays Together | America's Saturday World Cup opponent is reportedly one in the Spirit. (June 25, 2010)
Faith on the Field: Religion and the 2010 World Cup | Faith displays are banned on the field, but evangelism and social justice issues are everywhere in South Africa this month. (June 16, 2010)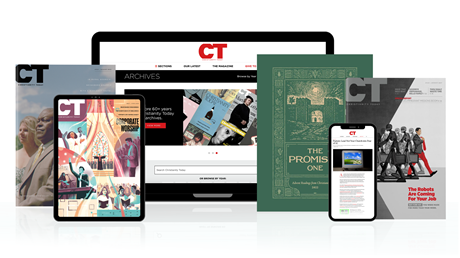 Annual & Monthly subscriptions available.
Print & Digital Issues of CT magazine
Complete access to every article on ChristianityToday.com
Unlimited access to 65+ years of CT's online archives
Member-only special issues
Subscribe
Higher Goals
Higher Goals