Major Kenyan churches starkly accused their government Monday of responsibility for grenade attacks that killed six people and injured almost 80 at a religious cum political rally on Sunday.
Three successive grenades shocked the thousands of Kenyans who had flocked to downtown Nairobi's Uhuru Park to pray against a proposed draft constitution that has sharply divided the East African nation.
President Mwai Kibaki and Prime Minister Raila Odinga have strongly advocated for the current draft, hoping an August 4 referendum will put an end to a constitutional revision process that has stretched out for decades.
Most church leaders have teamed up with opposition politicians, insisting the current draft is faulty and should not be passed without amendments. These clergy, who represent nearly all of the major mainline, evangelical, Pentecostal, Anglican and Catholic churches, have been particularly irked by the proposal to permit Islamic courts and expand the list of who is able to approve life-saving abortions.
In the looming referendum, voters have been asked to simply say yes or no to the proposed constitution; thus the two words have become quite popular in Kenya. Supporters of the current draft have marched the country clad in green shirts, while opponents have made their own public displays of strength clad in red. Most church leaders have told their congregations to vote no, though a few clergy have rebelled and told their congregations to vote their conscience, as have Seventh-day Adventist churches.
These campaigns had been passionate but peaceful until Sunday's attack, which most likely will be a game changer. As top government officials visited the crime scene, comforted the injured in hospitals, and called for calm, church leaders were on the war path.
The National Council of Churches in Kenya (NCCK) was explicit, saying that the government knew who had committed the act, though it offered no supporting evidence.
"Having been informed over and over that the passage of the new constitution during the referendum is a government project, we are left in no doubt that the government, either directly or indirectly, had a hand in this attack. … We therefore hold the government responsible for the attack and for the blood that was shed unless they prove to Kenyans that someone else planted and detonated the devices," said church leaders in a statement read by bishop David Oginde of the Nairobi Pentecostal Church and affirmed by evangelical leaders such as Bishop Margaret Wanjiru of Jesus is Alive Ministries (herself a legislator and assistant minister of the government she is opposing), Bishop Wilfred Lai of Jesus Celebration Center, and Bishop James Ng'ang'a of Neno Evangelism Center.
Whereas the current constitution stipulates that only medical doctors may approve abortions, the new draft extends those powers to any trained medical personnel. Church leaders argue this will give a blank check to nurses, laboratory technicians, and a host of other workers to validate the procedure.
Kadhis' courts were incorporated in Kenya's independence constitution of 1963 after the Sultan of Zanzibar waived his jurisdiction over Kenya's coastal strip in return for Muslim litigants being permitted to choose the Islamic courts in the area. Use of the courts has recently expanded through the country, but in May a Nairobi court ruled the courts illegal, saying their enshrinement in the constitution gave Islam undue advantage over other religions.
Whether church leaders can use the attack to sway public opinion on the proposed constitution remains to be seen.
The NCCK, which represents the country's mainline denominations, has been a major player in Kenya's social, religious, and political life. During the iron-fisted rule of former president Daniel arap Moi, it was the NCCK and affiliated churches that gave Kenyans a semblance of an opposition party. Many of its clergy played key roles in fighting for more democratic space for Kenyans, including a better constitution.
But when elections swept Moi from power in 2002, Kenyan churches started losing the authoritative voice they once enjoyed on national issues. Christian influence hit its low point during the run-up to the disputed 2007 elections when many churches openly took sides in the hot contest that pitted the incumbent Kibaki, a Kikuyu, against opposition candidate Odinga, a Luo. Church leaders seemed to pick sides largely based on tribal background, ignoring the third candidate, Kalonzo Musyoka, the highest-ranking born-again Christian in Kenyan politics.
In the ensuing mayhem, some 1,500 people were killed until international intervention, led by former United Nations secretary general Kofi Annan, forced Kibaki and Odinga to adopt a power-sharing agreement with Musyoka as vice president.
Some Christians believe that by throwing in their lot with politicians opposed to the government, church leaders have made a major blunder.
"The adage of 'the enemy of my enemy is my friend' should not have applied in this case," said Paul Okumu, a Nairobi journalist formerly with the Kenyan Broadcasting Corporation and a leader of Kenya's Christian Journalists Fellowship. "The church leaders have legitimate doctrinal issues with the proposed constitution, but when they choose to go to bed with the politicians they lose the moral voice."
Okumu, who has written extensively on church and politics, believes church leaders were too quick to accuse the government of the grenade attacks.
"Our Christ-likeness is usually put to the test in a crisis, and if in a crisis we are the first ones to point accusing fingers, then we are behaving no better than the politicians we love to castigate," he said. "[Church leaders] should have been calmer and waited for the promised investigations. That way, those in pain could have rushed to the church seeking relief. But when church leaders behave like they are in panic mode, I think they are doing a disservice to the gospel."
Related Elsewhere:
Past Christianity Today coverage of Kenya includes articles on the Kadhis' courts and other constitutional reform conflicts.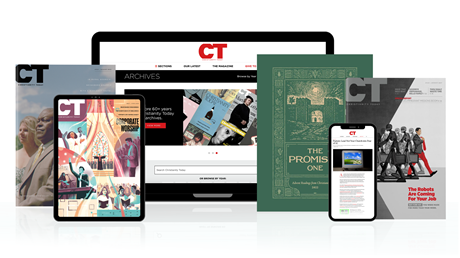 Annual & Monthly subscriptions available.
Print & Digital Issues of CT magazine
Complete access to every article on ChristianityToday.com
Unlimited access to 65+ years of CT's online archives
Member-only special issues
Subscribe
Grenade Attacks Were Govt. Plot, Say Kenyan Churches
Grenade Attacks Were Govt. Plot, Say Kenyan Churches