Christy Ortiz, an interpreter for the deaf at a Texas high school, says most of her students have attended local churches for years. But without interpreters in their congregations, the teenagers were not grasping the fundamentals of the faith.
"The cross, Jesus' death and resurrection—it meant nothing to them," Ortiz said after her students bombed the religion part of a recent exam. "They were shocked to learn that Jesus was a Jew."
Ortiz referred them to some YouTube videos made by Deaf Video Communications (DVC), a Christian ministry to the deaf. The students watched every video over the weekend, and on Monday peppered her with questions about sin, hell, heaven, and Jesus' role in all of it.
Days later, several students came to a See You at the Pole event. One told Ortiz, "You always talk about your God like he's a real live person. This morning, it felt like he was really standing there with us." Ortiz corrected him: "Our God." He replied, "I need to think about it some more, but I think I like that. Our God."
Based in the Chicago suburb of Carol Stream, DVC makes evangelism and discipleship videos for deaf of all ages. But it has a passion for the 70,000 deaf children nationwide who have few if any other ways to learn about God.
Most churches regard the deaf as a benevolence ministry, similar to the elderly or disabled. But experts argue that a different paradigm is desperately needed: seeing deaf ministry as cross-cultural missions.
Language and cultural barriers have left the deaf a veritable unreached people group right in America's midst. Christian deaf ministries estimate that only 1 percent of American deaf children will attend church as adults. Less than 7 percent will ever have the gospel presented to them in a way they can understand.
"If we don't reach deaf children, there won't be deaf adults going to church," said DVC founder David Stecca. "The deaf decide as children that church is something hearing people do, because there is nothing they can understand."
Over 90 percent of deaf children are born into hearing families, yet most of these families never learn enough American Sign Language (ASL) to talk about matters of faith. Deaf children find themselves equally isolated at church.
'Didn't Understand a Single Thing'
Lyn Weston went to church every Sunday as a deaf child growing up in Indiana in the 1960s, but had no one to interpret for her. "The whole time I just sat there, twiddled my thumbs, and scribbled on paper," said Weston. "I didn't understand a single thing that was going on."
Weston eventually came to faith at age 15, when she met a Baptist pastor fluent in ASL while attending the state institute for the deaf. Some of her spiritual growth as an adult has come through DVC videos. "In the past, the deaf didn't know about God," said Weston, who now attends Oak Brook Community Deaf Church in Oak Brook, Illinois. "But now hearing pastors [and their churches] can communicate with the deaf"—thanks to ministries such as DVC.
Christianity began to spread first through the spoken and then the written word, but both means have left many deaf on the outside. The printed world is inaccessible to many because over 50 percent of deaf adults read at or below a fourth grade reading level.
Most deaf communicate through ASL, but ASL is not based on English. "The deaf need visual communication," said Stecca. "Not until video has there been a tool to evangelize and spiritually feed the deaf."
Stecca and his wife, Ruby, learned ASL in the late 1970s after David, then a police officer in the Chicago suburbs, responded to a domestic fight between deaf parents—and the only interpreter was the couple's 10-year-old daughter. Stecca and his wife were soon interpreting in churches and leading deaf Sunday school classes and Bible studies.
Over time, David felt called by God to leave his job and start a mission field—a video version of Christian radio. The Steccas began DVC in 1983 in their basement with a home camera and a vcr. Today the ministry has a broadcast-quality production studio, a conference center, and $300,000 worth of video equipment. With the help of volunteer deaf actors and paid, mostly hearing production professionals, DVC has produced almost 500 videos of Bible stories, sermons, dramas, marriage counseling sessions, and children's programs—all in ASL.
A free lending library sends out hundreds of copies of videos by mail each week. In 27 years, DVC has fulfilled 55,000 requests for videos from deaf churches, schools, and individuals worldwide. Donations from supporting churches, foundations, and individuals cover shipping costs and the rest of the $300,000 budget of the organization, approved by the Evangelical Council for Financial Accountability.
More than an Interpreter
DVC meets a need that many churches don't realize exists. "The hearing church often does not understand the deaf," said Stecca. "Putting an interpreter in front of the church is not the answer. If reaching the deaf were that easy, we'd have more deaf in the church."
Churches that treat deaf attendees as a ministry to the disabled fail to recognize the language barriers that prevent the deaf from accessing Christian teaching. Stecca discovered this when he began translating sermons into ASL.
"It was a waste of time, because the way the sermon was presented was not understandable to the deaf," said Stecca. Hearing pastors tend to deliver non-linear messages at a tenth grade reading level, while most deaf best comprehend linear messages at lower reading levels. In Stecca's experience, deaf Christians often understand less than 40 percent of an interpreted sermon.
DVC knows its videos are meeting a need long unmet. Many groups have requested—and watched—every single video in the catalogue. Hundreds of deaf Christians have approached the Steccas at deaf conferences over the years, many crying with thanks for how DVC introduced them to God through its videos.
Stecca tells the story of one church in northern Michigan that hosted a movie night for the deaf using DVC videos, where 10 attendees accepted Christ. One convert happened to be the president of the local deaf club—the social nexus of the heavily secular deaf community. The president later showed DVC videos at a club meeting, where another 10 deaf came to faith.
Focusing on Children
DVC has recently focused on children's programming. Recently a young mother approached Stecca at a conference and asked if he had any videos she could use to tell her daughter about God. "She had taken her deaf child faithfully to church for nearly ten years," said Stecca. "But no one was able to tell her daughter about Jesus."
Stecca says many hearing parents are ill-equipped to share faith with their kids. Churches have media resources for hearing children, but most such resources are not accessible.
"It's not like we're saying that [media resources are] going to be the salvation of these kids, but there are relatively few resources to help them," said Marshall Lawrence, who founded Silent Blessings Deaf Ministries near Indianapolis in 1996 after his daughter Rachel was born deaf. He learned ASL, but couldn't find any Christian resources to help him teach Rachel about Jesus.
"Ninety-five percent of deaf children are born into hearing families, but only 10 percent of parents learn enough ASL to have a conversation beyond 'pass the salt' and 'be quiet,'" said Lawrence. "When parents have limited signing skills, it's daunting for them to teach their children about Jesus or Moses."
Lawrence tells of a 6-year-old deaf girl who long refused to participate in dinnertime prayers despite her mother's ASL translation. After the girl saw a deaf boy signing his prayers on a deaf ministry video, she excitedly signed to her mother, "Mommy, Jesus knows sign language!" Now she insists on praying at every meal.
"If children get the idea that Jesus can't know them because he's 'hearing,' and virtually none of the hearing adults in their lives know sign language, it will be very difficult for them to know they have access to God," said Lawrence. "We have to find creative ways to communicate to these children that Jesus and God are relevant to their lives."
A Series Just for Kids
One of those ways is Dr. Wonder's Workshop, the first Christian tv series for children made in ASL. It's a colorful blend of Sesame Street-like educational segments with VeggieTales' moral lessons. Each episode teaches a Christian theme reinforced by skits, songs, animations, and interviews, all conducted in ASL by deaf actors. Voices and music are later added in English and captions in English and Spanish so that hearing family members can follow along.
DVC partnered with Silent Blessings and a third ministry, Deaf Missions, located in Council Bluffs, Iowa, to produce the first season of Dr. Wonder's Workshop. The first 13 episodes aired in the fall of 2008 on seven Christian networks, including Trinity Broadcasting Network and Daystar, reaching an estimated 300 million homes in the U.S. and Canada. The show is currently editing its third season, taping its fourth, and writing its fifth, though DVC was forced to leave the partnership in June 2009 after losing promised foundation grants (producing 13 episodes costs about $300,000) due to the economic downturn.
DVC's current focus is expanding its reach through an Internet channel that streams or offers downloads of more than 160 of its ASL programs. The site averages 2,000 downloads per week from around the globe. Said Stecca, "There has never been a better opportunity to reach the deaf around the world with biblical truth."
An e-mail from a 12-year-old in Texas says it all: "I was really giving up hope, because I am the only deaf girl in my area and no one knows how to talk to me but my parents. I [was] wondering … whether God really loved me. If he does, why am I deaf and no one else here is deaf like me? But you guys help me out a lot. Thank you. Now I am living a happy life and studying the Bible again."
Jeremy Weber is CT's associate editor of news.
Related Elsewhere:
More information on Deaf Video Communications can be found on its website.
Recent Christianity Today articles on disability include:
I Want to Be Accepted As I Am, But I'll Take a Cure Too | Why we should consider correcting disabilities. (February 15, 2010)
Considering 'Curing' Down Syndrome with Caution | Why we shouldn't be too quick to think disabilities need correcting. (February 12, 2010)
Welcome the Exceptional | Churches that embrace people with disabilities do more than they imagine. (January 4, 2010)
Have something to add about this? See something we missed? Share your feedback here.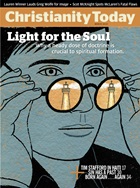 This article is from the March 2010 issue.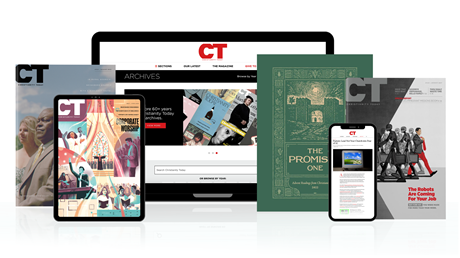 Annual & Monthly subscriptions available.
Print & Digital Issues of CT magazine
Complete access to every article on ChristianityToday.com
Unlimited access to 65+ years of CT's online archives
Member-only special issues
Subscribe
Do You Hear What I Hear?
Do You Hear What I Hear?