Political Advocacy Tracker is a roundup of what Christian activist organizations have been talking about over the past week.
President Obama used his radio address last Saturday to take a stand against earmarks, specific projects written into legislation, what many critics would call "pork."
"I agree with those Republican and Democratic members of Congress who've recently said that in these challenging days, we can't afford what are called earmarks," Obama said. "[Earmarks] represent a relatively small part of overall federal spending. But when it comes to signaling our commitment to fiscal responsibility, addressing them would have an important impact."
This position was a revision of his earlier views on earmarks. Prior to this radio address, Obama had not called for a ban on all earmarks. Instead he advocated for tighter restrictions on the practice and greater transparency.
In both the House and the Senate, Republicans pledged to not request earmarks, a position that Chuck Colson considers an ethical "no-brainer."
"Earmarks are not illegal," said Colson. "But to use a political office to get tax dollars for your district in order to win political favor is clearly unethical. And getting them by circumventing the budget and appropriations process is grossly unethical.Yet it has been going on for years, and it is scandalous."
Family Research Council's (FRC) Tony Perkins said that while banning earmarks would affect little of the federal budget, "it's a good start."
Some have questioned the utility of banning earmarks because they make up a small percentage of the federal budget. In fact, one of the strongest proponents of earmarks was Senator Mitch McConnell (R-KY), who reversed his own position this week. Just a couple of weeks ago, McConnell said that eliminating all earmarks would have no effect on the budget and would give the President "a legislative blank check." McConnell's new stand was viewed by many as a win for new conservatives in Congress.
Perkins said, "The commitment to cut spending is significant one. It signals a new level of respect for conservatives in Congress, who have worked for years to be taken seriously on this issue."
American Family Association's (AFA) Bryan Fischer also saw the earmark ban, and McConnell's support for it, as a victory for conservatives.
"What this represents is a huge, tremendous, landmark victory for you and me. This is a victory of the citizen class over the ruling class. Mitch McConnell—a classic ruling class, big tent, country club, blue blood Republican, determined to protect this corrupt practice of earmarking. The tea party folks, the citizen class, you and me, we got to Senator Mitch McConnell," said Fischer.
Sojourners president Jim Wallis said both the federal debt and how we reduce it are moral issues.
"Our personal and national relationship to debt is indeed a moral issue. Leaving our children to pay the bills for excessive spending cannot be justified. But, if a budget really is a moral document, how we reduce the deficit is also a moral issue," said Wallis.
Wallis said that the nation should balance the budget by cutting military spending, reinstating Clinton-era tax rates for wealthy Americans, and eliminating farm subsidies. He said enacting these three changes would both lower the deficit and "reduce extreme poverty."
Odds & Ends
• A key unresolved issue is the fate of the military's ban on homosexuality. Before the election, the Senate failed to pass a repeal of the current "Don't Ask, Don't Tell" policy (which was included as part of a larger defense spending bill). Some Democratic Senators are urging a reconsideration of the issue before the end of session. Doug Carlson of the Southern Baptist Ethics & Religious Liberty Commission said, "For an issue that should be dead and buried … 'Don't Ask, Don't Tell' repeal attempts are alive and well. No one should believe otherwise."
• Focus on the Family is taking the reins of the Day of Truth, which was previously run by Exodus International and the Alliance Defense Fund (ADF). The rebranded "Day of Dialogue" is an annual event that coincides with the "Day of Silence" events sponsored by the Gay, Lesbian and Straight Education Network (GLSEN). Candi Cushman said on CitizenLink's webcast that students should both stand against bullying and offer the hope of the gospel and God's plan for sexuality. The ADF will also provide free legal assistance for students who need it. In CitizenLink's weekly webcast, Cushman emphasized the role teens should have in standing up against bullying. "We are absolutely opposed to bullying of any kind, including students who identify as gay and lesbian," said Cushman. "In fact, Christian students should be the first ones standing up against that, against harmful behavior against any student."
• The FRC is short of the one million people it had hoped would pray regularly for Senator Jim DeMint (R-SC) and other leaders. As of yesterday, the FRC had just over 28,000 pledges.
• One of the targets of pro-life groups this election was Rep. Steve Driehaus (D-OH). During the election, the Susan B. Anthony List (SBA List) wanted to launch a billboard campaign claiming that Driehaus voted for federal funding of abortion (due to his support for the final health care law). Driehaus complained to the Ohio Election Commission, which found sufficient grounds for a hearing on whether the billboards were false. The SBA List appealed to the federal courts, asserting a violation of its constitutional rights. It lost. Driehaus has now withdrawn his complaint. SBA List president Marjorie Dannenfelser said, "The SBA List remains gravely concerned that the statute allowing Rep. Driehaus to launch his complaint … remains law and can be used to silence free speech again. … The SBA List will continue to pursue its federal case to declare the law unconstitutional in an effort to protect future speech."
• Is the Medal of Honor being "feminized"? The AFA's Bryan Fischer said that while Army Staff Sgt. Salvatore Giunta deserved the Medal of Honor, he said, "We have feminized the Medal of Honor." The problem, according to Fischer, is that the award has recently been given only to those who save American lives, not to those who inflict casualties. "We rightly honor those who give up their lives to save their comrades. It's about time we started also honoring those who kill bad guys," said Fischer.
• With part one of Harry Potter and the Deathly Hallows arriving in theaters this weekend, Julie Clawson wrote on Sojourners' God's Politics blog about the work of the Harry Potter Alliance (HPA) a social justice organization made up of people who admire the characters (and character) of the Harry Potter books. Clawson said the mission of the HPA is similar to the work of Christians and should be admired. "Justice is justice, and good is good wherever it may be found. The more people that can use love to seek a better world the better. Call ourselves the DA (Dumbledore's Army) or the citizens of the kingdom; we are working for the same goal," said Clawson.
Related Elsewhere:
Chuck Colson and Anne Morse previously wrote about earmarks in Christianity Today in 2006.
Earlier Political Advocacy Trackers are available on our site.
Christianity Today also follows political developments on the politics blog.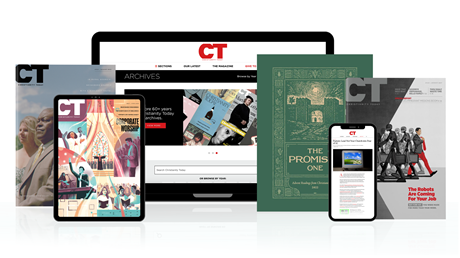 Annual & Monthly subscriptions available.
Print & Digital Issues of CT magazine
Complete access to every article on ChristianityToday.com
Unlimited access to 65+ years of CT's online archives
Member-only special issues
Subscribe
The Ethics of Earmarks
The Ethics of Earmarks