Nationally-known pastor and author Francis Chan will be missing in action for the next few months—at least in the United States. He recently sold his house and his family of four will leave for Asia on October 16, returning in December. After his Desiring God address on "thinking" and "loving," Chan spoke with CT in the hallways of the Minneapolis Convention Center about his family's plans and his next passion: discipleship.
You've transitioned out of your role as a pastor, and you sold your house. Do you know where you're headed?
We have no idea where we're going to end up. We're heading to Asia for a couple of months, but we want to be freed up as a family, so if we feel the Lord is telling us to stay somewhere, we can. We want to learn from churches overseas.
Do you think you'll still do ministry in the United States?
I think so. I definitely know that God's called me to minister and preach. I have a real deep, strong calling to ministry. Even while I'm overseas I'm preaching a lot. It's rare if there's ever a week where I don't preach four or five times. So I know that's what I'm called to do.
It seemed like you were thriving in your ministry; what provoked the decision to leave your church?
I felt like there were a lot of ministers already in the community where I lived. There are 120,000 people in Simi Valley. You have all these pastors in this one area. I just thought why wouldn't I go to a place where there are more people to be reached and fewer workers? I also felt like the Lord was leading me to a new life, maybe a new ministry for us, another step of faith we are supposed to take. I felt like if the church is in good hands, I should move on and take a step of faith. It will also encourage people of the church to rely more on God than on me. One of the comments I made to the church was that I get concerned sometimes when I hear the words "Francis Chan" more than I hear the words "Holy Spirit." I really want them to experience God. Sometimes we get too attached to people. I really believe I did all I could do there.
Are you developing your next idea for another book or something similar?
I think what the Lord is really leading me toward is helping and equipping believers to disciple. A big concern I have is that people are too dependent on their pastors to the point that they think they can't lead someone to the Lord without their pastor there; they can't be discipling anyone. I believe my next ministry is really going to focus on discipleship, whether it's in a local church or coming alongside other pastors and helping train their people.
How does the idea of thinking fit with discipleship?
Well, we're supposed to love God with everything he's given us. That's our possessions, that's our talent, that's our minds. Love him with all of your heart, soul, and mind. I think a lot of this thinking is to understand God better. Think through what he's commanded us to do, think through what he's commanded the church to be. I want to think about all of these things so I can love him more.
In discipleship, we're teaching people. The Great Commission is to teach them to obey everything he has commanded us. That requires a lot of thinking and a lot of searching Scripture for truths. It's not enough to just say, "At least I'm giving God something." From the beginning there's always been the acceptable sacrifice on certain issues—I accepted Abel's sacrifice and not Cain's. He would say at certain times, "I'm not accepting your prayers." I'm not listening to you; I don't like your offerings. We have to think through and search the Scriptures on what exactly does he want. What kind of obedience, what type of church, what type of bride is he wanting, and obey that to the best of our ability. That requires a ton of thinking.
When you return from your trip, do you think you'll still be a pastor?
I feel like I'm going to learn so much while I'm in Asia that I feel like it would be foolish to make any decisions about my life until I learn from these people. So I'm just waiting. I tend to make decisions too quickly, so I'm trying to force myself to slow down, listen, learn, and trust the Spirit has it all planned out and will reveal things to me. Right now I'm not at complete peace about anything yet, so we're not going to force it.
How did you decide to spend time in Asia?
I had spent a lot of time in Africa, and I like Asians. I like what they are doing in Asia with smaller churches, multiplication, and discipleship, whether it's house churches or tons and tons of smaller church plants. That's what I believe the Lord is going to have me working on.
Can you say where in Asia you'll be traveling?
I could, but I would have to kill you, (laughing) so I'd better not.
Related Elsewhere:
Christianity Today profiled Francis Chan last year and covered his decision to leave his church.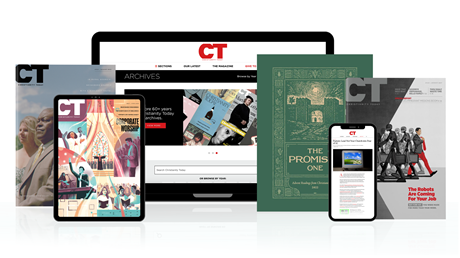 Annual & Monthly subscriptions available.
Print & Digital Issues of CT magazine
Complete access to every article on ChristianityToday.com
Unlimited access to 65+ years of CT's online archives
Member-only special issues
Subscribe
Francis Chan's Next Steps
Francis Chan's Next Steps